Fostering Child Development by Jacqui Coombe |Published 09-22-2021
Domesticated animals have been part of human history for thousands of years. Today, millions of families bring pets into their household and love them as any other family member.
We spend billions of dollars feeding and caring for our pets, and they reward us with unconditional love and companionship.
Whether your pets include dogs, cats, reptiles, rabbits, or another type of animal, raising your kids with pets in the home provides a range of benefits, including developmental and physical ones, for your children.
We will take a closer look at what these advantages could include.
Fostering Child Development: Five Ways
Fostering Child Development: Five Ways
1. Responsibility and confidence
Dogs can teach responsibility and build confidence
Whether it's a dog, cat, or other animal companion, a pet in the family can encourage kids to become more responsible and confident.
Pets need feeding, exercising, vet care, grooming, affection, and attention. These routines promote a sense of responsibility and build confidence in kids in a number of ways.
From routines kids learn about what's important to your family, and they help reinforce shared beliefs, values, and a sense of belonging and togetherness.
Routines can also help kids feel secure, safe, and looked after, by establishing an organised, predictable family environment.
Finally, pet-related chores can help kids develop skills in time management and reinforce a sense of responsibility and independence. These can also lead to stronger self-esteem and confidence.
2. Life lessons
Dogs can help teach important life lessons.
Your kids can learn a lot about the key life lessons from your family's pet.
Reproduction, health, birth, illness, accident, death, loss, and bereavement are some of the things growing up with a dog, cat, or other animal can teach children.
These life lessons could broaden your kids' perspectives, helping them gain a better understanding of the realities of life.
They could become more resilient in the face of change and challenge as a result.
3. Empathy and unconditional love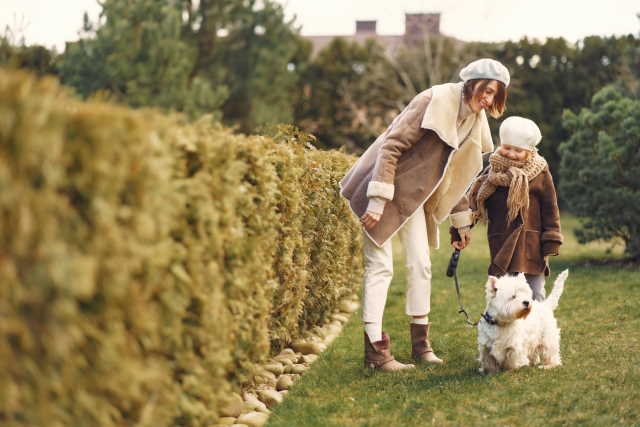 Dogs can help children develop empathy and unconditional love.
One survey found 90% of pet owners believe their pets have a very positive impact on their lives, with love, affection, and companionship cited as the key benefits.
Pets give you unconditional love, without judgement or consequences. Having a trusting relationship with an animal family member can facilitate a greater sense of respect for all living things.
On a practical level, a pet encourages children to think about others: is your dog hungry, or does he need to go outside for a toilet break? This fosters awareness, empathy, and sensitivity towards others.
Additionally, your pets can be trustworthy receivers of the private thoughts and feelings of your children. For example, many kids will confide in their dog.
For only children or children with anxiety or emotional distress, a pet can provide essential comfort and companionship.
The physical affection, comfort, affection, loyalty afforded by a pet can give your kids a safe space, with empathy towards other beings and a sense of unconditional love.
4. Socialisation and emotional intelligence
Socialization and emotional intelligence are two fundamental skills that pets can help promote in children.
Positive feelings and relationships with pets can help kids become more successful at developing trusting relationships with others.
From interacting with a trusted animal companion, your children could advance their skills in verbal and non-verbal communication, compassion, and understanding of others.
Pets can strengthen family bonds as they provide a focus for activities like grooming, feeding, and walks.
Additionally, a pet can give a child a safe avenue to share their emotions and thoughts, which can enable kids to better regulate their emotions when they face challenges in their day.
Pets encourage kids to nurture another and provide affection and care. Caring for a pet, whether it's feeding, grooming, or walking, compels kids to step outside of themselves and focus on the wellbeing of another being.
These benefits can directly impact kids' socialisation abilities and their emotional intelligence.
5. Better health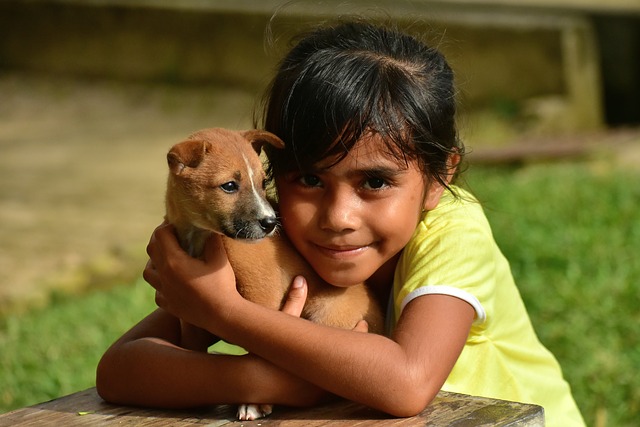 Pets may help prevent allergies and asthma in children.
Animals provide a connection to nature, and they may offer a number of health-supporting outcomes for children. They could lower blood pressure, boost recovery times and immune systems, and alleviate stress and anxiety.
Studies have shown having multiple pets decrease the risk of kids developing certain allergies and asthma. This could be due to physical interactions, like a pet's licking, exposing kids to more bacteria and encouraging the child's immune system to become stronger.
In addition, having a pet such as a dog encourages kids to become more active. Walks, visits to the park, playing in the backyard are all ways a dog can promote kids to do more physical activity and be fitter and healthier.
Fostering Child Development: Pin For Future Reference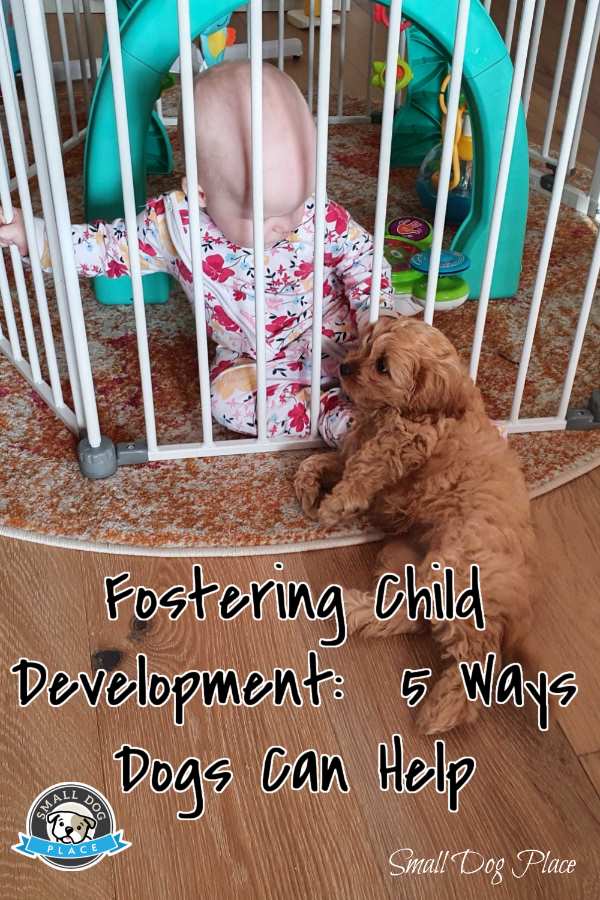 Fostering Child Development: 5 Ways Dogs Can Help
Decide if you're ready for a pet
Growing up with a pet in the household could enhance emotional, physical, social, and cognitive development in your children.
However, it's important to choose the right pet for your lifestyle and ensure your dog or cat is well taken care of. Very young children might not be the best carers for pets and will need guidance and monitoring when learning how to care for an animal.
On the other hand, parents who model responsible and caring behaviour offer a great foundation for children to grow up beneficially with their pet.
Fostering Child Development: Author's Bio
Jacqui Coombe is a blogger, marketer, wife, and now mum to a beautiful 1-year-old daughter, Lily, and cavoodle puppy, Max. Finding the right work/life balance is always a juggle, but Jacqui loves being able to combine her learnings and insights of parenting with her passion for blogging.
Does This Article Deserve Your Thumbs Up?
We always appreciate your support and encouragement. Your thumbs up means so much to us. Please like this article.
<!–
–!>
If you find this page or any page on Small Dog Place Helpful, or Useful in anyway, I'd love it if you would click the small heart found on the bottom right of each page.
You can also share or bookmark this page — just click on the: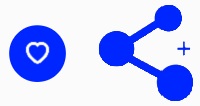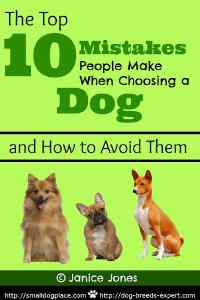 Free Monthly Newsletter
Sign Up for Our Free Newsletter and get our Free Gift to You.
my E-book, The Top 10 Mistakes People Make When Choosing a Dog (and how to avoid them)



This article was originally published by Smalldogplace.com. Read the original article here.