by Emma Williams |Published 09-20-2021
There are so many homemade dog food recipes online, but sadly most of them are geared towards larger breeds, and would result in enough food to last a year for a little dog!
Smaller dogs obviously take much less food to keep them fed and happy. When it comes to wanting to make them some wholesome, cost-effective homemade meals, it helps to have some recipes on hand that best match their needs.
Many of these dog food recipes (including this one) are free of chicken, too. Chicken is a great choice for dogs in general, but it is also one of the most common allergens for our furry friends, and avoiding it can be tricky when you only buy pre-made dog foods.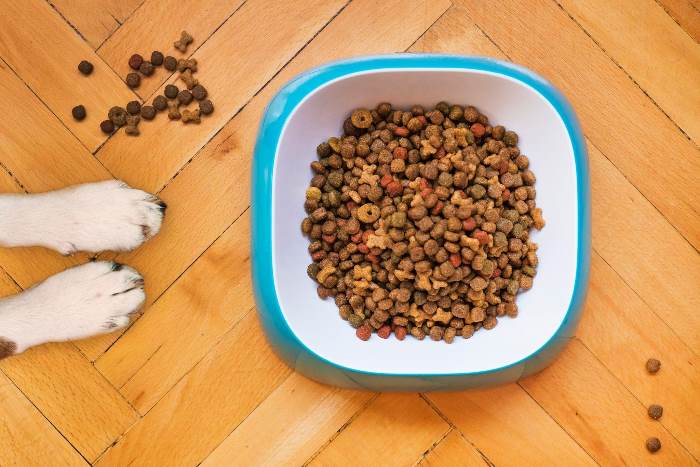 Photo by Mathew Coulton on Unsplash
8 Homemade Dog Food Recipes
1. Chili Without The Chili
Here's a yummy winter treat without the heat – making it a great year-round meal for your little furry friend.
Ingredients
● 4 x chicken breasts, sliced
● 4 x cups chicken stock/broth
● 1 cup carrots, diced
● 1 cup kidney beans, drained
● 1 cup black beans, drained
● ½ cup tomato paste
Directions
● Cook the sliced chicken over a medium heat until cooked through
● Combine the cooked chicken with all other ingredients into a pot and cook over a medium heat for a further 10-15 minutes
● Wait until it is cool to serve
2. Beefy Rice
A bit of a take on fried rice but beefier! Your little puppy will love this hearty meal.
Ingredients
● 250g beef mince
● 1 small – medium sized potato, sliced thinly
● Half a dozen green beans, chopped
● ¼ cup rice – instant for ease
● 3 ¼ cup water
● 1 or 2 eggs – optional
Directions
● First, brown the beef mince in a pan over a medium heat
● Combine the rice and water in a microwave-safe bowl and cook for 4 minutes (or as per instant rice instructions)
● Add 3 cups of water, beans and potatoes to a pot and simmer until vegetables are tender
● Drain vegetables and add to meat with rice, and stir until well combined
● Wait until cool to serve
● If adding eggs, fry them off in a rough omelette style, and add to meal before serving
3. Very Berry Biscuits
Your pooch will love you even more for these yummy fruity biscuit treats!
Ingredients
● 1 large egg
● 4 x cups almond meal
● ¾ flax meal
● ½ cup berry mix – blackberries, strawberries and raspberries
● ¼ cup olive oil
● 1 cup water
Directions
● Preheat oven to 180 degrees C (350 degrees F)
● Line a baking sheet with baking or parchment paper
● Mix all ingredients together until well combined to form a dough
● Roll out the dough and use whatever cookie cutter shape you like to cut out individual biscuits
● Bake them in the oven for approximately 30 minutes or until lightly browned
● Wait until it is cool to serve
4. Fruity Goodness
While we are on the subject of deserts, try this yummy blend for a special treat for your little dog – careful to keep their diet nice and balanced though – this is an occasional treat!
Ingredients
● ½ cup plain yogurt
● 1 cup of mixed chopped berries – strawberries, blueberries or blackberries
● ½ cup applesauce
Directions
● Combine all ingredients in one bowl
● Blend and serve straight away!
5. Breakfast of (Little) Champions!
This is a take on the classic porridge breakfast but can of course be served any time. Packed with protein and easy-to-digest starch and combined with a sweet flavor from the veg makes it a winner! This is a recipe to make in bulk and freeze, which is especially handy for using as a homemade breakfast alternative.
Ingredients
● 20 egg whites
● 2 ¼ cups dry oats
● 14 tsp corn oil
● 2 cups carrots, sliced (frozen is fine)
Directions
● Boil and drain the carrots (without adding salt) and set them aside
● Follow preparation instructions for oats and set aside to cool
● Using a non-stick pan, cook egg whites until there is no liquid and leave to cool
● Combine all ingredients in large mixing bowl – stir well
● Separate into approximately 16 separate breakfast-sized portions
● Remove a portion from the freezer the night before for a yummy breakfast of champions for your little pooch!
6. Crockpot Doggie Stew
Here is another nutritious recipe perfect for little canine tummies – healthy, cost-effective and delicious.
Ingredients
● Approx 1kg of beef mince
● 1 ½ cups brown rice
● 1 ½ cups carrots, chopped
● 1 x 15 ounce can kidney beans, drained and rinsed
● 1 ½ butternut squash, chopped
● ½ cup peas (canned or frozen is fine)
● 4 cups water
Directions
● In a slow cooker, combine the beef mince, rice, butternut squash, kidney beans, peas, carrots and water
● Cover with lid and slow cook on a high setting/heat for 2-3 hours, or a low setting/heat for 5-6 hours, stirring occasionally
● Wait until it is cool to serve
7. Peanut Cookies
Another occasional treat for your little doggie are these delicious peanut butter and honey cookies!
Ingredients
● 1 cup traditional rolled oats
● 2 cups of plain flour
● ½ cup peanut butter – smooth, not crunchy
● 1 tbsp honey
● ½ tbsp fish oil
● 1 ¾ cups water
Directions
● Preheat oven to 180 degrees C (350 degrees F)
● Combine the oats and flour in a large mixing bowl
● Add 1 cup of water and mix until a smooth consistency is reached
● Add the peanut butter, honey and fish oil and mix well
● Add the remaining water gradually and finish mixing
● Arrange into shapes on a lined baking sheet
● Bake for 30 – 40 minutes (until light golden brown)
● Wait until cool before serving
8. Liver Bites
Last but not least, these homemade liver bites will be a hit – delicious and highly nutritious, these tasty snacks are particularly handy for tempting pups out of any loss of appetite.
Ingredients
● 220g chicken livers, rinsed
● 1 cup traditional rolled oats
● 1 cup all-purpose flour
● 1 tbsp vegetable oil
● 2 medium eggs
Directions
● Preheat the oven to 165 degrees C (325 degrees F)
● Grease and line a baking dish (approx. 9 inch)
● Pulse oats in a food processor until finely chopped
● Combine oats and flour in a bowl
● Process liver in food processor until smooth
● Add eggs to liver and combine/blend in processor – add the oil and finish blending
● Add the liver mixture to the flour and oats and mix well
● Pour/spoon the mixture into the baking dish and bake for approximately 30 – 40 minutes – until firm but not crispy or hard
● Cool , cut into treat-sized bites and serve!
Final thoughts
Many dog food brands are carefully developed to provide a healthy, balanced diet for your dog, but there's nothing like a home-cooked meal, and they tend to save a few bucks, too.
Hopefully these yummy recipes will make it that much easier to make delicious, nutritious meals at home for your small breed dog.
Pin for Future Reference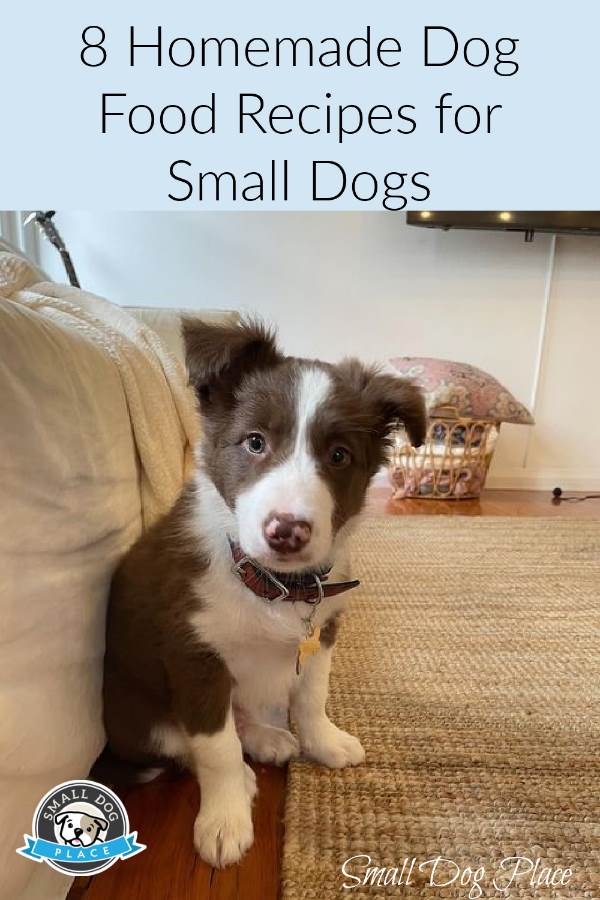 Author Bio
Emma Williams is an animal lover and pet parent of two four-legged friends, Indie and Beau. She is a professional writer who has been featured on News 9, Fox News, plus lots of pet publications. She currently lives in Sydney, Australia and works for PetBucket.com
Other articles by Emma Williams
Raw Meat Dog Food: Safe Storage and Prep Tips
Back To Work Blues: 7 Tips To Keep Your Dog Happy
Bichpoo: An Owner's Guide to the Bichon Poodle
Top 3 Dog Carriers and Travel Products
Does This Article Deserve Your Thumbs Up?
We always appreciate your support and encouragement. Your thumbs up means so much to us. Please like this article.
<!–
–!>
If you find this page or any page on Small Dog Place Helpful, or Useful in anyway, I'd love it if you would click the small heart found on the bottom right of each page.
You can also share or bookmark this page — just click on the: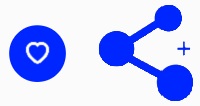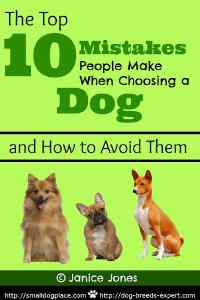 Free Monthly Newsletter
Sign Up for Our Free Newsletter and get our Free Gift to You.
my E-book, The Top 10 Mistakes People Make When Choosing a Dog (and how to avoid them)



This article was originally published by Smalldogplace.com. Read the original article here.