Shih Tzu (pronounced "Sheet-soo")
The plural and singular form of the name is the same.
By Janice Jones |Last Updated 07-20-2021
If split personality could describe a small dog breed it would be this breed—laid back, couch potato, perfectly content to nap on your lap all day OR, speed demon, happy to run at top speeds around your home or yard.
As fearless watchdog, this breed tends to bark loudly when someone comes to the door, but then greet the visitor enthusiastic with kisses and affection.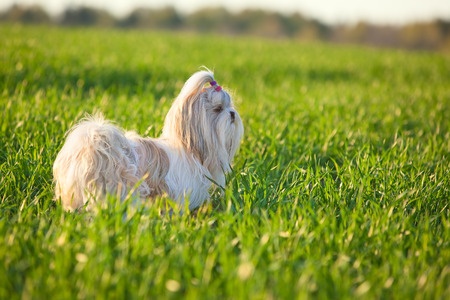 Other than
the occasional bark when visitors arrive, he is not as yappy as some other
small breed dogs.
This is a loyal,
friendly, gentle dog that loves people and will bond with all members of the
family.
For those who love a dash of color, the Tzu breed is eager to please, coming in a wide array of colors, all of which are permitted under the standard.
From the traditional black and white, gold, and brindle come exotics such as reds, chocolates, and silvers. There's a color pattern for every taste.
Quick Facts

Other Names Used: Lion Dog, Chrysanthemum-faced dog

Affiliation: AKC:
Toy, UK: Companion, CKC: Group 6,
Non-Sporting, KC, ANKC, NZKC, FCI
Coat Type: Long, dense, smooth, flowing

Colors: Gold, White, Brindle, Chocolate, Cream,
Black, Red—Orange, Gray and combinations of 2 and 3 colors. For a thorough discussion of Shih Tzu Colors, please check out Coat Colors page.
Activity Level: Low to moderate
Good with Children: Yes

Good with other pets: Yes
Average Litter Size: 5-6 puppies
Average Price: $1000 – $2000
Explanations for At a Glance Ratings
Playfulness: Most=5 Less=1
Affection: Most=5 Least=1
Friendliness Towards Strangers: Most=5 Least=1
Good with Children: Good=5 Not Good=1
Good with Other Dogs: Good=5 Not Good=1
Good for First Time Owners: Good=5 Not Good=1
Amount of Exercise Required: Much=5 Minimal=1
Ease of Training: Easy=5 Difficult=1
Watch Dog Ability: Excellent=5 Poor=1
Grooming Needs: Extensive=5 Minimal=1
Shedding: Heavy Shedding=5 Minimal Shedding=1
Cold Tolerance: Cold Well Tolerated=5 Poorly Tolerated=1
Heat Tolerance: Heat Well Tolerated=5 Poorly Tolerated=1
Even though the standard size is between 9 and 16 pounds, some adult dogs are much smaller than the AKC Standard.
You might see these smaller versions called Chinese Imperial or Imperial Tzu, but they are not identified as a separate breed as may be the case in the Poodle. (i.e. Toy, Miniature, Standard), but are nonetheless miniature versions of the normal sized Shih Tzu dogs.
History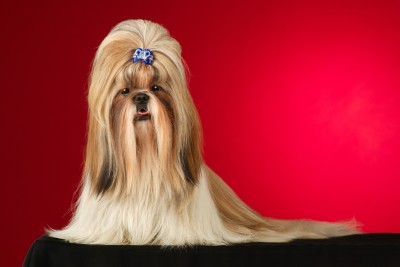 The known history of the breed breed dates back to antiquity.
The exact date of origin of the Shih Tzu is not known, but evidence of its existence has come to us from documents, paintings and objets d'art dating from A. D. 624.
During the Tang Dynasty (618 to 907 A.D.), the King of Viqur gave the Chinese court a pair of dogs said to have come from the Fu Lin (assumed to be the Byzantine Empire).
Another theory of their introduction to China was recorded in the mid-17th century when dogs were brought from Tibet to the Chinese court. These dogs were bred in the Forbidden City of Peking.
The smallest of these dogs resembled a lion, as represented in Oriental art. "Shih Tzu" means "lion".
These dogs are reported to be the oldest and smallest of the Tibetan holy dogs, the lion being associated with the Buddhist deity.
These dogs were bred by the Chinese court and from them the dog we know today as the Shih Tzu developed.
They are also called "the chrysanthemum-faced dog" because the hair grows about the face in all directions.
It is known that the Tzu was a house pet during most of the Ming Dynasty (1368 – 1644 A.D.) and that they were highly favored by the royal family.
Dowager Empress Cixi (T'zu Hsi) kept an important kennel of Pugs, Pekingese, and Shih Tzu.
After her death in 1908 the dogs were dispersed and breeding mostly ceased. When the Communist Revolution occurred in China the breed became almost extinct.
Every member of the breed today can be traced to fourteen dogs – seven bitches and seven dogs – some of which were imported to England where breeding of the Tzu began in 1930.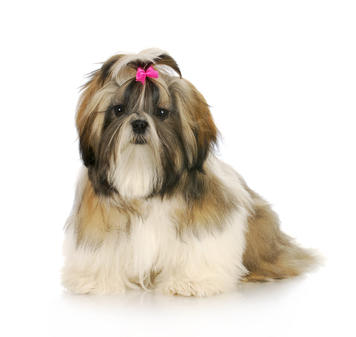 Here is a young red and white Shih Tzu
There the breed was first classified as "Apsos" but after a ruling by the Kennel Club (England) that Lhasa Apsos and Shih Tzus were separate breeds, the Shih Tzu Club of England was formed in 1935.
From England members of the breed were exported to other countries in Europe and Australia.
American soldiers stationed in these countries brought the breed back to the United States thus introducing them to this country.
The breed was admitted to registration in the American Kennel Club Stud Book in March, 1969 and to regular show classification in the Toy Group at AKC shows beginning September 1, 1969.
So there, in a nutshell is the history of this breed. The breed continues to evolve as breeders strive to improve the breed.
Personality
He is sociable but not as outgoing as some breeds. He needs people so he is not likely to be happy
alone for extended periods of the day.
He is not an outdoor dog, so never leave this
breed outdoors unattended, nor in a locked car.
He tolerates the cold better than the heat.
This little dog is rarely aggressive and gets along with
children and other pets. Some have a
jealous streak if he lives in a household with multiple pets.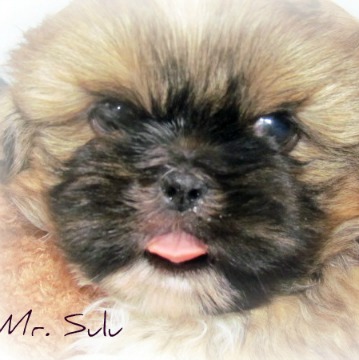 Gold Shih Tzu Puppy with a Black Mask
He does well with older children but may be a
little fearful of younger toddlers therefore, Dogs of this small breed make better pets for
families with older children.
Small dogs of this breed are intelligent and can be trained although
there tends to be a stubborn side to his personality.
He responds best to gentle positive approaches
to training.
He can be hard to house-train, so he does best
with a very patient owner who is consistent and calm.
James Mumford described the breed, in the American Shih Tzu Magazine as…
"a dash of lion, several teaspoons of rabbit,
a couple of ounces of domestic cat,
one part court jester,
a dash of ballerina,
a pinch of old man (Chinese),
a bit of beggar,
a tablespoon of monkey,
one part baby seal,
a dash of teddy bear and the rest dogs of Tibetan and Chinese origin."
Health Concerns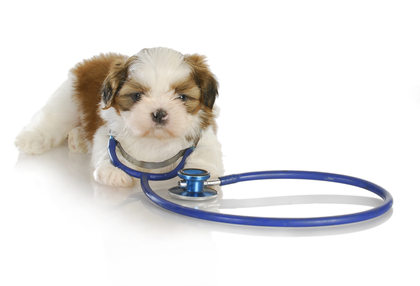 Some of the most common health concerns in the Tzu involve the eyes because they are big and protruding, but also because the Shih Tzu's coat hair continues to grow.
Hair that is not removed or tied back can iritate the eyes causing many different problems.
Other Common health
concerns include liver shunt, renal dysplasia, allergies, hip
dysplasia, thyroid disorders and Von Willebrand's Disease.
For a discussion of health concerns specific for this breed, check out a separate page about Shih Tzu Health Issues.
Grooming Requirements of The Shih Tzu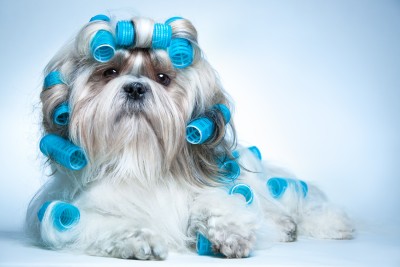 Tips for Grooming a Shih Tzu
Contrary to what the photo above would have you believe, the Shih Tzu coat should be long, dense and straight.
No hair curlers required, but a little hairspray and a flat iron could help!
Most people are attracted to the lovely double coat that
comes in a variety of colors. But with
this heavy coat, there comes the responsibility to groom regularly.
If you've ever seen a Shih Tzu Show dog in his full regalia you know the beauty these dogs possess. But to achieve this requires much more time, money, and effort than the average pet Tzu lover cares to expend.
This is a breed that requires much grooming
especially if you decide to keep the coat long.
If not, you will need to learn to groom him yourself at home or budget
for visits to the groomers every couple of months.
Some of the grooming challenges for this breed
include keeping the coat brushed because the thick double coat tends to tangle
and mat easily.
Eye care is important
because eyes can be injured easily.
Keeping the hair out of the eyes and wiping them daily will help keep
them healthy.
Light haired dogs are also prone to tear staining.
Ears need care too as
hair continues to grow inside the ear canal.
This hair should be removed and ears cleaned periodically.
Hair grows continually between the pads of the foot and this can mat easily if not clipped and removed.
For an in depth look at grooming please visit D.I.Y. Grooming.
Feeding
Shih Tzu dogs thrive on a high quality food that does not contain corn, soy or wheat.
Dog foods made with good grains such as brown rice or quinoa are a good choice. Most dogs will eat between 1/2 and 1 cup of food per day. Healthy snacks can be provided in moderation and most Tzu love veggies and fruits. Some Shih Tzu are prone to obesity, so it's important to monitor food intake.
Sometimes supplements are required to address specific health issues and a daily multi-vitamin, mineral, antioxidant supplement can't hurt.
Lifestyle
Best Suited For
The Shih Tzu is an excellent choice for a first time dog owner. His ability to adapt to most any situation also makes them perfect for singles, couples, and families with children.
Very young children may not do well with the smaller versions of this breed. Retirees find this breed to be just about perfect. Easy to care for and their energy level is just right for a moderately active senior.
Energy and Activity Level
Speaking of energy level, these dogs are equally happy to sleep on your lap or by your side as you relax or jump at the chance of a short walk in the neighborhood.
If you have ever saw a Shih Tzu bolt off at top speed, you may question the notion that this is anything but a very energetic dog.
It is true they do like to run, but sprinting is all they can do. Long walks or runs will leave them panting and uncomfortable due to their brachycephalic status.
Training
These dogs are very intelligent and have a need to please. With that said, they also have a stubborn streak (the what's in it for me?) attitude.
Most dogs learn basic commands and will obediently follow how rules and develop manners. Potty training is likely the most difficult to master. Time and patience is needed to achieve a complete house training routine.
Breed Pros and Cons
Pros
Excellent all round breed suitable for novice dog owners and most types of people
Loving, affectionate, loyal and devoted
Does not require much exercise
Relatively low energy dog
Popular breed, easy to find
Cons
Requires much brushing and grooming
Prone to allergies
May not do well if left alone
Related Breeds
From Our Readers…
Meet Bam Bam
by Lorraine Tuccinardi from Coventry, RI (USA)
Bam Bam was purchased in 2015 at 8 wks old. He is now 1 1/2 yrs old and is the joy of our lives!!!
Trained to eliminate on puppy pads, he gets along with my 11 yr old pug, Maxx.
He can get easily jealous if Maxx is given extra attention but they still love each other.
Bam Bam is definitely a lap dog and relies on lovings and attention always.
He now weighs about 6 lbs. He is groomed about every 6-8 weeks. He is adorable and I would certainly recommend him to any home.
HE LOVES EVERYONE!!!
Only annoyance is the barking. Love him to death!!!!
Attention Shih Tzu Owners…
If you are on Facebook, you might want to check out this active group of like-minded friendly and very helpful people. Click on the picture to be taken to the page. (See you there)
Resources
Need more information about the breed. We've hand picked a few books from Amazon that we think are worth checking out. Also, please visit our sister site for more information on the Shih Tzu Dog.
Do You Already Own a Shih Tzu? Please Share
Please Share Your Dog's Story, that is, not your Dog!!
Tell us why you chose the breed, and what they are like to live with. Does your dog have any special talents or unique quirks?
Tell us Why you would recommend the breed and to which type of dog owner.
The more you say, the better!
Don't forget to let us know whether your dog is a girl or boy, and their current age.
What Other Visitors Have Said
Click below to see contributions from other visitors to this page…
---
Does This Article Deserve Your Thumbs Up?
We always appreciate your support and encouragement. Your thumbs up means so much to us. Please like this article.
<!–
–!>
If you find this page or any page on Small Dog Place Helpful, or Useful in anyway, I'd love it if you would click the small heart found on the bottom right of each page.
You can also share or bookmark this page — just click on the: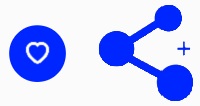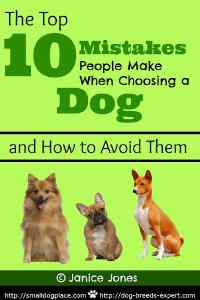 Free Monthly Newsletter
Sign Up for Our Free Newsletter and get our Free Gift to You.
my E-book, The Top 10 Mistakes People Make When Choosing a Dog (and how to avoid them)



This article was originally published by Smalldogplace.com. Read the original article here.