›

›
Dog names based on Food By Janice Jones | Last Updated November 22, 2021
You don't have to be a foodie to consider a name for your new puppy based on food. There is something primal about food. We all eat to live and many people go beyond the physical needs and attach emotions to the foods they eat.
Even the words we use to describe foods have an emotional connotation — Full bodied, earthy, woody, or Exquisite, Heavenly, or Tantalizing
It might seem weird, unusual, odd, or just plain wrong, but there is a definite trend to naming our dogs after a food.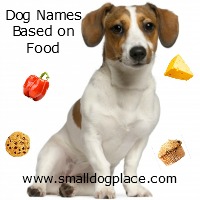 People want something beyond Fido, Bella, or Rover.
Many small dog owners want some unusual, that will stand out and create character for their dog.
Are you one of them? Here's our list. If you have more suggestions, please let us know and we will add them.
Why These Dog Names Based on Food?

The names on this list have the following in common.
These names are short, one, two or three syllables at maximum and have a nice "ring" to them. Some are very common and may even appear on popular dog names lists.
If you speak English, all of these names are easy to pronounce.
They all work well with training commands. This is important because most dog owners want a well behaved polite dog and will train them to use simple commands such as sit and stay. If their name very similar to a training command or prompt, then teaching that skill becomes more difficult
Inspiration for Dog Names Based on Food
Where does one get their inspiration for dog name based on food? The most obvious places would be your own kitchen pantry. Food supermarkets are also another get resource as is restaurants and even cookbooks.
Giant List of Dog Names Based on Food

Sometimes dog names based on food lists tend to resemble the index of a cookbook. That's boring, wouldn't you say? Let's take a look at names from a different perspective.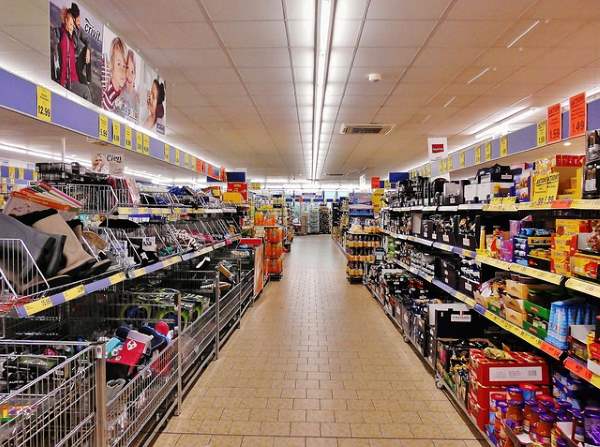 I've categorized these names into sections found in a typical American supermarket or grocery store. Let's go shopping.
The Produce Aisle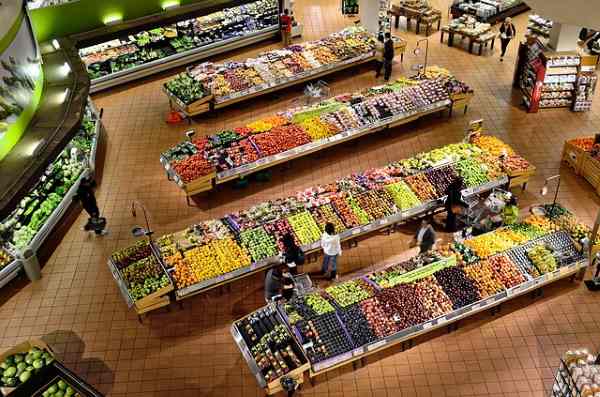 As we arrive at our store, the first thing we see is the produce isle, well, actually is the florist, but dog names based on flowers and nature are the topic of another page. The isle is brimming with fresh fruits and vegetables, but here are the ones I found make the best dog names.
Bamboo (Shoots)
Beans
Berry
Blackberry
Blueberry
Bok Choy
Cabbage
Cherry
Cranberry
Endive

Honeydew
Huckleberry
Jalapeno
Kaffir
Kale
Kiwi
Kumquat
Leek
Lychee
Mushroom
Nashi (Asian Pear)
Okra
Parsnip
Peaches
Pepper
Pumpkin
Raddish
Shallot
Sprout
Reader Suggestion
Dixie from Calabassas (U.S.) suggested Brussel Sprout, Potato and other Green Veggies.
How about Sprout for Short? Other Green Vegetable ideas include: Collard, Swiss Chard (Chard for short), Iceberg (lettuce)
Candy and Sweets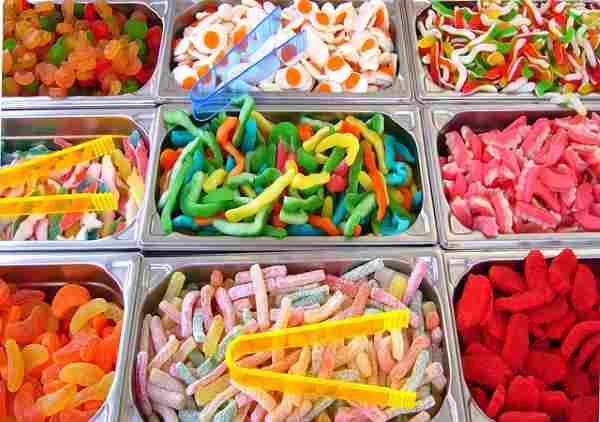 The candy isle shares it's space with other packaged goods, but look at the long list of possible dog names based on food that the candy section has given us.
Some of these candy names would make a great choice for a brown or black colored dog.
Almond Joy or Joy for short
Cadbury (Chocolate Candy)
Dove (Chocolate)
Fudge (A brown dog's dream name)
Godiva (Brand)
Hershey (Brand)
Mary Jane (Brand), either Mary or Jane would work
Peppermint Patty (Use both for your registered name and Patty for the dog's call name)
Rollo (Brand)
Snickers (Brand)
Smores
Twix (Brand)
Chastinny from the United States writes
Our Dogs are named: Brownie Bite, Sugar Puff, and Soda Pop
Our Bunnies' names are: Snicky (Snickers), Peeps, and Karmel
It is always very clever to keep a name theme running in the family.
Select a Candy Name for Your Black Dog
The quintessential black candy will always be Licorice but you may also want to consider Raisin as in Chocolate Coated Raisins or black Jelly Beans (Jelly Bean or Bean for short.). Black Cherry candies also appear black so choose the name Cherry.
More Candy Names for your Colorful Dog
The remainder of this list could be used with any color dog, with the exception of Marshmallow which might make an excellent name for a white dog. Other possible candy names for a white dog include White Gummy Bears or Gummy for short, vanilla salt water taffy or Taffy for short, or rock candy, Rock for short.
BonBon
Caramel

Butterscotch
Candy
Cotton Candy
Gumball
Jujubee
Marshmallow
Pez

Pixie (Sticks)

Skittle
Taffy

Tic-Tac
Toffee
Twizzlers
Fresh Meat and Seafood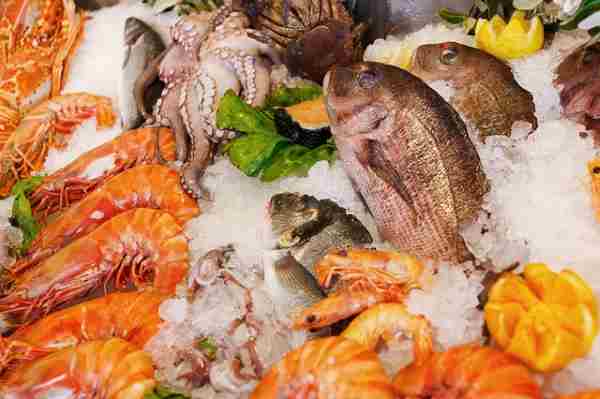 Moving on to the Meat and Seafood section, we spotted a few great foods that wouldn't mind you using their names. Think Shrimp for a tiny dog, Lobster for a red colored dog or Oyster for a white or gray dog.
Anchovy
Giblet

Ham Bone
T-bone
Lamb chop
Meatball
Hotdog
Prawn
Riblet
Shrimp
Lobster
Packaged and Canned Goods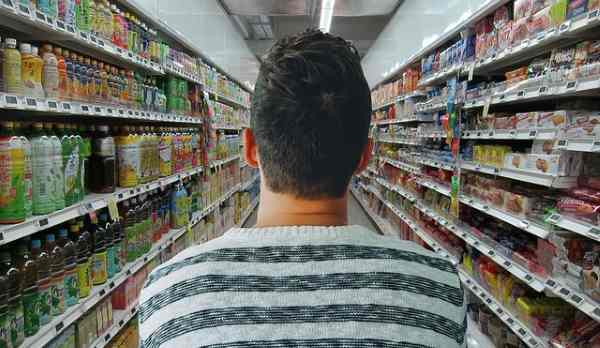 Here's where the bulk of groceries can be found especially if you are not shopping fresh. It is a catch all grouping, but many of these foods make excellent dog names.
Currant
Cheerio
Chex
Graham cracker (Graham for short)
Gravy
Grits
Chickpea
Macaroni or Mac for short
Nacho
Nilla
Noodle
Nutella
Oreo
Pancake (flour)
Penne
Rotini
Sugar

Ziti
Snack Section Gives Rise to Many Clever Dog Names Based on Food
So, this is the snack section. Don't expect anything healthy here but many items make great dog names based on food.
Cheese Puff
Cheeto
Chip
Cracker

Dorito
Frito
Melba (Toast)
Popcorn
Pretzel
Pringle
Ruffles (type of potato chip)
The Bakery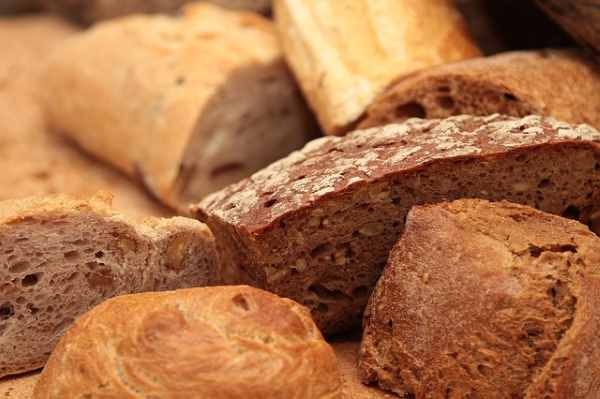 As we head over to the bakery, the aroma of fresh baked bread fills our lungs. This is the comfort food area and so there are plenty of great dog names to be found.
Bagel
Baguette
Brownie
Biscuit
Cannoli
Cookie

Cream Puff
Crêpe

Cheesecake
Cobbler
Crumbs
Crumpet
Cupcake
Donut
Éclair
Honey Cake

Muffin
Pita
Scone
Shortcake

Torte
Twinkie
Herbs, Spices and Condiments
The condiment isle of the local store is likely to house dry herbs, spices, condiments and an assortment of other foodstuffs. Some of these names may be a bit long for a dog but can be shorted for a clever nickname.
Anise
Basil
Chipotle (Maybe Chip for short?)
Chutney

Cinnamon
Clove
Curry
Dandelion (Dandi for short)
Dijon

Dill
Garlic
Ginger
Honey
Ketchup
Mustard
Nettle
Nutmeg
Pennyroyal (Penny for Short)
Pepper (Black)
Pesto
Pickles
Poppy (seed)
Poupon (type of Mustard)
Relish
Sage
Vanilla

Nuts as Dog Names Based on Food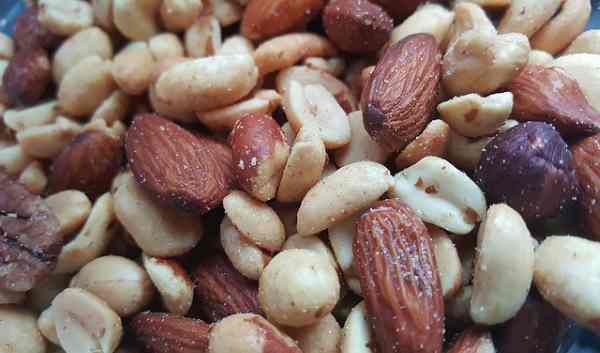 There are far more types of nuts worldwide that what I have listed here. The ones chosen are short and easily roll off the tongue. There will be a section at the end of the page if you want to add more names to this page.
Almond
Cashew
Chestnut
Hazelnut

Peanut
Coffees and Teas
Coffees and Teas make very popular dog names such as Mocha, Jasmine, and Chai. You don't need to enjoy these beverages, but those that do often find they make the best dog names based on food.
Cappuccino
Cocoa (Ok, so it isn't exactly coffee)
Coffee
Chai
Dandelion
Espresso
Frappe
Jasmine

Kona
Latti
Mocha
The Deli
World wide, there are so many different types of cheeses and the selections in delis around the world vary widely. Here's a few we found in our local deli that would make great dog names based on food.
Brie
Cheddar
Cheese ball
Colby
Feta
Gouda
Jack
The deli in this virtual supermarket also carries ready made foods that require little or no prep or cooking. Let's head over and what what types of Chinese, Korean or Mexican foods they're serving today.
Just for the record, anyone reading this who has never been to the U.S. don't expect to see this type of list in any grocery store or supermarket.
Barley Soup Barley for Short
Burrito
Caesar Salad Caesar for short served with Crouton(s)
Chop Suey
Chow Mein
Dumpling
Eggroll
Goulash
Hoagie
Hummus
Gumbo
Gyro
Kabob
Kimchi
Moo Goo (Gai Pan)
Nugget
Oscar
Pizza
Ratatouille
Reuben
Sausage
Sushi

Scampi
Taco
Wonton
Dessert, anyone? This local deli is also serving a few desserts for those with a sweet tooth.
Brûlée
Custard
Flan
Mousse
Sorbet
Strudel
More Dog Names Based on Food
Some of the following would fall in more than one group so to reduce confusion, I've listed them here. For example, find fresh coconut in produce, flaked packaged coconut in packaged goods, coconut milk and coconut water in drink isles.
Caviar
Churro
Coconut
Couscous
Date
Flapjack
Fritter
Guava
Lentil
Meringue
Tater Tot
Tofu
Waffle
---
Great Dog Names Based on Food Restaurants and Fast Food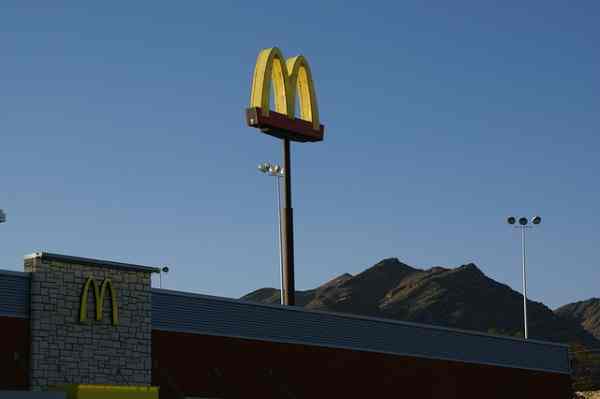 Sometimes people find their dog taking a liking to a particular fast food restaurant while out and about socializing their puppy.
There are many restaurant names that would make perfect puppy names. Other times, it's the owner who loves the restaurant and will bring back leftovers to their favorite pooch.
Arby (Arby's fast food restaurant chain)
Bistro
BJ (BJ's Restaurant and Brewhouse Chain)
Baskin (as in Baskin Robbins Ice Cream)
Bonefish (Bonefish Seafood Restaurant Chain
Chili (Chili's Restaurant Chain)
Chang (P.F. Chang Chinese Restaurant Chain)
Cheesecake (Cheesecake Factory Restaurant Chain)
Chipotle (Mexican Grill)
CiCi (Pizza)
Colonel (Kentucky Fried Chicken)
Denny (Restaurant)
Domino (Pizza)
Longhorn (Longhorn Steakhouse)
Olive (Olive Garden Italian Restaurant Chain)
Panda (Panda Express Chinese Fast Food)
Papa (Papa John's Pizza)
Popeye (Popeye's Chicken Restaurant Chain)
Quiznos (Subs)
Red Robin (Hamburger Restaurant Chain)
Ruby (Ruby Tuesday's Restaurant Chain)
Starbuck (coffee)
Taco (Taco Bell fast food Mexican)
Wendy (Wendy's Hamburger fast food)
Why Choose Dog Names Based on Food?

At some point in your life, you've no doubt met a dog named Coco, Hershey or Mocha.
They were probably brown dogs that fit the name entirely. But what about the dog name Chai?
Can you form a mental image of a dog with this name? Maybe not.
It is easy to see how people choose a food name based on the color of their dog's hair.
Even the texture of the fur can suggest an appropriate name. Consider a white, fluffy dog.
What could be cuter than marshmallow, cream puff or Meringue? So why chose a food name for your dog?
The owner craves or
loves a particular food. Are you a
chocolate lover or perhaps your favorite type of cheese is Brie?
The dog finds the
food irresistible. Does that new puppy
love Cheerios, Crackers or Bacon?
Children name the puppy. Often, children are
given the responsibility for naming the new dog. Expect a name such as licorice or skittle in
this situation.
If the whole family has
a voice in the decision, they may decide to go with the food or drink the
entire family enjoys. One family I know
chose the name Chai because that was the whole family's favorite tea.
The owner's emotions about
a food spill out onto the dog. What
types of food make you happy? What blissful
childhood memories were associated with food?
Often bringing home a new puppy brings back all those joyful feelings. Perhaps you remember your grandma's home made
biscuits, cookies, or pastries and decide your new puppy should be named Biscuit.
If the dog comes home
around a major holiday, the choice of names might be influenced by a food
associated with it. Consider Jellybean
for an Easter puppy, Pumpkin for a fall holiday, or Cinnamon for Valentine's
Day.
The dog's appearance
in some way reminds the owner of the type of food. Consider Snickers for a
brown dog, Oreo for a black and white dog, Blueberry if the dog has blue
coloration and Custard for a light colored dog.
A person's mood or state
of mind influences the decision to choose a dog name based on food
My state of mind influenced a litter of puppy names…

After a long night of labor, my female Shih Tzu finally gave birth to six puppies, all brown and black. As usual, I wanted to give each a name so I could keep them straight in my mind.
It was now 5:30 in the morning and I hadn't slept much since midnight. I was exhausted. Can you guess what names I gave to the puppies?
They were Mocha, Latte, Pepsi, Coffee, Coco, and Cappuccino.
Their appearance probably had something to do with it, but my state of mind had the greatest influence on the name choices.
No matter what choice you make, be sure the name is something that is easy to say and can be paired with commands when training begins.
Have a Great Dog Name Based on Food
I'd love to hear from you. Please use the form below to tell me what ideas you have and I will place them on this page for future visitors to enjoy.
If you want to see your name ideas on more than one page, please indicate on the form where your names should appear.
Related
Still not sure what name to pick? Check out these other resources.
Does This Article Deserve Your Thumbs Up?
We always appreciate your support and encouragement. Your thumbs up means so much to us. Please like this article.
<!–
–!>
If you find this page or any page on Small Dog Place Helpful, or Useful in anyway, I'd love it if you would click the small heart found on the bottom right of each page.
You can also share or bookmark this page — just click on the: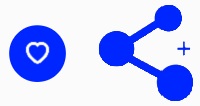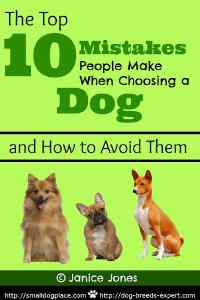 Free Monthly Newsletter
Sign Up for Our Free Newsletter and get our Free Gift to You.
my E-book, The Top 10 Mistakes People Make When Choosing a Dog (and how to avoid them)



This article was originally published by Smalldogplace.com. Read the original article here.