Is your pup suffering from majorly itchy skin or digestive issues? If so, he could be suffering from allergies. An at-home dog allergy test, like Glacier Peak Holistics' test, could uncover some of the allergens causing him health problems.
Glacier Peak Holistics' Pet Wellness Life Stress Scan Test is one of several at-home dog allergy tests on the market that you may be considering for your furry friend. How does this test differ from others? And are the results accurate? We dive into the details of the Glacier Peak Holistics allergy test to help you decide if this test is a good option for you.
Visit Glacier Peak Holistics' Website
Article Overview
Glacier Peaks Holistics Pet Wellness Life Stress Scan
Pros
Easy saliva and hair sample collection
Tests for 200 food and 100 environmental triggers
Get results in about 2 weeks
A consult with their holistic wellness coaches is included with kit purchase
Free standard shipping
Also has tests for cats and horses
Cons
Testing method isn't scientifically proven to be accurate
Can take up to 10 days for test kit to arrive at your home
Website lacks resources about pet allergens
Key Features
Tests for 300 allergens (more than many other at-home dog allergy testing kits)
Website has sample results and items they test for
Can get expedited results (for an added fee)
Recommended for dogs over 6 months of age
Company also carries a line of all-natural dog supplements
Customer support via live chat, phone, and email
How Does The Glacier Peak Allergy Test Work?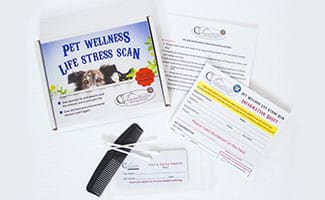 Glacier Peak Holistics uses a testing method based on traditional Chinese medicine, homeopathy, and Western holistic medicine. Their method uses energetic analysis with an SCIO (Scientific Consciousness Interface Operations System) biofeedback device. The SCIO device is a computer-operated non-invasive therapeutic device that combines bioresonance and biofeedback fields for body analysis and energy balancing.
So, what does this mean in terms of testing your pup for allergies? According to their website, biofeedback can "read the energetic resonance that emanates from the hair and saliva samples" and can identify stressors from diet and the environment on the body.
It's important to know that this method isn't scientifically proven accurate. A small scientific study published in the journal Veterinary Dermatology found that the results from the dog hairs from real dogs vs synthetic hairs from a stuffed animal produced the same results. So the researchers concluded that the test was not accurate.
However, if you're into holistic veterinary medicine, you could find this test useful. But keep in mind, this test isn't meant to be a substitute for traditional dog allergy testing with blood samples that your veterinarian can conduct.
Price
Pet Wellness Life Stress Scan
All-Natural Supplements For Dogs
Inflapotion (anti-inflammatory): $12.95
HerbAprin (for pain): $12.95
Glacier Peak Gold (for skin yeast infections): $39.95
Daily Defense (immune system booster): $19.95
Glacier Peak Holistics Dog Health Supplements
Check out this brief video to learn about their all-natural health supplements and how they could help your pup.
What's Our Final Verdict?
Visit Glacier Peak Holistics' Website
Although this company tests for many potential allergens and has good customer service, their testing isn't based on any scientifically proven methods. Still, if you're into energy-based, holistic medicine, you may find some value in this test. However, we encourage you to consider alternative at-home dog allergy testing kits.
This article was originally published by Caninejournal.com. Read the original article here.