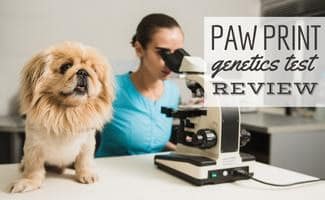 Are you a breeder who needs accurate genetic testing for hereditary diseases? Or do you want to know if your adopted pup has inherited any genetic mutations that could possibly pose health problems during her lifetime? Paw Print Genetics is one of several companies that offer at-home dog DNA testing. While they don't do breed identification testing, Paw Print's genetic testing specializes in disease screening. Are their tests worth it compared to similar companies?
Article Overview
Paw Print Genetics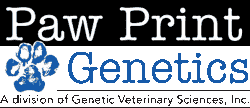 Pros
Analyzes each mutation with two independent methods to provide you the highest accuracy
Offers 225+ genetic mutation tests for health conditions
Complimentary genetic counseling available
Includes Canine Genetic Health Certificate
Partners with many dog clubs and associations
Results available in 2 weeks
Frequently offers discount specials
Excellent customer support
Cons
Can get expensive if testing for multiple diseases (but they offer discounts)
No breed identification tests
Very limited mixed-breed tests
Can be confusing to figure out which test(s) to order for a mixed-breed dog
Key Features
Easy-to-administer cheek swab sample
Offers single disease tests or breed-specific panels at discounted rates
Helpful website search features: by breed, disease/trait, or symptom
More than 20 different coat color and trait tests
Also offers parentage tests and a DNA profiling test
Ability to set up a breeder profile with results so puppy buyers can check results online
Founder and CEO Lisa G. Shaffer, Ph.D., is a board-certified veterinary genetics expert with over 300 medical publications
Customer support via phone and email
Prices
Breed Disease Test Panels: pricing varies (e.g., a Doberman Pinscher Essential panel is $260 for 4 disease tests)
Individual Disease Test: starts at $80 for 1 test with discounts for each additional test ordered
Coat Color/Trait Test: starts at $80 for 1 test with discounts for each additional test ordered
DNA Profiling Test: $49
Parentage Test (puppy, dam, or sire): $30
Clear by Parentage Test: $19
Free shipping
How Do I Get A Good Cheek Swab?
If you're wondering how to collect your dog's DNA properly, Paw Print Genetics' video tutorial below shows you the easy steps to take to get a good cheek swab.
Alternatives To Paw Print Genetics
Paw Print Genetics excels at assessing your dog's risk of developing or passing on inherited diseases. Their results are accurate and thorough, and we love that genetic counseling is included with your purchase. However, they can be pricey if you want multiple tests.
There are a few reputable dog DNA testing companies that you may want to consider as an alternative to Paw Print Genetics. These companies, like Embark and Wisdom Panel, offer health risk screening for 200 genetic conditions as well as breed identification and traits all in one test. They're a great fit if you want to save some money, especially if you have a mixed-breed dog.
This article was originally published by Caninejournal.com. Read the original article here.