Keeping Your Small Dog Entertained by Frankie Wallace
Published 02-02-2022
Do you struggle to keep your dog mentally and physically stimulated while you're working from home? Or, do you find your pooch is constantly trying to gain your attention while you're on important business calls?
Well, it should be no surprise that our canine companions struggle to align themselves with our work schedules — after all, they have no idea you're working a 9 – 5. They just want to enjoy your company.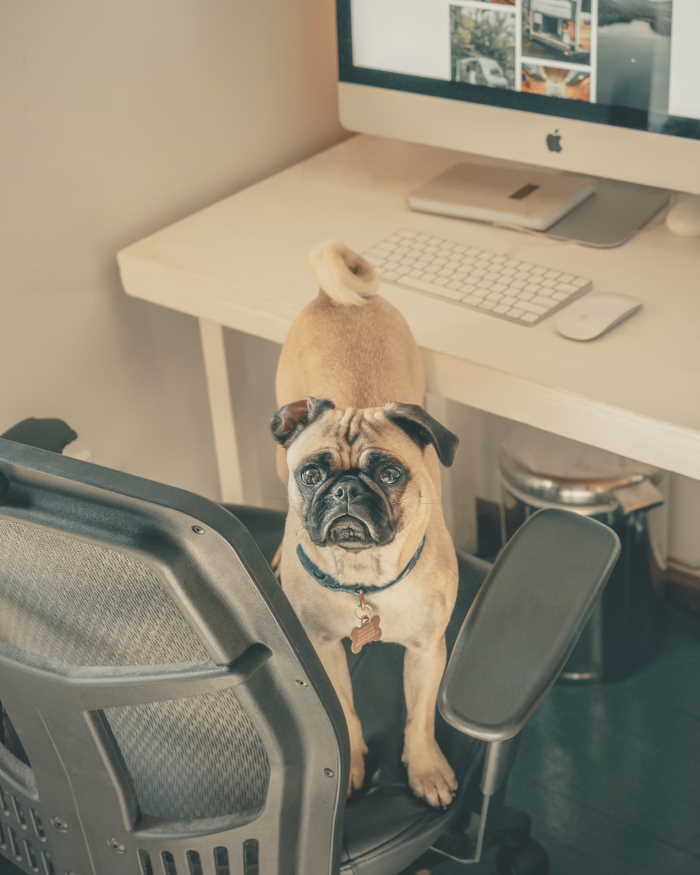 Keeping Your Small Dog Entertained While You Work
It's tempting to shut the office door and leave the pooch to take care of itself — after all, that's what we used to do when we all worked in a physical location. However, it isn't necessary to do so, and having a dog around can help reduce your work-related stress.
Plus, there are plenty of great ways to keep your small dog entertained, even during the most stressful of workdays.
Get Your Schedule Right
The biggest thing that stands between you and your dog's happiness is your work schedule. This is particularly true now that more of us have adopted a hybrid-work-from-home model. While 65% of employees state they prefer working hybrid, our dogs are more than a little bemused by the fact we are home but unavailable for play and snuggles.
There are plenty of different types of hybrid working models, and choosing the right one depends on proximity to your workplace and your desire to commute. These different types of hybrid models have different pros and cons, but most of them will require you to carefully schedule your workday around taking care of your dog.
To do this, you need to think strategically about how your working hours align with your dog's energy levels. For example, if you roll out of bed and head straight to the home office, then your furry buddy is unlikely to settle down. Instead, try to plan your most important work around times when you know your dog is likely to be taking a nap or tired (i.e. after a walk or lunch).
However, some of us don't have the freedom or flexibility to choose our working hours and can't strategically plan our working hours around our dogs' schedules. If this is the case, you should consider planning the time you are not working more thoroughly. This means you shouldn't be logging on more than a few minutes early and should take full advantage of lunch breaks to attend to your dog's needs.
Mental Stimulation
Somehow small dogs seem to recover from tiring walks far quicker than bigger dogs. This means that the "nap-time" you were counting on can suddenly evaporate, and you'll be met with two cute little eyes looking up at you while you're still wearing muddy shoes.
As tough as it sounds, the solution here isn't to coddle your dog even more. You need to set a clear, consistent boundary around your availability. This will help your dog get into the routine of leaving you alone during your working hours and will help you stay focused throughout the day.
But, you probably can't ignore your dog entirely during working hours — after all, that rug does look like it'd be fun to chew. Instead, you need to provide your dog with mental stimulation which doesn't require your involvement. You can set them up with a high chair near a window or can give them long-lasting treats like KONG, Nylabone, or Bully sticks.
Pet Room
If you're willing to get creative and want to treat your dog, then a pet room might be the perfect way to help your dog relax while you crack on with meaningful work.
Designing the perfect pet room requires as much planning and forethought as any other room in your home. Choosing the right space can be tricky, but spare bedrooms often work well, as they usually aren't areas of high traffic in your home.
Regardless of the room you choose, you should fill the pet room with a mixture of new and old toys and comforts. For example, you might include a new, more durable bed for a pet room but should still fill it with your pet's favorite toys and blankets to help them feel comfortable.
The only things you should not keep in the pet room are treats and food. Dog's sense of smell is famously strong, and the scent from the food might stir them up — would you want to nap next to a nice bacon sandwich that you can't eat?
Indoor Games
Indoor games are the holy grail of workday entertainment for your dog. These indoor games can be as simple as 10-minutes of "find it" or as complex as dog-specific puzzles. Remember, too, that small dogs will love a little obstacle course, and that leftover cardboard boxes will work great as tunnels or hurdles.
Of course, you can't always be an active participant in your dog's favorite games. This is where toys come in. There are plenty of toys that you can set and leave, you just need to find one that occupies your dog. One of the best solo toys for your dog is a Kong chew. You simply fill the rubber ball with treats, and the dog has to work with its mouth and paws to get them out.
Conclusion
Keeping your small dog entertained while you're working from home will always be a struggle. Depending on the mood and personality of your dog, you might just want to involve them even more and let them sit on your lap or feet while you work.
Of course, if your dog is energetic and won't sit still for more than a fraction of a second, then you should probably consider spending your lunch breaks exercising together. Plus, you can dedicate an entire room for your small dog to enjoy and can find interesting and engaging toys for them to play with while you get down to business.
Keeping Your Small Dog Entertained: Pin for Future Reference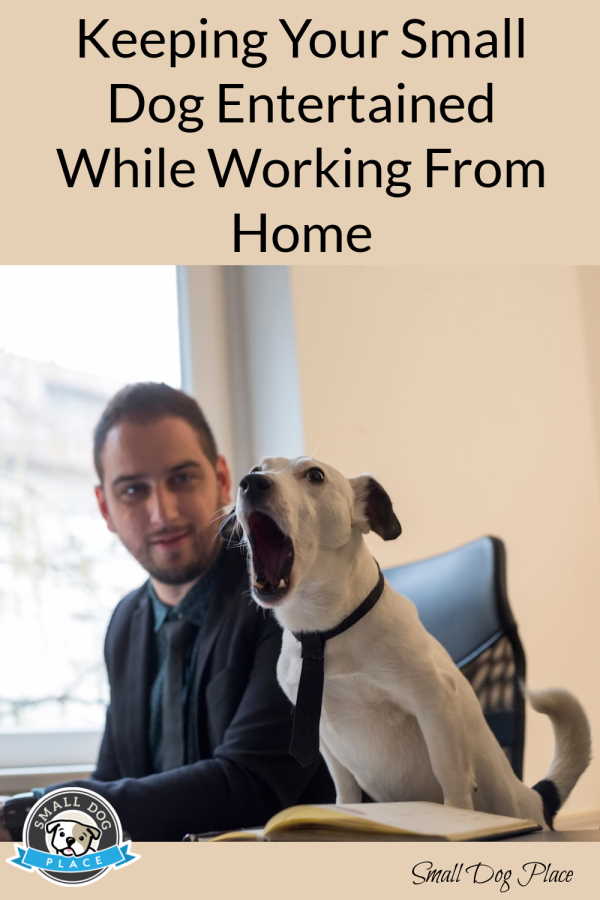 Keeping Your Dog Entertained While You Work From Home
Does This Article Deserve Your Thumbs Up?
We always appreciate your support and encouragement. Your thumbs up means so much to us. Please like this article.
<!–
–!>
If you find this page or any page on Small Dog Place Helpful, or Useful in anyway, I'd love it if you would click the small heart found on the bottom right of each page.
You can also share or bookmark this page — just click on the: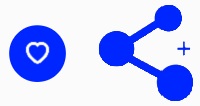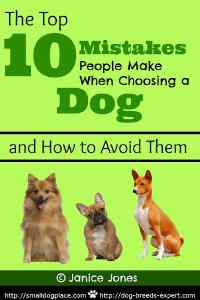 Free Monthly Newsletter
Sign Up for Our Free Newsletter and get our Free Gift to You.
my E-book, The Top 10 Mistakes People Make When Choosing a Dog (and how to avoid them)



This article was originally published by Smalldogplace.com. Read the original article here.