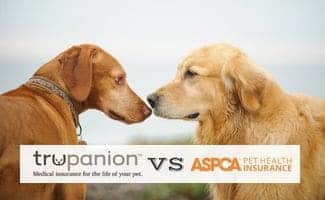 Trupanion and ASPCA Pet Insurance are both big names in the pet world. But how do you choose one company over the other for your financial risk management needs? Is one better, and if so, which? We'll help you decide which pet insurance company may be the perfect fit for your dog or cat's needs.
Visit Trupanion's Website | Visit ASPCA Pet Insurance's Website
Policy Coverage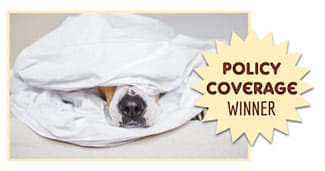 The table below shows what Trupanion and ASPCA Pet Insurance cover.
Note: Both companies cover emergency care, surgery and hospitalization, specialized exams and specialty care, X-rays, blood tests, ultrasounds, cat scans, MRIs, rehabilitation, cancer, chronic conditions, euthanasia, hereditary conditions, congenital conditions, non-routine dental treatment, and prescription medications.
Neither covers pre-existing conditions, cremation and burial costs, pregnancy and breeding, or unnecessary cosmetic procedures.
ASPCA Pet Insurance comes out ahead in this category because it offers more coverage and shorter waiting periods. Additionally, its underwriter has an A rating by A.M. Best (a measurement of financial stability). On the flip side, Trupanion's underwriter is unrated, which may make some uneasy.
Another key deciding factor for you may be the age restrictions attached to Trupanion's policies, especially if you are looking to insure an older pet. This provider doesn't enroll pets older than 14 years old.
ASPCA Pet Insurance wins this category with more comprehensive coverage, shorter waiting periods, and no age restrictions.

Policy Coverage Winner: ASPCA Pet Insurance
Customer Service & Reputation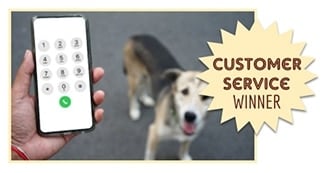 Trupanion has a history of providing dependable coverage at a consistent price. The company hasn't experienced any massive changes in years, which shows that you can count on a fairly reliable experience when you sign up for a Trupanion policy.
On the other hand, ASPCA Pet Insurance has many complaints from customers regarding low reimbursements, slow claim processing, conditions flagged as pre-existing, and more. This is frustrating for customers because they purchase a policy expecting certain things to be covered and reimbursed, and they feel disappointed by what they actually get from ASPCA Pet Insurance.

Customer Service & Reputation Winner: Trupanion
Claim Processing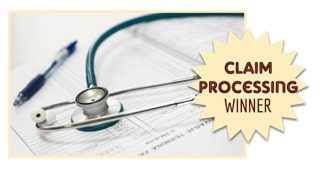 Trupanion promises to pay claims within 60 days but averages 14-day claim processing. A 14-day claim process leans toward a longer claim processing timeline, but it's still shorter than some competitors. Additionally, Trupanion offers a program called Trupanion Express that will pay participating vets directly, removing the burden for you to pay a hefty vet bill in advance while you wait for reimbursement. But this isn't available everywhere, so check with your vet first to see if it is an option for you.
On the other hand, ASPCA Pet Insurance averages 15-30 days for claim processing, even longer than Trupanion's. It also has a program to pay vets directly, but it's not available at every veterinary office either.

Claim Processing Winner: Trupanion
Price Of Policy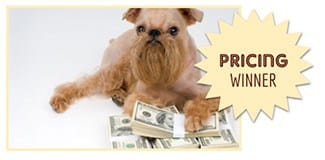 Trupanion requires a one-time enrollment fee of either $0, $25, or $35, depending on the state in which you live, but charges no monthly transaction fees. On the other hand, ASPCA Pet Insurance doesn't have a one-time sign-up charge but does add a $2 transaction fee each month.
Pricing is based on your pet's details (age, breed, location, etc.). We recommend obtaining quotes from each company for your specific pet. You can also visit our pet insurance comparison quotes to see a few sample prices we've gathered. Then use our pet insurance quote form to see how other top companies compare for your unique pet.
On average, Trupanion is among the most expensive, while ASPCA Pet Insurance's prices tend to fall in the middle among the competition. It's hard to compare apples to apples when Trupanion only gives you an unlimited claim payout option, while ASPCA Pet Insurance doesn't offer an unlimited option at all.

Price Of Policy Winner: ASPCA Pet Insurance
Coupons
Trupanion
Use this link to take advantage of the best possible price and get a quote for your pet from Trupanion. You can also visit our dedicated Trupanion promotions page to learn more.
ASPCA Pet Insurance
ASPCA Pet Insurance offers the following discount:
10% off for multiple pets
No promo code is needed. Use this link to take advantage of the best possible price.
Plan Customization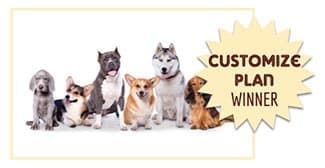 Other significant differences between these two companies include the level of plan customization available and age restrictions.
Trupanion has unlimited payouts and 90% reimbursement for all plans. The only customization available with a Trupanion policy is the option to choose your deductible between $0 to $1,000. (Generally, the higher the deductible, the lower the premium price will be.)
ASPCA Pet Insurance offers many customization options.
Annual payout options: $3,000, $4,000, $5,000, $7,000, or $10,000
Deductibles: $100, $250, or $500
Reimbursement: 70%, 80%, or 90%
Overall, Trupanion has fewer customization options than ASPCA Pet Insurance, which may make it more challenging to fit into your budget. In the end, ASPCA Pet Insurance wins this category.

Plan Customization Winner: ASPCA Pet Insurance
What's The Verdict?
Overall, Trupanion wins our comparison due to its longstanding customer service reputation and faster claim processing. However, if you want a company with more customization options and lower pricing (potentially), you should consider ASPCA Pet Insurance.
If you didn't find what you were looking for, our experts dig even deeper into each company in our individual reviews of Trupanion and ASPCA Pet Insurance. You also might want to consider a few other companies in your analysis before making your final decision.

Overall Winner: Trupanion
Our experts have spent hundreds of hours researching to bring you our comprehensive and frequently updated pet insurance reviews, including our top picks as well as details on each of the most popular pet insurance companies.
If you prefer to see winners by category, check out our best pet insurance comparison. We give awards for the best price, multi-pet discounts, 100% reimbursement, unlimited payouts, and other "best for" categories, including puppies, older dogs, dental, wellness coverage, bilateral conditions, behavioral therapy, vet direct pay, and more. You'll even see winners for exotic pets and cats.
This article was originally published by Caninejournal.com. Read the original article here.