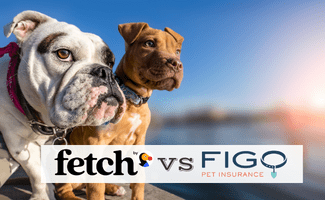 Fetch by The Dodo and Figo offer some of the most comprehensive coverage in the pet insurance industry. Fetch offers unique coverage for things like advertising and paying a reward for a stolen or lost pet as well as virtual vet visits up to $1,000. Meanwhile, Figo's prices are often hard to beat. So, which one will cover what you need and fit into your budget the best?
We compare coverage, customer service and reputation, claim processing, customizations, and prices and explain which company we think is better for each of these factors. But keep in mind that every pet and budget are different, so we recommend getting quotes from multiple companies to ensure you get the best value for your unique situation.
Visit Fetch's Website | Visit Figo's Website
Policy Coverage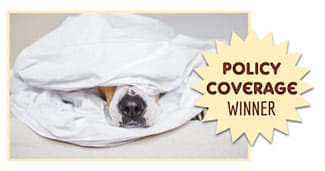 The table below shows what Fetch and Figo cover. Both companies cover emergency care, surgery and hospitalization, specialized exams and specialty care, X-rays, blood tests, ultrasounds, cat scans, MRIs, rehabilitation, cancer, chronic conditions, euthanasia, hereditary conditions, congenital conditions, non-routine dental treatment, and prescription medications. Neither covers pre-existing conditions, cremation and burial costs, pregnancy and breeding, or unnecessary cosmetic procedures.
Both Fetch and Figo deliver excellent coverage. The most significant difference is that Figo offers optional wellness coverage and Fetch doesn't. So, if wellness coverage is a must for you, then Figo is more in line with your needs.
Another thing that may make Figo more enticing to you is that the waiting periods for both accidents and illnesses are shorter than Fetch.
Fetch pets must be six weeks or older to enroll, while Figo requires at least seven weeks of age. Neither company has maximum age restrictions.

Figo wins this category because of its optional wellness coverage and shorter waiting periods. However, we think Fetch's coverage is comprehensive as well.
Policy Coverage Winner: Figo
Customer Service & Reputation
Fetch previously paid a licensing fee to sell its product under a different brand name. During that time, it underwent underwriter changes that resulted in premium increases and upset customers. It's common for prices to fluctuate when an underwriter change occurs, so this isn't unusual. Time passed, and the company bounced back, but at the beginning of 2022, it rebranded as Fetch by The Dodo. We will be interested to see how the rebranding impacts new and current customers, especially when it comes to renewal prices.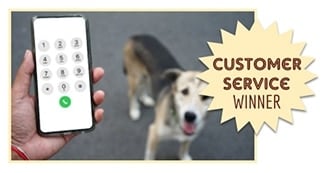 As for Figo, it has negative reviews regarding unpaid claims. However, they are often due to pre-existing conditions or wellness-related concerns that the policy doesn't cover. This is why you should read your pet insurance policy entirely, so you understand what is and isn't covered, ideally before you buy. Figo still has excellent customer service reviews and is responsive to its customers' needs.

Overall, Fetch has experienced more change in recent years than Figo, which is why we feel Figo offers a more stable experience when it comes to customer service and reputation.
Customer Service & Reputation Winner: Figo
Claim Processing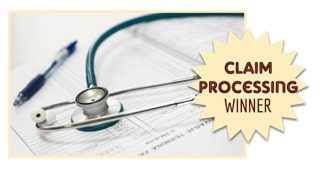 Fetch allows up to 30 days for claim processing, but they average 22 days. However, if you opt for direct deposit, they may get your money back to you 5-10 days sooner. Fetch used to have a shorter claim processing average (around five days) but, like many other businesses, is experiencing delays due to COVID-19.
Figo's claim processing is much faster with an average of three days, and about 50% are closed within 24 hours. This is among the shortest of all the pet insurance companies we review.

Because Figo has a much shorter claim processing period and is more consistent with reimbursement timing, it's the winner in this category.
Claim Processing Winner: Figo
Price Of Policy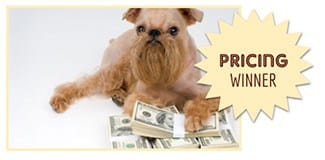 Fetch has no enrollment or transaction fees. On the other hand, Figo has a $15 one-time enrollment fee and a $2 transaction fee each month if you select to pay your premium on a monthly basis.
Your price quote is based on your pet's details (age, breed, location, etc.). We recommend obtaining quotes from each company for your specific pet. You can also visit our pet insurance comparison quotes to see a few sample prices we've gathered. Then use our pet insurance quote form to see how other top companies compare for your beloved pet.
On average, Figo has some of the lowest premiums, while Fetch's prices tend to fall in the middle of industry competitors.

Price Of Policy Winner: Figo
Discounts
Fetch
Fetch offers the following discounts:
10% off the first year for new customers
Up to 10% off for animal shelter adoptees and employees, corporate benefit plans, medical services pets, strategic partners, military, veterinary staff, and students
15% off for each consecutive 12-month period without a claim
No promo code is needed. Use this link to take advantage of the best possible price. Alternatively, call 800-237-1123. You can also visit our dedicated Fetch promotions page to learn more.
Figo
Figo offers the following discounts:
5% off any new Figo pet insurance policy (exclusive for Canine Journal readers – use this link)
5% off for multiple pets
Your deductible automatically goes down $50 each year you don't receive a claim payment
No promo code is needed. Use this link to take advantage of the best possible price. You can also visit our dedicated Figo promotions page to learn more.
Plan Customization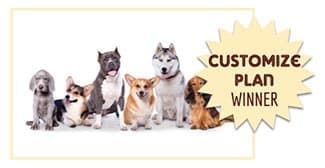 Finding a company with the coverage you need that fits your budget is essential. Look below to see what plan options are offered by each provider.
| | Fetch | Figo |
| --- | --- | --- |
| Deductible Options | $250, $300, $500 | $100, $200, $250, $500, $750, $1,000, $1,500 |
| Payout Options | $5,000, $15,000, Unlimited | $5,000, $10,000, Unlimited |
| Reimbursement Options | 70%, 80%, 90% | 70%, 80%, 90%, 100% |

Both companies offer multiple plan customizations to help you find the perfect coverage to fit your budget. However, Figo is one of the only providers to offer 100% reimbursement as an option. We think this unique option pushes Figo slightly ahead as the winner for this category.
Plan Customization Winner: Figo
What's The Verdict?

Overall, Figo wins this comparison against Fetch due to its thorough coverage, consistent reputation, speedy claim processing, lower average prices, and customization options. If you didn't find what you were looking for, our experts dig deeper into each in our company reviews of Fetch and Figo.
Overall Winner: Figo
Our experts have spent hundreds of hours researching to share our comprehensive, unbiased, and frequently updated pet insurance reviews. This analysis includes our top company recommendations along with details on each of the most popular providers.
If you prefer to see recommendations by category, check out our best pet insurance winners. Here we give awards for the best price, multi-pet discounts, 100% reimbursement, unlimited payouts, and other "best for" categories, including puppies, older dogs, dental, wellness coverage, bilateral conditions, behavioral therapy, vet direct pay, and more. You'll even see winners for companies offering the best insurance for cats and exotic pets (e.g., rabbits, guinea pigs, birds, etc.).
Tagged With: Reviewed By Insurance Agent

This article was originally published by Caninejournal.com. Read the original article here.