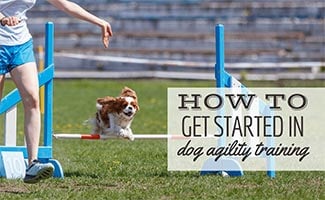 Observing a dog agility competition can be mesmerizing. Seeing the dogs maneuver through each obstacle with precision is like watching a well-rehearsed dance. But it's not just the dog working hard. The handler is responsible for helping the dog navigate the course and communicating what order to do the obstacles. It takes teamwork and witnessing a successful run can give others the itch to join in. It doesn't matter what breed or mix your dog is. What matters is the closeness and bond that is often a result of the exciting sport.
What Is Agility Training For Dogs?
Dog agility is a sport where you guide your dog through an obstacle course consisting of walkways, tunnels, jumps, and weave poles. This is an excellent bonding activity for you and your pooch, and it helps keep dogs in shape and mentally stimulated.
Basic Dog Agility Equipment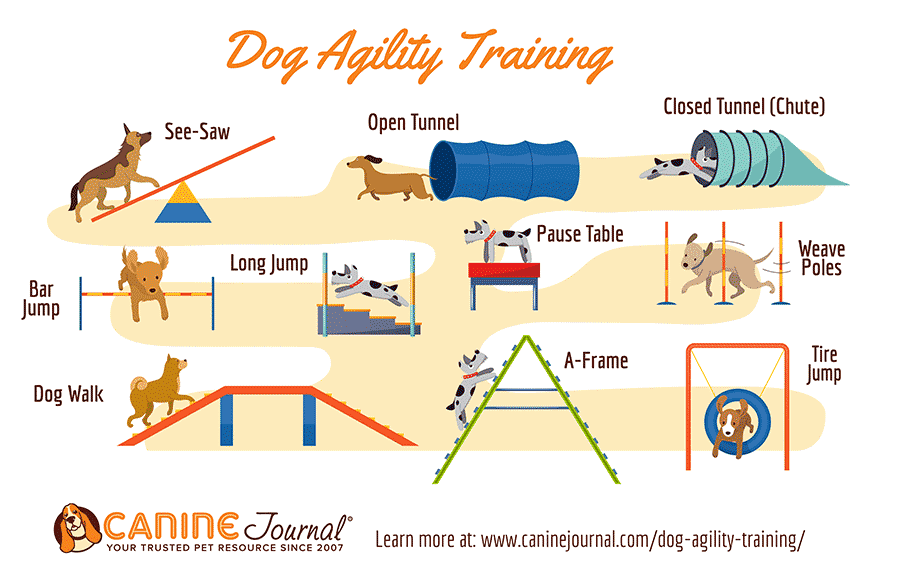 Agility courses are made up of a series of obstacles. The number of obstacles in a course can vary but typically there are 14-20, depending on the competition difficulty. Ramp-style obstacles are known as contact obstacles because they have contact zones (painted bright yellow) that dogs must touch with one toenail or more when dismounting. Below is a list of the primary agility equipment.
Dog Agility Training For Beginners
Before working on dog agility training at home, you'll want to master basic obedience commands (i.e., sit, lie down, stay, come, heel). It's also good to work on these commands around many other dogs, so enrolling in an obedience class with others can be beneficial. Once your dog knows basic obedience, you can learn how to get your dog into agility.
Tips On How To Agility Train Your Dog At Home
You may want to sample agility training at home before you invest your time and money into a professional dog agility course. That way you know if it's something you and Fido enjoy doing together.
Best Dog Agility Equipment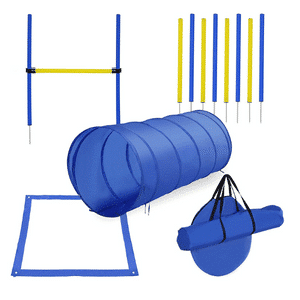 An easy way to try out dog agility is by purchasing dog agility training equipment. This four-piece dog obstacle course training equipment from PawHut includes an adjustable high jump, weave poles, square pause box, and a round open tunnel.
You can easily set it up and store it away, so it doesn't take up tons of space. This kit is a great way to enhance your bond with your dog. If you like working with your hands, you can find dog agility equipment DIY plans online and build it yourself.
Watch Others
Another tip is to watch videos of dog agility competitions online or go to local trials in your area to become more familiar with how the sport works. You could even volunteer to get a closer, behind-the-scenes look and learn more about the requirements of the sport.
Once you decide agility training your dog is something you both enjoy, you may be ready to take things more seriously and sign up for an agility class.
Speaking of watching things, check out this quick video from the Kennel Club on how to get started in agility training.
How To Find Agility Classes For Dogs
It's best to start agility training your dog early to help them acquire the new skill, but it's never too late to pick up a new hobby. Most dogs begin competing in agility competitions between one and two years old. However, don't feel pressure to compete in the sport. Backyard courses and classes can provide just as much fun and exercise for your dog.
Agility classes are the best way to learn the proper sporting techniques. You have a couple of options for professional classes.
Online Dog Agility Training
If you prefer to do agility training at home for dogs, you could try SpiritDog's online class. This dog agility program shows you how to build hurdles with PVC, teach your dog to jump, run through courses, and more. There are 103 video lessons and dozens of PDFs for you to use.
SpiritDog's online course may be a good fit for those interested in trying out dog agility at home. You can go through the video lessons at your own pace without worrying about making it to class at the scheduled time. It's also priced affordably at $199.
In-Person Dog Agility Training
Your other option is to find a class in your area. If you're unsure where to find a class, we recommend speaking with professionals in dog-related fields (e.g., vets, groomers, sitters, walkers, etc.). They can most likely inform you of your local options. You can also read our article about dog trainers for more tips on finding one that fits your needs.
Tagged With: Exercise, Sport, Training

This article was originally published by Caninejournal.com. Read the original article here.