Do you want to train your dog anywhere, anytime? For a fraction of the cost of hiring a professional trainer, mobile dog training apps can give you a ton of training help — and some even provide virtual assistance from professional dog trainers. We've found the best dog training apps to help you choose what's ideal for you and your pup's needs.
Best Dog Training Apps
We've based our reviews, and our top picks based on several factors, including the quality of training, app performance, extra features, customer feedback, and more. All of the apps we review here use positive reinforcement training.
Winner: Dogo Review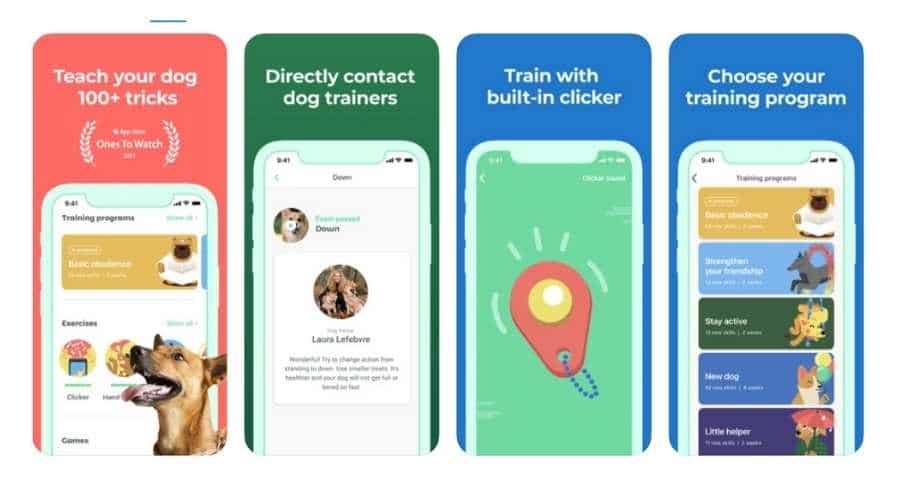 View iOS App | View Android App
Dogo is an impressive, full-featured app with over 100 training exercises and a built-in clicker to aid in the process. Training begins with a quick questionnaire so Dogo can personalize your training program based on your specific needs. They have text and video lessons on everything from a potty, crate, and basic obedience training to correcting behavioral issues and teaching advanced tricks.
Once your dog has learned a new skill, you can submit a video exam showing both of you in action. Dogo dog trainers review your exam and give you feedback on your pup's performance within 12 hours. They also have a large and active online community of pet parents to share tips, photos, and more. You can get free access for seven days and then join Dogo Premium to continue training and unlock all the content.
Price
7-day free trial
1 month: $9.99
3 months: $26.99
1 year: $99.99
Runner-Up: Puppr Review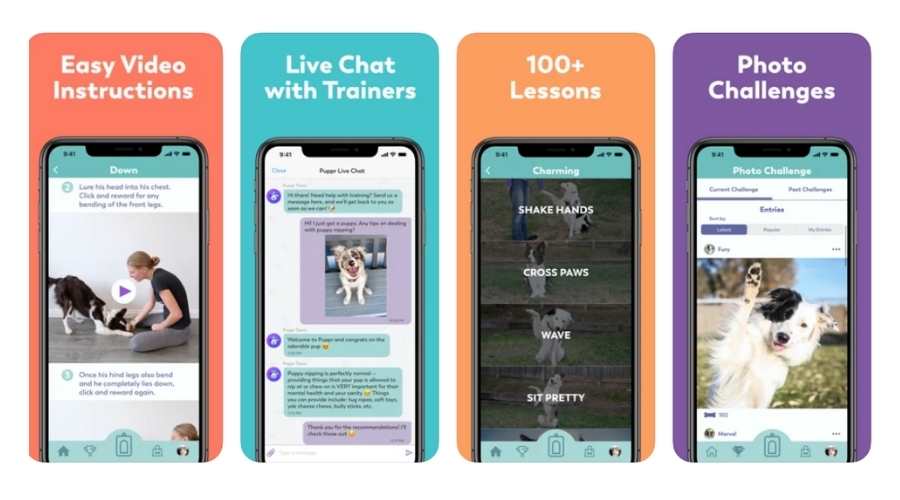 View iOS App | View Android App
Puppr is by far the best free dog training app we've seen, and it has millions of pet parent fans. This easy-to-use app has over 80 lessons taught by celebrity dog-trick trainer Sara Carson & The Super Collies (an America's Got Talent top-5 finalist). You can choose from categories such as New Dog, Basics, Agility, Performer, Circus, etc., based on the type of training you want. Many lessons are in step-by-step video format.
The app also has a built-in clicker with instructions on how to use it for training. While all this content is free, you can enhance your training by signing up for Puppr Premium. This gives you access to premium lessons and live chat 24/7 with certified dog trainers to assist you with behavioral issues, leash training, separation anxiety, and any other training help you need.
Price
Free
Puppr Premium (1 month): $12.99
Puppr Premium (1 year): $99.99 (after a 7-day free trial)
Third Place: GoodPup Review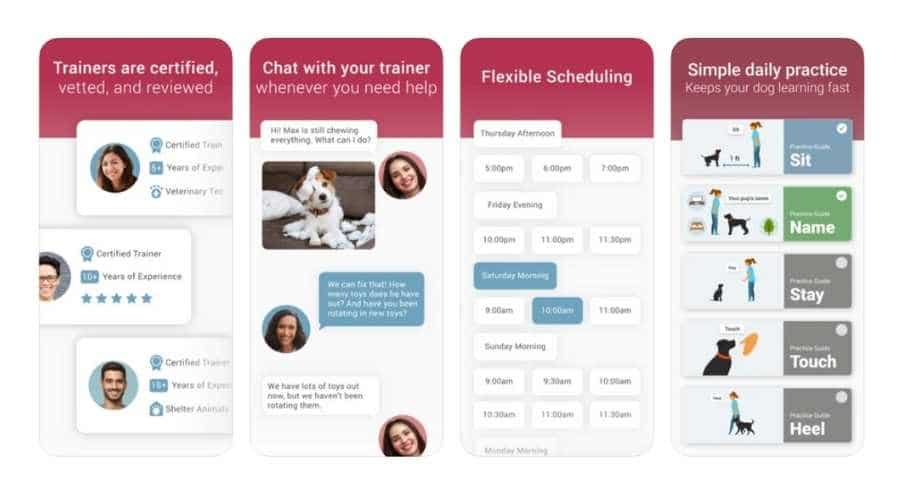 View iOS App | View Android App
Don't feel like you have the chops to train on your own? Then GoodPup could be just the ticket. This unique app gives you video chat training with a personal certified dog trainer. To start, you answer some questions about your dog's age, training status, and behavioral problems you want to address. Then, GoodPup creates a custom program for your pup's training needs. With one-on-one attention, it can be one of the best puppy training apps for new dog owners.
The auto-renewing weekly subscription includes a weekly one-on-one video call, illustrated daily training guides, and the ability to send text, photo, and video messages with your trainer whenever you have questions. You also get unlimited 24/7 chat with GoodPup's dog behavior and veterinary experts.
Price
Free app download
Weekly: $30
What Are My Other Options?
Although these dog training apps for Android and iPhone didn't make our top picks, they're also fantastic options depending on your needs.
Doggy Time Review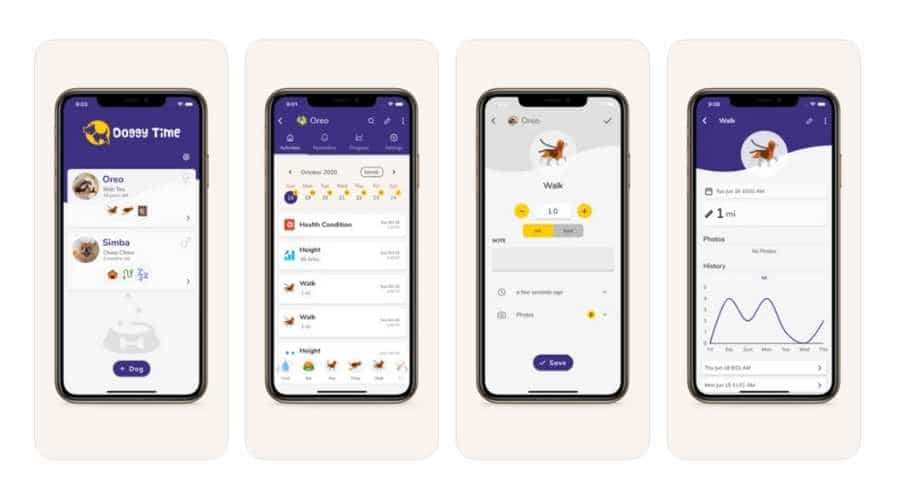 View iOS App | View Android App
Need a puppy potty training app to help you keep your puppy on track for success? Doggy Time's free ad-supported app lets you log in when your puppy drinks, eats, pees, poops, and has accidents — and you can set reminders for yourself when it's time to take your puppy out. You can also keep track of when it's time for vaccines, medications, grooming, training, walks, and much more.
An affordable one-time fee gives you an ad-free experience and unlocks other handy features, such as the ability to manage multiple dogs, invite other users, cloud backup and sync, push notification alerts, and more.
Price
Free
$4.99 for added features (one-time fee)
EveryDoggy Review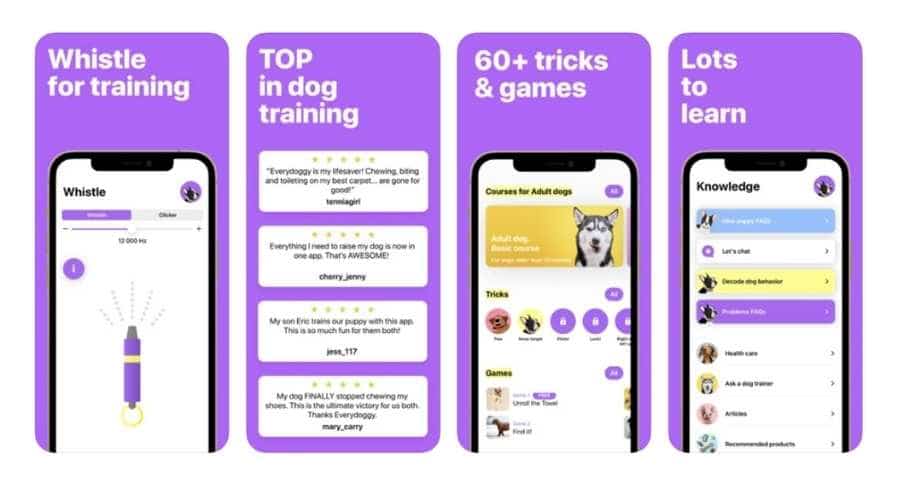 View iOS App | View Android App
Created by canine training experts, this popular dog clicker training app features over 70 guided training videos covering puppy basics, obedience and leash training, socialization skills, behavioral issue prevention, and more. It also has problem-solving guides for a variety of unwanted behaviors such as excessive barking, jumping, leash pulling, house soiling, separation anxiety, and more.
With an additional 80 games and tricks and a built-in whistle, there's a lot you can do with your pup. Unfortunately, there's no free content like many other apps give you. And some Android users report app issues. But many users say it's definitely worth the investment. You can try it out with their 7-day free trial, but be sure to cancel before your trial ends or you'll be charged for an annual subscription.
Price
7-day free trial
1 month: $14.99
3 months: $29.99
1 year: $39.99
GoDog: Dog Training Review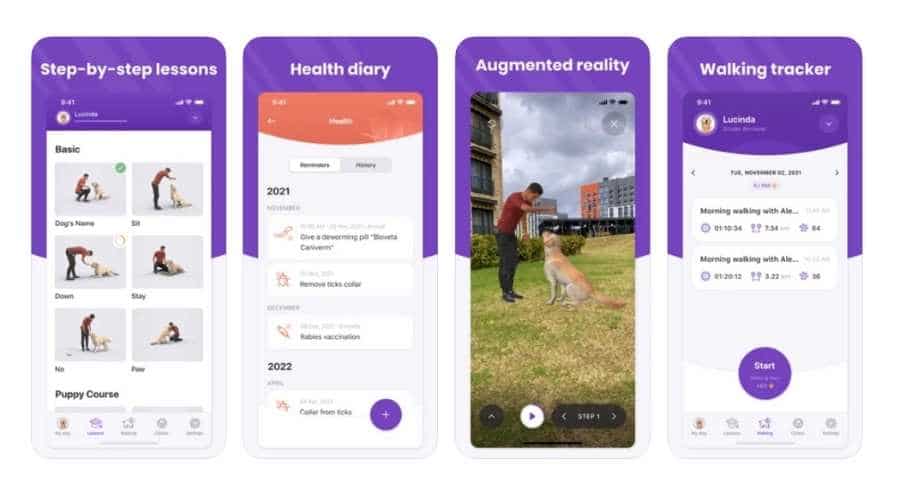 View iOS App | View Android App
The GoDog app has over 35 video training lessons led by professional trainers that cover puppy basics, obedience commands, and stopping unwanted behaviors. It also features a walking tracker and a handy health diary where you can get reminder alerts for your pup's vaccines, grooming needs, medications, and more.
The GoDog app also has a free built-in clicker and whistle to aid in training. While you can access some articles in their knowledge base for free, most of the content requires a fee. But you can try it out with their 3-day free trial before purchasing courses or signing up for a subscription.
Price
3-day free trial
Individual training courses: $1.99-$2.99 each
GoDog Premium: $4.99/week or $39.99/year
Pupford Review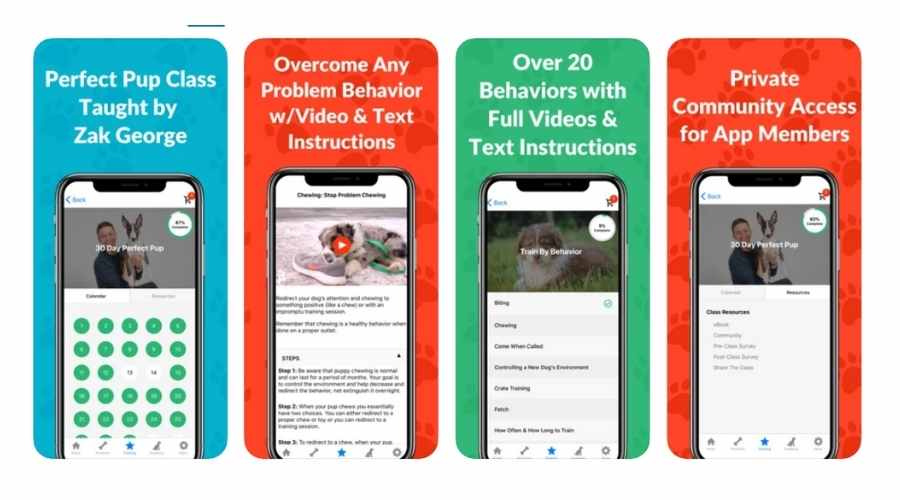 View iOS App | View Android App
The Pupford app is another good option if you're looking for the best free dog training app (second to Puppr). This popular app has a 30-day free video course led by expert trainer Zak George, who has a huge YouTube following and an excellent book, Zak George's Dog Training Revolution. The app gives you lessons on crate training, obedience commands, leash training, training by behavior, and more for free.
For a fee, you can access Pupford's 100 premium courses, many of which are tailored to behavioral issues such as leash pulling, snapping, separation anxiety, and more. Membership also includes a private online community. While the Pupford app gets many positive user reviews, some users complain about video lag time.
Price
Free for 30-day course
Pupford Academy (1 month): $9.99
Pupford Academy (6 months): $39.99
Pupford Academy (lifetime): $199.99
When Should I Start Training My Puppy? (Video)
In this brief video, professional dog trainer Emily Larlham has some excellent tips and things to know before you start training your puppy or dog.
Dog Training Resources
If you're not sure a mobile app is the best route to get your pup the training he needs, you may want to consider some excellent affordable online training courses that have a wealth of training videos for all your needs. Every dog is different and may respond to one training course better than others. Regardless of which you choose, training is essential for a well-behaved dog, and it fosters a better bond between you and your pup. Be sure to check out our other training articles if you're just getting started or for more advice.
Tagged With: Comparison

This article was originally published by Caninejournal.com. Read the original article here.