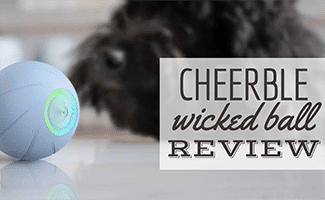 It's so important to keep our dogs mentally stimulated, especially if they get bored easily when we're busy or suffer from separation anxiety when we're not home. A popular smart dog toy, Cheerble's Wicked Ball, promises to keep your pup entertained and active when you can't engage with your furry friend. Does Wicked Ball live up to its claims? We'll share everything we uncovered about this interactive dog toy, including our personal experiences.
Wicked Ball Overall Rating
4.4/5.0
Our team determines the overall rating based on several factors, including features, performance, price, customer feedback, and more. This rating is for both the original Wicked Ball and the newer Wicked Ball SE.
Pros & Cons Comparison Table
| Pros | Cons |
| --- | --- |
| Competitive price for a smart dog toy | Not intended for heavy chewers (especially for larger dogs) |
| 3 interactive modes for timid to active dogs | SE model can be tricky to turn on at first |
| Easy to set up | |
| Waterproof | |
| Rechargeable batteries | |
| SE model has a tougher outer shell (but it's only for small to medium dogs) | |
| 1-year warranty | |
Key Features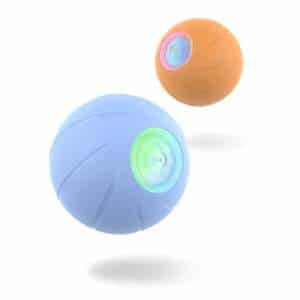 Self-activated movement – it rolls, spins, bounces, and flashes its light on its own
Built-in obstacle avoidance sensor
Automatic shut-off after 10 minutes – but re-engages when your dog touches it
Up to 8-hour battery life, depending on the mode you use
1-hour battery recharge: USB for original model and DC power for SE model
Waterproof rating: IP67 (original) and IP65 (SE)
Gentle, normal, and active play modes for timid to highly active dogs
SE model is made of natural rubber that's more resistant to chewing than the original model
Price
Cheerble offers free shipping on all orders and a one-year warranty.
Wicked Ball (3 inches): $44.99
Wicked Ball SE (2.2 inches): $49.99
Note: Pet experts, such as The Humane Society of the United States, urge pet parents to be sure to choose toys that are an appropriate size for their dog. Toys that are too small for your dog can pose a choking hazard. The Wicked Ball SE could be unsafe if you have a large dog.
Other Cheerble Interactive Toys
Cheerble offers other smart interactive dog (and cat) toys in case the Wicked Ball for dogs isn't the right fit for you.
Wickedbone (smart dog toy)
Cheerble (smart ball for cats)
Smart Wicked Mouse (for cats)
Our Personal Experience
Wicked Ball SE was a challenge to turn on the first time — I had to push really hard. Then after that initial power on, it was easy to use and turn on and off (or change modes). The ball bounces, lights up different colors, and vibrates when touched, making it very interactive. The material is extremely durable and easy to clean, and the ball lasts a good while before it needs charging. It's slightly bigger than a golf ball but smaller than a tennis ball. The SE is 2.2 inches and probably best for small to medium-sized dogs, whereas the regular Wicked Ball is 3 inches and has an outer shell you can swap out.

Sadie C., Canine Journal
Want To Know How Wicked Ball Works? (Video)
If you're wondering how the Wicked Ball interacts with your pup (or cat), check out this brief video to see it in action.
What's Our Final Verdict?
Both Wicked Ball models are amazing toys for some dogs. A lot of customers say their dog loves this busy ball, while some say their dog could care less. Just like other dog toys, it really depends on your individual pup whether he'll love it or leave it. We also think the price is reasonable for a smart device.
A word of caution, however. If you have any suspicions that your dog will chew the Wicked Ball, make sure you supervise play. After all, it's an electronic device, and we know how our dogs love to chew. We also wouldn't recommend giving this to your dog when you're not at home for the same safety reasons. But if you're working at home or just too busy to play, Wicked Balls may be just the right fit for your pup. And check out our top picks for the best interactive dog toys, including the Wicked Ball and many others.
Tagged With: Review

This article was originally published by Caninejournal.com. Read the original article here.