Moving Abroad With Your Dog by Stuart Cooke
Published 06-20-2022
So you've decided to move abroad – congratulations! That's a very exciting time in anyone's life. But before you go, there is some very important cargo you need to think about: your pet.
There are loads of exciting places to live as a pet lover, but unfortunately, it's not as simple as popping them in a crate, setting off and opening the door when you arrive at your new home.
There is a lot more planning and organisation involved if you want to make the move as simple and stress-free as possible for both you and your pet.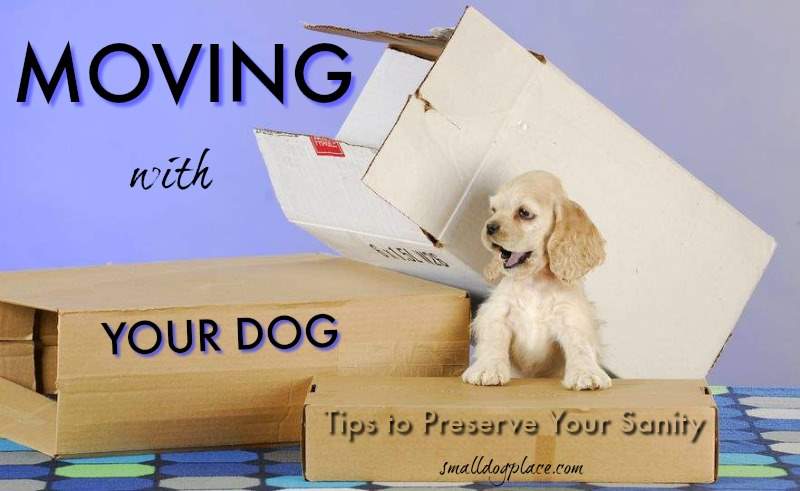 Moving abroad with your dog
So, once you've made the decision to move abroad, it's a good idea to get started with the preparation right away. To help you do this, we've created this useful guide to moving abroad with your pet.
Read on for our step-by-step advice.
Step-by-Step Guide to Moving With Your Dog
1. Talk to your vet and get your pet booked in
The first thing you need to do before you make too many plans is to speak to your vet about moving your pet abroad.
They will be able to advise on your pet's health and whether there could be any possible complications. They might also be able to offer advice and support on any vaccinations or ways to make your pet more comfortable during the journey.
Then, nearer the time, you will need to have them checked over once again.
Many countries will require that your pet has a rabies vaccine before you leave, and, depending on where you're moving from and too, you might have to use an accredited vet and get a certificate to prove that your pet is in good health and up to date on all vaccinations/treatments.
In many cases, this health certificate will have to be issued around your time of travel, no sooner than 10 days before you leave.
2. Make sure your pet is microchipped
Another important thing to do before you move abroad is to make sure your pet is microchipped.
Some countries require that your pet is chipped before it can enter the country, but even if this isn't the case, it's still always best for your own peace of mind.
That way, you can register your pet to your new address when you arrive and better protect them if they ever get lost or go missing.
3. Plan your trip
Once you've got the OK from the vet and you understand the vaccination requirements for your chosen destination, you need to start planning the other details of your trip. There are several things you need to consider, including:
Whether you're going to fly, drive, get the train, etc.
How your pet will travel
Whether you should hire a specialist pet relocation service
Choosing accommodation that allows pets when you get to your new home
When you have a better idea of how both you and your pet are going to travel, you can then begin to arrange your transport. This might mean booking tickets or ensuring you have a vehicle that will be big enough for you, your pet and your belongings.
You might also need to get your pet a passport. Be sure to leave yourself plenty of time to do this, just in case there are any issues.
4. Choose a relocation service
(if you want to)
You might be using a shipping service to help you get your belongings overseas, but are you also going to need a pet relocation service? If so, you need to find a trusted provider. You'll want to choose a company that has great reviews, and that makes you feel comfortable leaving your pet with them.
And depending on the service providers you choose, they might handle anything from paperwork to crating your pet and the actual journey itself. Therefore, if you want a company that will do all the hard work for you, you need to choose a comprehensive service.
5. Crate train your pet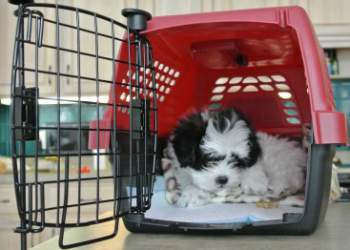 Crate Train Your Dog
If your pet is going to have to remain in a crate for a long period of time, it's a good idea to get them used to it. This is particularly important if they've never had to use a crate before.
You want to make their journey as stress-free as possible, so gradually get them used to spending time in their crate. Make sure it's big enough to give them plenty of room to be comfortable. You might also want to put their blanket or some of your clothes inside for further comfort.
More on Crate Training a Small Dog
6. Prepare them for the journey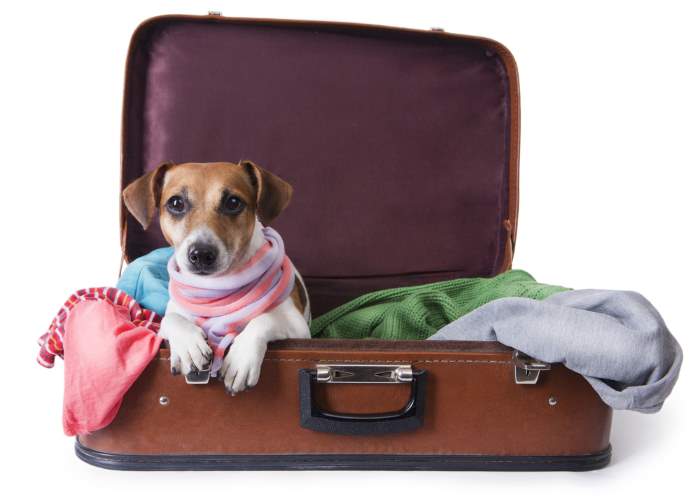 Moving Abroad with Your Dog
When the day comes, you need to do all you can to prepare your pet for the journey. This means packing everything they'll need to make the trip, be that food, water, toys, etc. You might also be able to get them medication if they find travelling particularly stressful.
If you and your pet will be travelling separately, include your contact details and any important paperwork in their crate, just in case. And be sure to give full instructions if you're using pet relocation services.
7. Complete any mandatory quarantine
Some countries will require that your pet is quarantined upon arrival, perhaps for a few hours and perhaps even for a few days.
Either way, it's best to reserve them a spot in quarantine and get as much information as possible about where they'll be held. This ensures they will definitely get a spot when you arrive, as these can fill up quickly.
8. Arrange post-arrival checkups
You will probably want to get your pet signed up to a local vet when you arrive at your new home anyway, but it always pays to have some post-arrival checkups. This way, you can ensure the journey didn't take its toll on their well-being and that they are still in full health.
9. Acclimatise your pet to their new home
The final step is to help your pets settle into their new home. Be sure to set up their bed, food bowl, toys, crates, etc., to make them feel at home. It is also a good idea to establish a routine for feeding and walking (if you need to walk them, that is).
In particular, if you have a dog and maybe even a cat, take them outside and let them explore the local area and get to grips with their new surroundings.
Moving Abroad With Your Dog: Author Bio
Stuart Cooke is the Marketing Manager at MyBaggage.com a luggage shipping company that's helped animal lovers relocate all around the world.
Does This Article Deserve Your Thumbs Up?
We always appreciate your support and encouragement. Your thumbs up means so much to us. Please like this article.
<!–
–!>
If you find this page or any page on Small Dog Place Helpful, or Useful in anyway, I'd love it if you would click the small heart found on the bottom right of each page.
You can also share or bookmark this page — just click on the: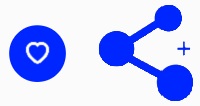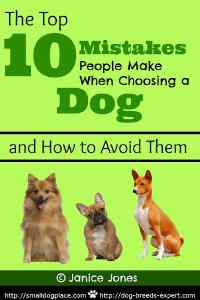 Free Monthly Newsletter
Sign Up for Our Free Newsletter and get our Free Gift to You.
my E-book, The Top 10 Mistakes People Make When Choosing a Dog (and how to avoid them)



This article was originally published by Smalldogplace.com. Read the original article here.