With their big, muscular bodies and intimidating gaze, the American Bully may look like a bully to some. However, you'll find that this dog is one with a tender heart and plenty of love and affection to give.
While it's commonly thought that the American Bully is a pure Pitbull (or Bulldog), this is a misconception. But, it does have Pitbull relatives, particularly from the American Pitbull Terrier lineage.
If you are the proud pet parent of an American Bully, you know that their nutrition is of utmost importance. It can be challenging to figure out what food to get your pet, given the number of options on the market. This is why we created this guide that outlines everything you need to know about feeding your American Bully.
We highlight the different things you need to know about your American Bully's dietary needs and how these change as they go through each life stage (puppy, adult, and senior). Since American Bullies are so fond of eating, you may find yourself with an overweight pup at some point. We have recommendations for that as well. We aim to equip you with the knowledge you need to make an informed choice about your dog's nutrition.
Best Dog Food For American Bullies
Best Dog Food For American Bully Puppies
Since your American Bully puppy is highly active as they grow, they need puppy-specific food to match their high-energy needs. Choosing the right food for your Bully pup is giving them an early start on a lifetime of wellness. Puppyhood is the most critical developmental stage of your dog's life.
Here are some of our top picks for the best puppy food for American Bullies.
ORIJEN Puppy Grain-Free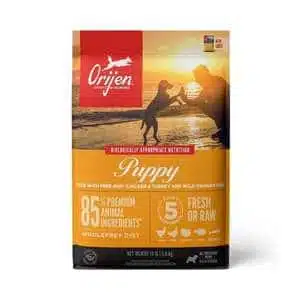 Orijen's mission of feeding your dog all the stuff they would have eaten in the wild is what makes it the perfect choice for your American Bully's puppy food. Your pup gets tons of nutrients from this formula's high-quality protein. It's not all from meat either: Orijen's WholePrey philosophy gives your dog a taste of all the bits of their prey they would have enjoyed in nature: organs, bones, cartilage.
While this may sound a little intimidating, it's assuring that your dog receives all the nutrients they wouldn't otherwise get from food that only contains meat. This recipe does not contain any grain, making it a perfect choice for puppies who may have stomach sensitivities but given the possible connection between grain-free diets and cardiovascular concerns, be sure to check with your vet before starting this food.
American Journey Grain-Free Puppy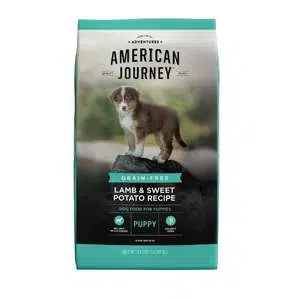 American Journey prepares your pup for a lifetime of adventure with their superior line of puppy food. Their formulas feature real meat (this one has deboned lamb) for a punch of protein that helps them build lots of muscle, ideal for your American Bully.
This food is fortified with sweet potatoes and peas, which are awesome for providing more energy for happier playtimes. Vitamins and minerals from superfoods like carrots, blueberries, and kelp help develop vital organs and better resistance to illness. Salmon oil and flaxseed provide your pup with high-quality fats full of Omega fatty acids. These help your pup's developing brain and eyesight.
Earthborn Holistic Puppy Vantage Grain-Free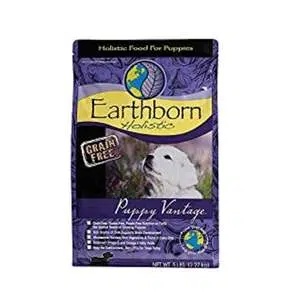 Earthborn's commitment to holistic nutrition is evident in this puppy food. It's made with all-natural ingredients, so you know your Bully pup is nourished by Mother Earth herself. With high-quality protein from chicken and whitefish meals, your puppy has an excellent energy source so they can run, explore, and conquer the world. Your Bully benefits from this protein, too, since they need a lot of it to grow into their big bodies.
This formula also contains optimum calcium and phosphorus levels for healthy teeth and bones. Highly digestible ingredients make nutrient absorption extra efficient because the fruits and vegetables in this recipe contain plenty of nutrients. Omega fatty acids keep your pup's skin healthy and coat nice and shiny.
Taste Of The Wild Puppy Formula Grain-Free
Taste of the Wild values giving your puppy the nourishment that nature intended. This recipe includes real salmon, which is chock-full of Omega fatty acids. These supercharge your dog's brain and eye development and give them a soft and lustrous coat and itch-free skin. Peas and sweet potatoes offer highly digestible energy that your Bully pup needs to have fun in their day-to-day life.
This formula includes superfoods to boost your puppy's nutrient intake and prebiotics in chicory root to help make digestion more efficient. It also consists of a proprietary K9 strain probiotic blend to further help digestion. This formula is grain-free. It doesn't contain artificial ingredients either. This makes it a solid option for puppies with sensitive tummies.
Blue Buffalo Wilderness Puppy Grain-Free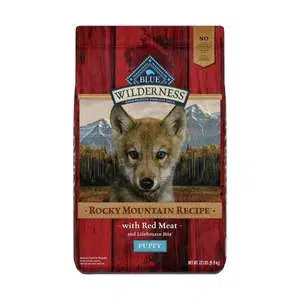 Since your American Bully puppy needs all the nutrition they can get, it's always a good idea to turn to a tried-and-tested diet. Blue Buffalo grain-free offers food that your puppy's ancestors would have eaten while in nature. The same food that kept them strong, intelligent, and alert. This recipe contains plenty of real meat, plus natural fruits and vegetables. These are all ideal for helping your Bully puppy build a rugged, tanky body.
This product has no chicken, by-product meals, corn, wheat, or soy, making it pleasing for pups with sensitive bellies. The DHA and ARA in this formula boost your Bully's eye and brain power. Optimal levels of calcium and phosphorus help build strong teeth and bones. The kibble is also appropriately sized for your Bully puppy's mouth, making it easy to pick up and chew thoroughly.
Best Dog Food For Adult American Bullies
Your adult Bully is still very active, though not nearly as much as they were as a puppy. As such, adult dogs should eat less calorie-dense food compared to puppies. This helps prevent obesity, something your adult Bully is more prone to now. This protects them from many illnesses and other health complications that could seriously impede their enjoyment of life.
Nevertheless, owners must strive to continue providing their American Bullies with the best dog food for them to keep thriving. Top-quality nutrition also keeps them from developing other health problems in addition to obesity. Pet parents must choose dog food for their adult Bullies that satisfies them and nourishes them in adulthood. Here are some of the best ones we have found.
The Farmer's Dog (Grain-Free)
The Farmer's Dog offers fresh, human-grade meals using all-natural ingredients. All recipes are pre-portioned and personalized to your Bullie's specific dietary needs. You fill out a brief survey, which includes your dog's age, breed, current weight, and whether he's at a healthy size. You can have them customize the food for a weight loss goal. They offer turkey, pork, or beef recipes, developed by board-certified American College of Veterinary Nutrition (ACVN) nutritionists and flash frozen. And you can have all of your dog's meals regularly shipped right to your door.
Price: Varies based on each dog's target ideal weight, age, and other factors (e.g., $52.65/week for mixed-breed male, one-year-old, 38 pounds, healthy size, neutered, no health problems, or allergies) or topper plan for purebred 15 pounds for as little as $1/day
Full Review Of The Farmer's Dog
Wellness CORE Grain-Free Recipe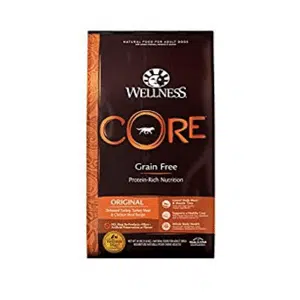 This dog food primarily focuses on giving your dog natural, wholesome nutrition. It's made without grains and focuses on real deboned meat for your Bully to enjoy. This means that it's full of delicious, high-quality protein that helps maintain your American Bully's muscles and provides them with lots of energy.
This formula has it all with Glucosamine for joint health, probiotics for digestion, antioxidants for immunity, and much more. Wellness' kibble is nutrient-dense and gives your dog balanced nourishment. This formula is free from meat by-products, wheat, corn, soy, artificial colors, flavors, and preservatives. Your dog's dish is full of nothing but Wellness that keeps them healthy inside and out.
Whole Earth Farms Adult (Grain-Inclusive)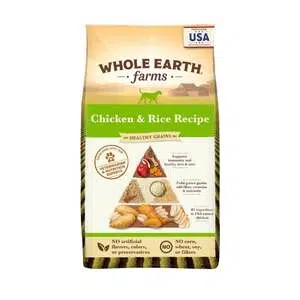 With ingredients as fresh and nutritious as Mother Nature intended, Whole Earth Farms delivers a kibble that is sure to answer all your dog's nutritional needs. This dog food contains multiple meat sources, such as chicken, turkey meal, and whitefish. This makes it a delectable choice that delights your Bully's palate and provides them with tons of nourishment and complex proteins. Added salmon oil helps bring luster to your American Bully's coat and keep their skin free of irritation.
Whole Earth Farms has supplemented its recipe with complex carbohydrates and fiber through brown rice and alfalfa sprouts. These not only provide energy but are also highly digestible for nutrient absorption. This product has no artificial ingredients, so you can rest assured your pup is getting nothing but the best nature has to give.
Instinct Raw Boost Grain-Free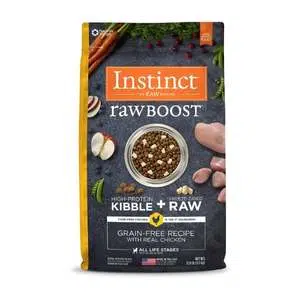 So many dogs love Instinct, and it's no wonder why. Instinct's Raw Boost kibble contains mix-ins of authentic, raw chicken pieces, freeze-dried for easy munching. This is a delicious addition to your pupper's supper and supplies them with tons of protein for strong muscles and lots of energy.
Instinct includes probiotic boosts to help your dog's digestive system move things along smoothly. Antioxidants from blueberries, cranberries, and kelp all help to protect your dog's immune system. You'll only be getting the finest ingredients source from around the world. This food contains no grain, potato, corn, wheat, soy, by-product meal, artificial colors, or preservatives.
Merrick Classic Healthy Grains Adult (Grain-Inclusive)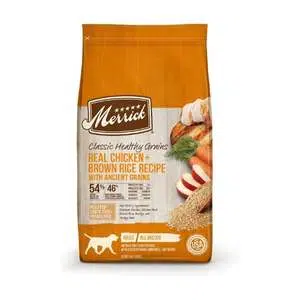 Merrick is known for giving your dog a delicious dinner they want to repeat over and over again. Using real deboned chicken as its first ingredient, this recipe also contains brown rice and ancient grains like barley and quinoa. These added ingredients are a fantastic source of complex carbohydrates if your Bully is always on the move and needs the extra energy. This is one of the few grain-inclusive options in this review and it's an excellent one.
And since your dog is so energetic, Merrick has also included Glucosamine and Chondroitin to help strengthen your dog's joints. They'll be agile and happy to frolic and play as much as they like. Take them out to the dog park. Your Bully envies all with their lustrous coat and clear skin thanks to Omega fatty acids found in Merrick's formula.
Diamond Naturals Extreme Athlete (Grain-Inclusive)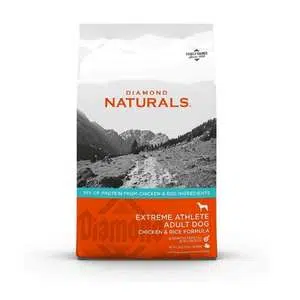 If your adult American Bully leads an active lifestyle, you need to support it as much as possible with the proper nutrition. Diamond Naturals' Extreme Athlete formula uses protein from real, cage-free chicken. This gives your dog an optimal amino acid profile, so they can continue building big, strong muscles that are lean and powerful.
Fruits and vegetables like kale, papaya, and spinach all provide a boost of vitamins and minerals to boost your dog's organ functions and immune system. A blend of Omega fatty acids does wonders for your Bully's skin and coat. This formula is highly digestible with proprietary probiotics, ensuring efficient and complete nutrition for your Bully athlete.
Best Dog Food For Senior American Bullies
As a senior, your American Bully is calmer than in their younger years. This means they won't be as active as before and eats the least amount of food. It is best for them as they are most prone to obesity in their senior years since they exercise less and have more difficulty processing food. Obesity in a senior dog can be devastating, as this opens up many possibilities for debilitating illness and mobility issues. As such, keep your senior dog's portions in control now more than ever. The right amount of food can give them a much longer life.
Your American Bully has a much more sensitive stomach as a senior dog. This means that you must look for food that is gentle on their digestive system. Food that contains prebiotics, probiotics, and decent amounts of fiber can do wonders for their digestion. This can help them absorb nutrients a lot better, keeping them healthier than if they'd gone without them. Your Bully's senior food should also address other needs as your dog ages. These are best combated with food that contains plenty of nutrients, especially for fortifying your dog's weakening immune system. Here are some of the best foods we've found for senior American Bullies.
American Journey Active Life Formula Senior (Grain-Inclusive)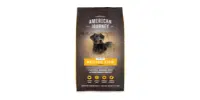 Worried your older Bully is going to miss out on life's adventures? American Journey has developed this kibble to help your senior dog feel fit, active, and ready to take on the world. Real chicken comes in as the first ingredient, with a wholesome blend of targeted nutrients from grains, carrots, blueberries, kelp, and more.
Added antioxidants strengthen your dog's immune system and amp up their brain power, keeping them as sharp as ever. Glucosamine and Chondroitin play an essential role in helping your dog stay agile. This recipe contains a lot so they can be free to run around with you as they did in their younger years. Vitamin A supports healthy vision so they can look you in the eyes to let you know they're ready for their next big journey to the great outdoors.
Wellness Core Natural Grain-Free Senior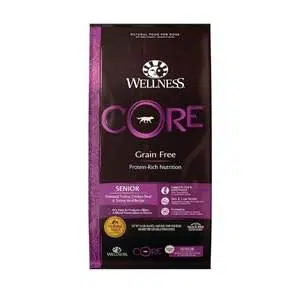 Wellness aims to keep your dog well regardless of age, so their senior dog formula is full of all the yummy stuff your dog knew and loved in adulthood. Using premium protein from deboned turkey and chicken meal, your Bully will love munching at their bowls, and you will love that they're always full of energy. This formula contains no fillers, just guaranteed nutrition levels that keep your senior thriving.
Glucosamine and Chondroitin help promote bone and joint health so your little buddy can comfortably enjoy every walk, run, and cuddle shared between you. Flaxseed and salmon oil are also included, and they provide a lot of Omega-3 fatty acids for your dog's coat and skin health. Lots of antioxidants play a significant role in strengthening your Bully's immunity. Taurine helps your dog's eyes stay sharp while keeping the heart strong.
Merrick Grain-Free Senior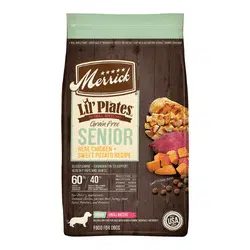 Merrick is devoted to your dog's nutrition throughout their life stages, so it's only fitting that they also have a senior formula for your older American Bully. It's the same delicious taste they've come to love, but with fewer calories to help with weight management, which is crucial in a senior dog's life. L-Carnitine also helps to boost metabolism so that your dog is burning calories at an effective rate, even when their activity has slowed down.
This food is gluten and grain-free, making it excellent for senior Bullies who may have tummies prone to sensitivities. Glucosamine and Chondroitin also play a major role in keeping your dog mobile. Deboned chicken helps maintain healthy muscles even when they aren't used as much.
ORIJEN Senior (Grain-Free)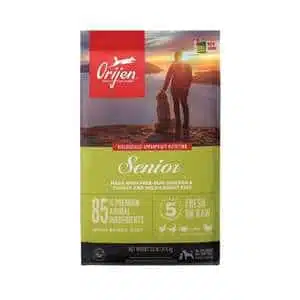 Orijen's senior formula is just as protein-focused as its other formulas. This is excellent for older dogs who need extra help keeping their muscles strong and those who are so active you won't even know they're seniors. We're talking cage-free eggs, free-run chicken and turkey, wild-caught flounder, Atlantic herring, and Atlantic mackerel.
All that protein from meat, bones, organs, and cartilage can help fuel your dog's energy. This recipe contains no grain. Instead, it focuses 85% of its formula on meat, with the remaining 15% being fruits and vegetables for better balance. It's full of stuff your dog has evolved to eat, something your senior Bully looks forward to day after day.
Go! Solutions Senior (Grain-Free)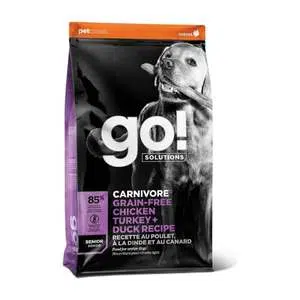 Go! only wants your senior dog to live out their golden years being active, healthy, and happy. As such, they've created this protein-packed formula containing so many different sources of meat: 100% fresh chicken, turkey, trout, duck, and salmon. And they don't stop there. They include premium chicken, turkey, salmon, duck, and herring meals. All that protein is perfect for building back muscle your Bully may have lost as they aged. This formula contains no grain but still provides complete balanced nutrition.
This is thanks to various fruits and vegetables, like pumpkin, carrots, bananas, blueberries, and cranberries. These superfoods provide hefty amounts of vitamins, minerals, and antioxidants. Antioxidants, in particular, help to protect your senior dog's immune system. Glucosamine and Chondroitin from green mussels nourish your Bully's joints, easing pain and helping restore mobility. Thanks to prebiotics and probiotics, this recipe is highly digestible. Taurine is also added for bright eyes and a strong heart.
Best Dog Food For Overweight American Bullies
Your American Bully is stout and chunky at a healthy weight, thanks to their muscular build. Maintaining these muscles can make them voracious eaters and thus make it easy for them to gain weight. While a bit of chub on your Bully is natural, too much is bad. When this happens, it's time to talk to your vet about a diet. Addressing obesity promptly gives your dog a better chance of staying healthy. Owners must be extra diligent in providing the right amount of food when dogs are overweight.
Weight maintenance food may provide fewer calories for your pet, but they never compromise nutritional quality. It contains plenty of protein to maintain healthy muscles and provides fuel to exercise. Low-quality foods can contain fillers that may impede your dog's weight loss progress. Here are two of our favorite foods for overweight American Bullies.
Nutro Ultra Weight Management (Grain-Inclusive)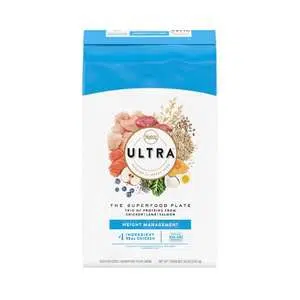 Nutro has created this grain-inclusive recipe to help your dog lose weight, aided by superfoods and lean proteins. These proteins include farm-raised chicken, pasture-fed lamb, and salmon. Having varied meats in the canine diet makes building muscle much easier, and all that protein can certainly help increase energy for all the extra exercise your Bully needs to do. And it's not even like your American Bully is going to think they're on a diet.
This food is delicious and filling enough for them to be satisfied. Glucosamine and Chondroitin are also included in this recipe. These are especially important in your dog's weight loss, as they carry more weight than they should on their little legs. Lastly, Nutro's weight management formula has superfoods like pumpkin, spinach, and apples. These give your dog the nutrients they need as they endeavor to shed the extra pounds.
American Journey Active Life Formula Healthy Weight (Grain-Inclusive)
Your Bully will be well on the way to a healthier weight and better life with American Journey's healthy weight formula. This recipe contains fewer calories than American Journey's other products, plus more fiber to help your dog feel fuller after every meal. L-Carnitine also plays a role in this formula, as it improves your dog's metabolism, making it more efficient at burning calories. Glucosamine and Chondroitin aid your dog's joints, keeping them strong as your Bully loses weight.
This recipe is expertly balanced and contains everything your dog needs to stay nourished while losing weight. Real chicken is the first ingredient, so you know your dog is getting the protein they need. Kelp and sweet potatoes bring nutrients and energy to keep your dog going and going before, during, and after exercise. You'll be seeing results in no time.
A Healthy Bullie Is A Happy One
Your American Bully is undoubtedly a unique creature. They are always ready to shower you with love, affection, and a lot of slobber. You can bless your American Bully with a long, exciting, enjoyable life if you give them the best nutrition. Health and wellness are the best gifts you can give your dog.
Taking care of your American Bully's health might be arduous, but their smiling faces and loving hearts are well worth the trouble. Correct diet, ample exercise, and regular vet checkups help your American Bully live their best life. When they are healthy, they are free to run, play, and enjoy life, staying faithfully by your side for many years to come.
Tagged With: Comparison

This article was originally published by Caninejournal.com. Read the original article here.