Physical therapy for dogs, officially called canine rehabilitation therapy, has grown tremendously in the last two decades. This alternative to traditional veterinary treatment is similar to human physical therapy (PT) and other human rehab treatments. Canine rehab involves non-invasive treatments, such as exercises, massage, hydrotherapy, electrotherapy, and many other techniques, to rehabilitate injured, ill, or post-surgical pups.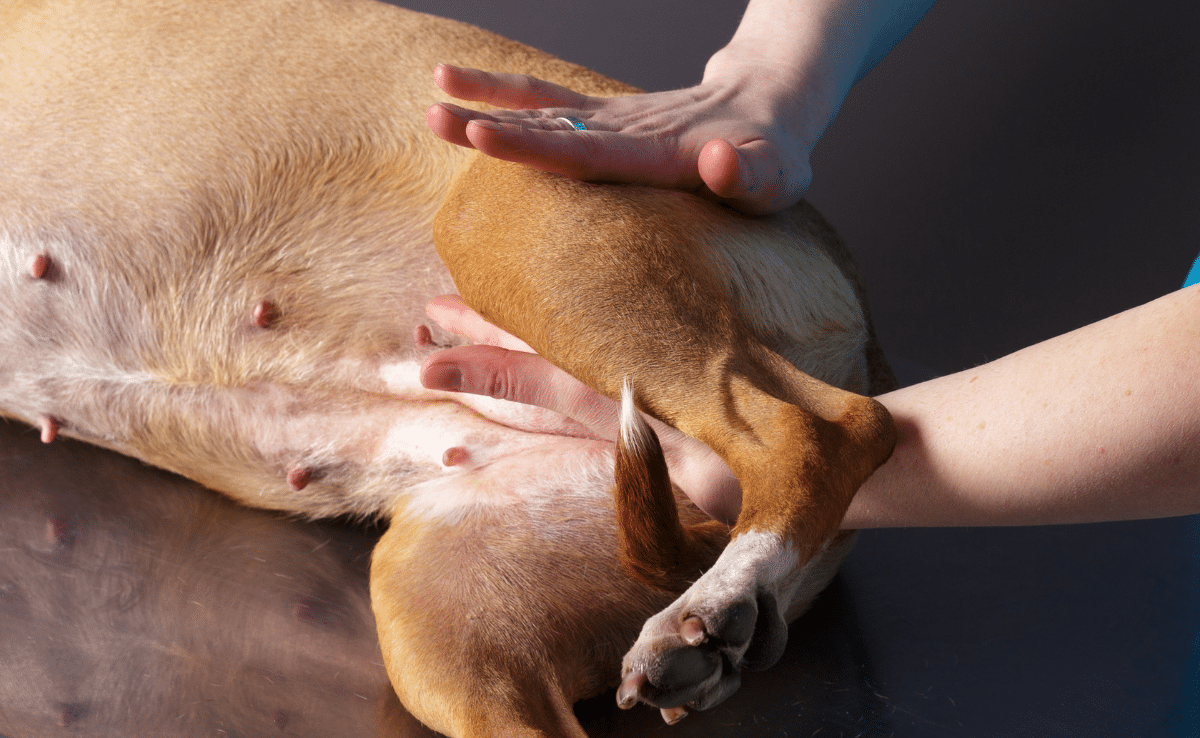 These alternative treatments help reduce pain, speed recovery time, and improve mobility and fitness. The ultimate goal for many dogs is to restore full functionality. However, dogs with chronic conditions like arthritis can also benefit from rehab therapy to ease pain and help with mobility problems.
What Is A Physical Therapist For Dogs?
Practitioners who perform the canine equivalent of human physical therapy (physiotherapy) are called canine rehabilitation therapists or veterinary rehabilitation therapists. (In most states, the term "physical therapist" is trademarked for human medicine.) Who can become a dog "physical therapist?" Veterinarians, veterinary technicians, human physical therapists, PT assistants, and occupational therapists are eligible to obtain canine rehabilitation certification.
A small handful of programs, including the University of Tennessee and the Canine Rehabilitation Institute (CRI), offer certification. These programs involve extensive academic and clinical training to earn certification. The CRI offers Canine Rehabilitation Therapist (CCRT) and Canine Rehabilitation Veterinary Nurse (CCRVN) certifications. The University of Tennessee's program is the Canine Rehabilitation Certificate Program (CCRP).
Veterinarians can also become a diplomate of the American College of Veterinary Sports Medicine and Rehabilitation (ACVSMR). And Chi University offers the Certified Veterinary Medical Manipulation Practitioner (CVMMP) program in medical manipulation to treat musculoskeletal problems. You'll want to make sure that your pup's therapist holds the appropriate certification(s), which they list after their names.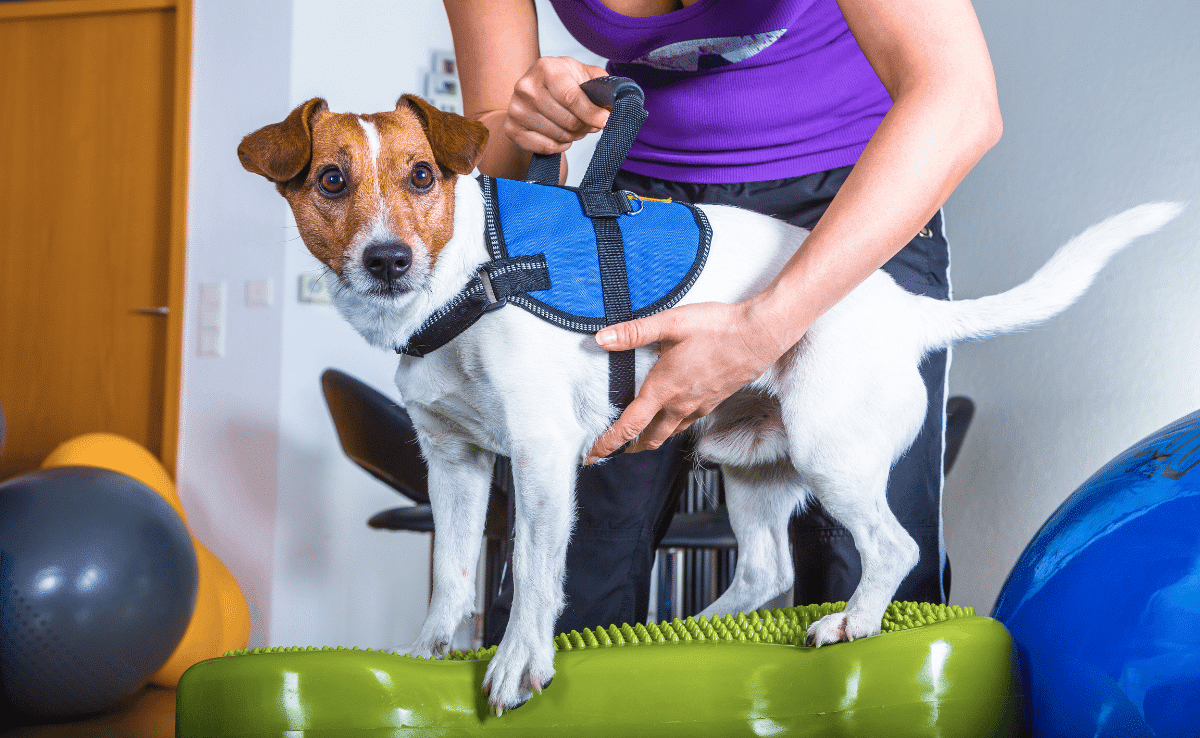 What Conditions Does Rehabilitation Therapy Help Treat?
Several types of injuries, acute ailments, and chronic conditions can benefit from canine rehabilitation. Some of the most common uses are for arthritis and following orthopedic surgery for conditions like hip dysplasia and torn cruciate ligaments. It's also often used to help dogs with joint dislocation, a luxated patella, and other musculoskeletal injuries and ailments.
Dogs with chronic neurological illnesses such as intervertebral disc disease (IVDD) and degenerative myelopathy (DM) can benefit from rehab therapy. And it's also been proven useful to help obese dogs suffering from joint pain and mobility issues, as well as dogs who compete in sports.
Types Of Canine Physical Rehabilitation Therapy
While many types of rehab therapies are available for pups, below are some of the most common. Some conditions benefit from a combination of these therapies.
Massage – Various massage techniques offer pain relief, improved joint mobility, increased circulation, and decreased stress and relaxation. It's often used for arthritic dogs.
Manual therapy – Manual techniques such as chiropractic and passive range of motion benefit joints by reducing pain and improving mobility.
Hydrotherapy – This water physical therapy for dogs uses an underwater treadmill or swimming therapies for dogs with serious joint problems because the water buoyancy places less strain on joints.
Therapeutic exercises – Various therapeutic exercises help improve flexibility, strength, balance, and coordination. These can help rebuild muscle after disuse, slow the progression of degenerative diseases, and more.
Land treadmills – Treadmills help dogs use limbs after injury or surgery and retrain gaiting after neurologic illness, like a stroke. They're also useful for fitness training.
Electronic therapies – Therapists also use non-invasive electronic therapies to improve tissue healing, stimulate circulation, reduce pain and inflammation, prevent muscle atrophy, and more. These can include therapeutic ultrasound, laser therapy, transcutaneous electrical nerve stimulation (TENS), neuromuscular electrical stimulation (NES), and other therapies.
Acupuncture – The insertion of fine needles into specific points can help relieve pain, improve circulation, and decrease muscle spasms.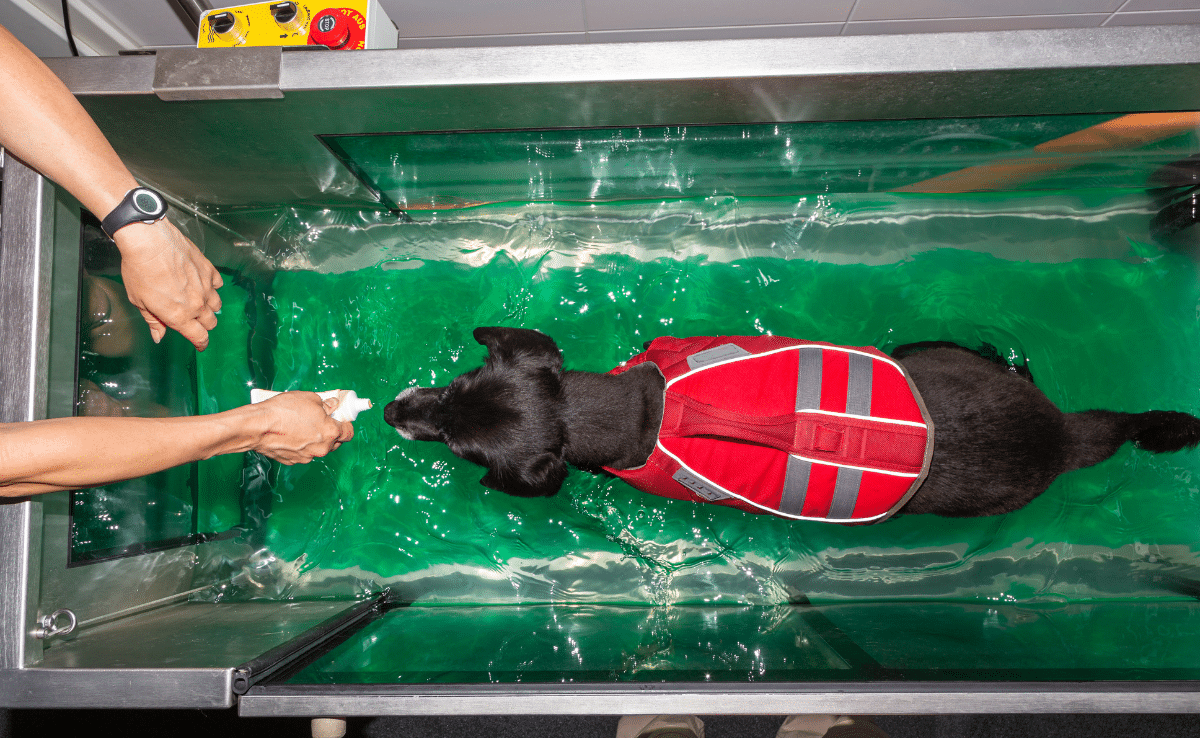 How Much Does It Cost?
The cost of dog physical therapy and other rehabilitative treatments varies by type, practitioner, and location. In general, you can expect an initial consultation to cost anywhere from $100 to $200. And individual sessions could range from $50 to $75 or more. The total cost depends on how many sessions your pup requires. For some conditions, it can get quite expensive, but you may be able to do some PT exercises at home to help reduce costs.
Some pet insurance providers offer coverage for canine rehabilitation and other alternatives/holistic therapies — as long as you have coverage before your dog becomes ill or injured. Otherwise, it's considered a pre-existing condition and likely won't be covered. Getting pet insurance while your dog is young can help you handle expensive treatment costs for many illnesses and accidents throughout your pup's lifetime.
How Do I Find A Certified Therapist?
Some vet practices have certified therapists on staff, but if not, a referral from your veterinarian is important. Many conditions being treated with rehab therapy involve simultaneous treatment and medication from your vet. So your pup's vet and rehab therapist should work together. You can see rehab professionals in your area through the CRI or the AARV (American Association of Rehabilitation Veterinarians).
At-Home Exercises (Video)
Depending on your pup's condition, you may be able to do some dog PT exercises at home. Your veterinarian or rehab therapist may recommend them for arthritis or other chronic conditions, for healing from surgery or injury, and more. One common example is for dogs following surgery to repair the cruciate ligament, called TPLO (Tibial Plateau Leveling Osteotomy).
The veterinarian video below demonstrates how to do physical therapy for dogs' hind legs at home using a passive range of motion. This is a useful, easy-to-do dog TPLO physical therapy exercise.
Frequently Asked Questions
Here are some of the most common questions our readers ask about canine physical therapy and rehabilitation.
Is physical therapy for dogs with arthritis worth it?
Yes, experts in dog arthritis say canine rehabilitation can give arthritic dogs a better quality of life. It can relieve pain, promote healthy cartilage, ligaments, and tendons, and slow the disease's progression. Typical therapies include passive range-of-motion exercises, massage, treadmill hydrotherapy, and more.
What's the best luxating patella physical therapy for dogs?
Dogs being treated for a luxating patella (a dislocated kneecap) can benefit from such pain management techniques as laser therapy, therapeutic ultrasound, acupuncture, or TENS. Hydrotherapy and special therapeutic exercises help strengthen the hindlimb muscles.
Luxating patella rehab can benefit dogs following surgery or with non-surgical conservative treatment. The latter typically requires rehab sessions one to three times a week and prescribed daily at-home therapeutic exercises. Treatment can take a few months.
Is physical therapy for IVDD effective?
Yes, IVDD dog physical therapy can have tremendous benefits. Dogs with IVDD may have partial or full limb paralysis, but many can regain their strength and eventually walk again thanks to therapy. IVDD is also extremely painful, but rehab therapists can ease pain using laser therapy, cold therapy, massage, and other techniques.
Does physical therapy for paralyzed dogs work?
In some cases, physical rehab therapy can help paralyzed dogs regain partial or even full functionality. Consult with your veterinarian and a canine rehabilitation therapist to see what your pup's options and prognosis might be.
What are the best physical therapy exercises for dogs with hip dysplasia?
The goal of PT for dogs with hip dysplasia is to maintain muscle mass. Swimming and using an underwater treadmill are extremely helpful. Vets also recommend regular short walks, particularly on uneven surfaces. And a simple repetitive exercise called "sit stands," which opens and closes the hip joint, is especially beneficial because it lubricates and loosens the joint.
What are the best physical therapy exercises for dogs with degenerative myelopathy?
Although DM isn't usually painful, this inherited spinal cord disease causes a dog's hind limbs to become progressively weaker, eventually leading to paralysis. Because there's no cure or medication to slow the disease, vets often recommend physical therapy to maintain muscle strength and mobility. Hydrotherapy, therapeutic massage, range-of-motion exercises, and other targeted exercises can all help slow the disease's progression.
Does canine rehab help dogs recover from a stroke?
Strokes are typically not as severe in dogs as they are in humans, but a stroke can still cause a dog to lose mobility. In many cases, dog stroke physical therapy can help improve your pup's strength and coordination to have the best possible recovery.
How Can I Help Relieve My Dog's Pain?
We all hate to see our dogs suffer from pain and want to help them as much as possible. Fortunately, you have some all-natural options that can help with pain management in dogs recovering from an injury or surgery and those with chronic conditions. CBD for dogs may help ease pain and reduce anxiety. Dog joint supplements can be very effective in relieving pain and inflammation and improving joint health in pups with arthritis and other orthopedic problems. Just be sure to consult your veterinarian before giving your dog any supplements.
Tagged With:
This article was originally published by Caninejournal.com. Read the original article here.