Newfoundlands often have the appetites to match their hefty frames. While it may be cute to watch these gentle giants scarf down their meals, it's important that they eat high-quality food to give them complete, balanced nutrition. Proper nutrition is the foundation of good health for all living creatures, including dogs. And since large breed dogs like the Newfie tend to live shorter lives than some other breeds, it is especially crucial to give them the best shot at a healthy, long life.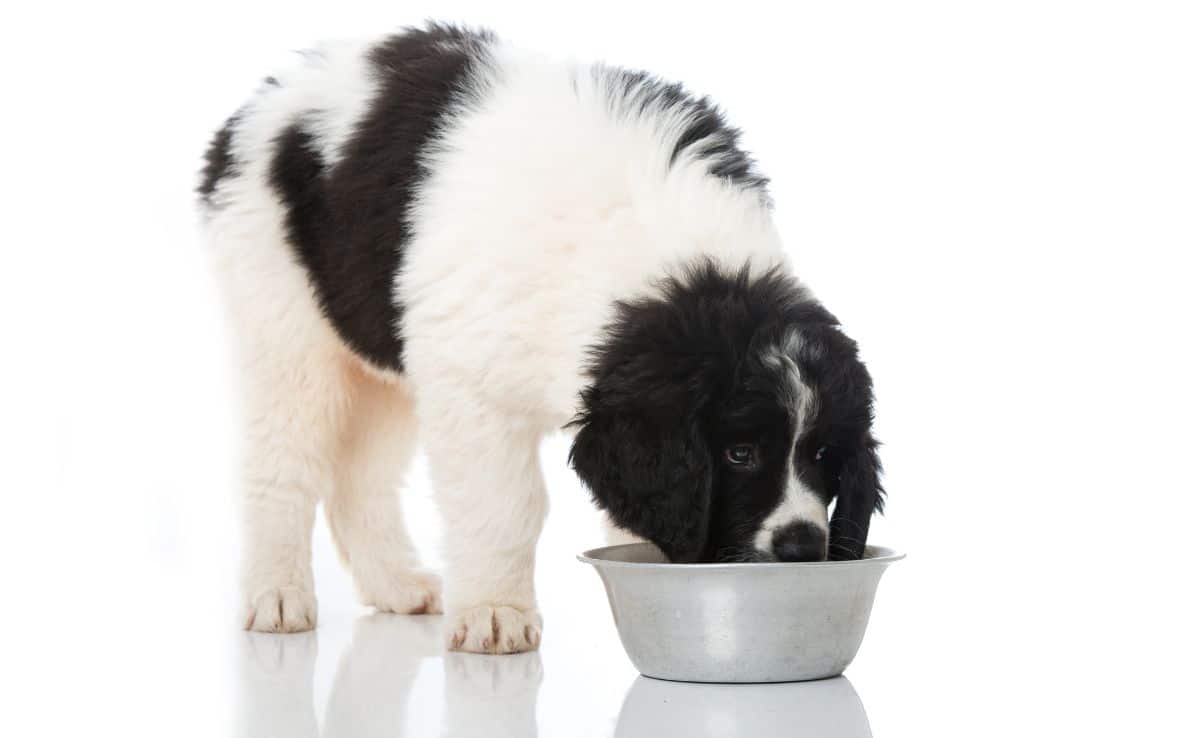 As a Newfie's pet parent, you want the best for your large breed furbaby. However, with all the food options available on the market, it can be overwhelming to decide which to pick. We've written this article to show you everything you need to know about the best dog foods, to help you make an informed decision. This comprehensive guide will outline everything your Newfie needs for their nutrition through each life stage.
Your Newfie will have different dietary needs throughout life: whether a puppy, adult, or senior. Understanding these needs is crucial to their health and happiness. We'll give you the best dog foods for the puppy through senior stages– plus what to feed if overweight.
Best Dog Food For Newfoundlands
Best Dog Food For Newfoundland Puppies
Since Newfoundland puppies have a lot of growing up to do, you must ensure that growth is done at a healthy pace. Nutrient-dense food made specifically for puppies will help them get a great start in life, providing enough energy to stay active throughout the day. Choosing puppy food that is suitable for a Newfie's breed size will ensure proper development through their puppyhood.
Blue Buffalo Wilderness Large Breed Puppy (Grain-Free)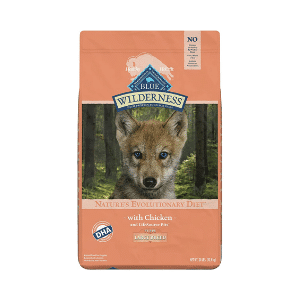 This formula intended for your large breed puppy is sure to cover all of the bases of their proper growth and nutrition. It has DHA and ARA which are fatty acids found in mother's milk that aid in brain and eye development. Blue Buffalo's recipe focuses on all-natural, holistic goodness. There is no grain or filler in this product. Also included are Blue Buffalo's exclusive LifeSource Bits: a blend of antioxidants, vitamins, and minerals chosen by canine nutritionists to fulfill your Newfie puppy's dietary requirements.
ORIJEN Puppy Large Grain-Free Puppy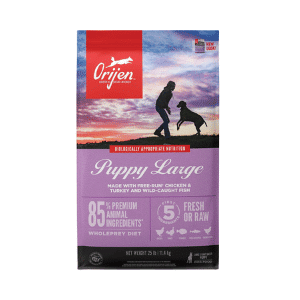 ORIJEN has created this special formula made with food that your large puppy was meant to eat. They use 85% animal ingredients in this premium, delicious formula that your Newfie pup is sure to love. They pride themselves in using fresh and raw ingredients, including free-run chicken and turkey, wild-caught fish, and cage-free eggs. ORIJEN has even coated your pup's kibble with freeze-dried liver to make each mealtime extra enticing. This formula is rich in protein, vitamins, and minerals that will help your Newfoundland puppy grow into his best self.
Nutro Natural Choice Large Breed Puppy (Grain-Inclusive)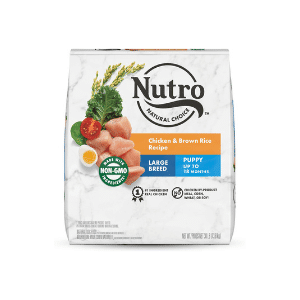 Nutro uses tasty chicken as this recipe's very first ingredient, so you know your Newfie pup is getting delicious, meaty goodness in every bite. It includes healthy grains as well as Omega fatty acids for proper cognitive and retinal development. Calcium plus Glucosamine and Chondroitin help with building strong bones and joints. There are enough antioxidants in this recipe to keep your Newfoundland puppy safe and strong. Dried pumpkin, kale, and spinach give your dog tons of nourishment to feed gut flora for digestion. This formula is made with non-GMO ingredients, with no wheat, corn, soy, or by-product meal.
American Journey Large Breed Puppy (Grain-Free)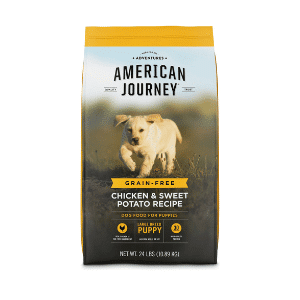 American Journey knows that your little pup is meant to be a big explorer. This formula is grain-free and uses chicken as the first ingredient. They have included a precise blend of calcium and phosphorus to make growing up easy and safe. DHA and ARA are added to support healthy brain and vision development. This product contains no artificial ingredients. You won't find any grains, wheat, corn, soy, or poultry by-product meals, either.
Instinct Raw Boost Large Breed Puppy (Grain-Free)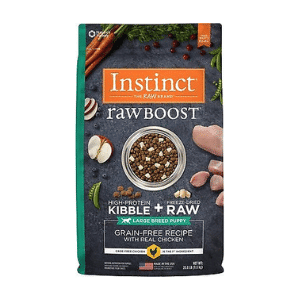 Instinct places the edge of all-natural, raw goodness into this large breed puppy kibble. Featuring raw, freeze-dried chicken bites. Cage-free chicken is the first ingredient, ensuring a delicious flavor your Newfie will love. This contains all the protein necessary for exploring, playing, and growing up. Instinct prides itself on giving your dog the best ingredients from around the world. Multiple protein sources give well-rounded nutrition. Poultry, fish, and meat all work together to give your puppy fuel to do more. This product is free from grains and artificial ingredients, making it a great choice for puppies with sensitive stomachs.
Best Dog Food For Adult Newfoundlands
Once a Newfoundland has finished growing into a big and bulky frame, it's time to keep him nourished enough to stay active and healthy through adulthood. Understanding calorie needs at this stage of life can also keep obesity at bay. It's imperative to choose a dog food that can supply all the nutrients needed to stay fit, whether at work or at play.
The Farmer's Dog (Grain-Free)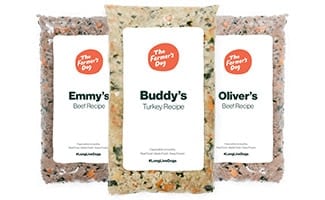 The Farmer's Dog offers fresh, human-grade meals using all-natural ingredients. All recipes are pre-portioned and personalized to your Newfie's specific dietary needs. You fill out a brief survey, which includes your dog's age, breed, current weight, and whether he's at a healthy size. You can have them customize the food for a weight loss goal. They offer turkey, pork, or beef recipes, developed by board-certified American College of Veterinary Nutrition (ACVN) nutritionists and flash frozen. And you can have all of your dog's meals regularly shipped right to your door.
If you prefer a grain-inclusive option, you can cook some rice and mix it in which will also save you some money on your dog's healthy dinner.
Price: Varies based on each dog's target ideal weight, age, and other factors (e.g., $52.65/week for mixed-breed male, one-year-old, 38 pounds, healthy size, neutered, no health problems, or allergies) or topper plan for purebred 15 pounds for as little as $1/day
Full Review Of The Farmer's Dog
Merrick Grain-Free Large Breed
Merrick understands that your Newfoundland needs exemplary nutrition later in life. They have partnered with trusted farmers to create a yummy, holistic food. Their highly palatable formulas are packed with 60% protein and healthy fat. The remaining 40% is vitamins, minerals, and antioxidants for optimal health. Since your giant Newfie is going to need extra help with their joints, the kibble also includes Glucosamine and Chondroitin for optimal joint support. Omega fatty acids aid in promoting itch-free skin and a glossy coat, too.
Nutro Limited Ingredient Diet Grain-Free Adult Large Breed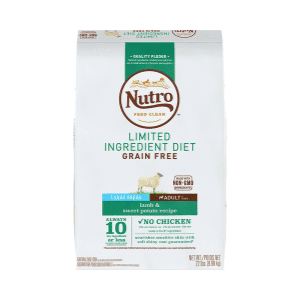 For Newfoundlands with food sensitivities, Nutro has created this limited ingredient formula to help prevent stomach upset and allergies. Despite having fewer ingredients, this recipe spares no expense in giving your dog the holistic nutrition they need to thrive whether at work or at play. You will not find any corn, wheat, or soy in this formula. Omega-6 fatty acids help to improve coat luster and overall skin health. This formula's first ingredient is lamb, a superior protein source that delivers amino acids for a healthier metabolism. Great for Newfies watching their weight.
Wellness Large Breed Complete Health Adult (Grain-Inclusive)
Wellness developed this kibble to answer all your Newfie's dietary needs. You'll never find any GMOs, fillers, meat by-products, or artificial ingredients in this formula. Instead, Wellness focuses on giving your dog a complete, balanced, and healthy diet. This recipe delivers premium protein from chicken and salmon, so your Newfoundland has the energy and muscle needed to live life to the fullest. This recipe includes taurine for heart and eye health, probiotics for good digestion, and Glucosamine and Chondroitin for strong and healthy joints.
Blue Buffalo Wilderness Large Breed (Grain-Free)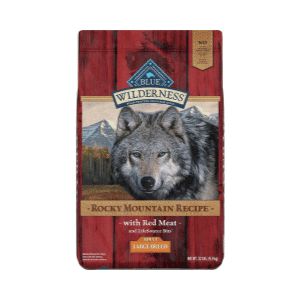 Blue Buffalo's Wilderness line uses real red meat to mimic what your dog would have eaten in the wild. It's balanced with fruits and vegetables to keep nutrition wholesome and complete. There is an emphasis on natural, no artificial ingredients. Beef, venison, and lamb are all excellent sources of protein to help promote muscle health and increase energy. Glucosamine and Chondroitin are also added for the best bone and joint support for your giant Newfie. This formula is grain-free to help with stomach sensitivities.
Best Dog Food For Senior Newfoundlands
In a Newfoundland's senior years, it's likely for new needs to pop up. Choosing their food at this stage is crucial to making sure those needs are met. This is also the time to adjust his diet to accommodate for less activity. Glucosamine and Chondroitin are instrumental in helping your old friend feel young and stay agile.
ORIJEN Senior High-Protein, Grain-Free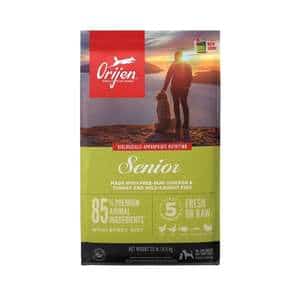 If your Newfoundland has entered his senior years, he will still need a high amount of protein to keep muscles in tip-top shape. ORIJEN satisfies that need with a formula incredibly rich in protein. 85% of it comes from fish and poultry ingredients. Each piece is coated with freeze-dried liver in case your Newfie has become picky in his later years. Superfoods like kale, spinach, and pears provide all the extra vitamins and minerals your senior dog could need.
Blue Buffalo Life Protection Large Breed Senior (Grain-Inclusive)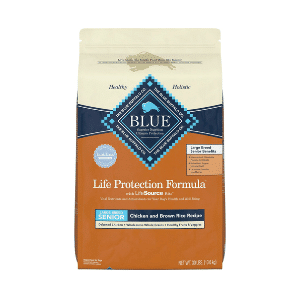 Blue Buffalo's Life Protection formula contains real meat, good grains, and fruits and vegetables from the garden. Some of these superfoods include cranberries, kelp, and turmeric. This kibble was made with your large breed senior in mind and contains deboned chicken to keep your dog's protein up even later in life. Glucosamine and Chondroitin are added for strong and stable joints, aiding in mobility no matter how old your dog may be. Calcium and phosphorus also aid in preserving your dog's teeth.
Now Fresh Grain-Free Large Breed Senior Weight Management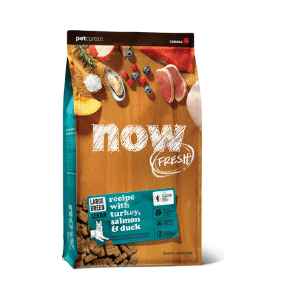 Now Fresh has captured the freshness of now for a meal that any dog, young or old, will surely enjoy. It contains fresh turkey, salmon, and duck for optimal protein levels and strong muscles. Fruits and vegetables such as blackberries, pumpkin, and carrots give plenty of vitamins, minerals, and antioxidants for a boosted immune system. Added prebiotics and probiotics help move digestion along smoothly, just in case your old Newfie needs a little extra help. New Zealand green mussels contain Glucosamine and Chondroitin for best mobility.
Nutro Natural Choice Large Breed Senior (Grain-Inclusive)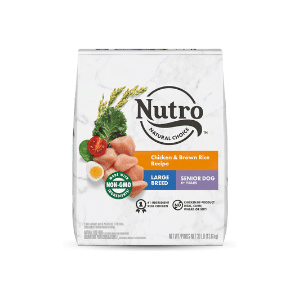 Nutro brings us another recipe with an emphasis on natural goodness for your giant, senior Newfie. They put emphasis on both nutrition and flavor to help boost the health of even the pickiest dogs. Tasty chicken is the first ingredient in this formula. Natural fiber helps to move digestion smoothly, while Glucosamine and Chondroitin make bones and joints stronger than ever. Essential antioxidants help keep your dog safe in the face of illness, especially important in his senior years. There are no GMOs or chicken by-product meal, corn, wheat, or soy in this product.
Best Dog Food For Overweight Newfoundlands
If you find that your Newfie has gotten a little bit too chunky, it's time to switch foods (and/or scale back portions). Helping your dog manage their weight can really work wonders in bringing them back to good health. Overweight dogs have a lower life expectancy than most and are prone to various preventable diseases. They may develop heart disease, circulatory issues, joint pain, skin conditions, and respiratory problems.
Slowly decrease food portions until you find that your Newfie has begun to lose weight. Your veterinarian can help you determine precise portion sizes. Feeding your dog food that will keep him satiated and nourished during this time of weight loss is important. While he will need fewer calories and less fat, we will still need an ample amount of protein in order to maintain the muscle rebuilding from fat loss. Avoid filler ingredients even more during this time, as this may contribute negatively to your Newfie's weight loss.
Blue Buffalo Life Protection, Large Breed, Healthy Weight Adult (Grain-Inclusive)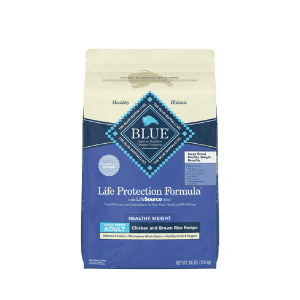 Blue Buffalo also has an incredible formula for dogs trying to shed pounds. If your Newfie needs to lose weight, this kibble is sure to help. It promotes the complete nutrition of your dog while giving him fewer calories. This way, your dog stays nourished even when losing weight. Glucosamine and Chondroitin are added to this large breed formula to give extra insurance to those joints. L-Carnitine also helps to reduce calories from fat, so your dog takes in the good stuff. Omega-3 and 6 fatty acids help to create soft skin and a lustrous coat so your dog feels pretty even before the weight loss.
A Healthy Newfoundland Is A Happy One
You'll be hard-pressed to find a dog as loving, loyal, and nurturing as a Newfoundland, making them one of the best picks for a family with kids. Your Newfie deserves to be healthy and happy through every stage of life, whether at work or at play. Therefore, it's especially important that we as pet parents give our dogs only the best nutrition to help them live their very best lives.
Understanding your Newfie's dietary needs will give you great insight on how to keep their bodies healthy, minds sharp, eyes clear, and coats shiny. This is the least we can do for all the love and happiness they give us each and every day. We want to live a long and happy life with our dogs, and our best paw forward is healthy nutrition.
Tagged With: Comparison

This article was originally published by Caninejournal.com. Read the original article here.