You love your Basset Hound, and it is a pleasure to have them in your life. As such, you only want the best for them to give them the best life possible. To achieve this, it is imperative that you invest in their nutrition. High-quality nourishment sets the foundation for good health, which is paramount to their well-being and happiness. However, it may be difficult to choose the right food given the amount of choice available to us.
Understanding your Basset Hound's nutrition allows you to make better, informed choices about the food they eat. To eliminate the guesswork, we have listed recommendations on some of the best brands and products available, so you can select your pup's meals with confidence. This way, they can stay healthy through every life stage. We've also included products to help with being overweight in case your Basset Hound has gotten a little bit too chunky.
Best Dog Food For Basset Hounds
Best Dog Food For Basset Hound Puppies
Your Basset Hound puppy needs to have lots of great nutrition to be off to a great start in life. They require puppy formula food, as this is nutrient-dense and made specifically for this life stage. These choices provide your pup with the nourishment they need to grow up healthy, happy, and strong.
American Journey Active Life Formula Puppy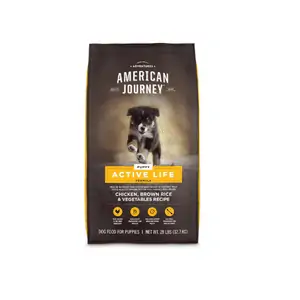 Your Basset Hound puppy is ready to sniff out their next big adventure with American Journey's kibble, made especially for puppies. Real chicken serves as the first ingredient in this wholesome, delicious food for healthy muscle development. Antioxidants are added to help boost your dog's developing immune system. Omega fatty acids, including DHA and ARA, are included for a shiny coat, healthy skin, plus awesome retinal and cognitive development. A precise blend of calcium and phosphorus is included to help build healthy bones and teeth. This product contains superfoods like kelp, cranberries, and sweet potatoes, so your pup gets tons of vitamins and minerals for all-around health.
Wellness Complete Health Puppy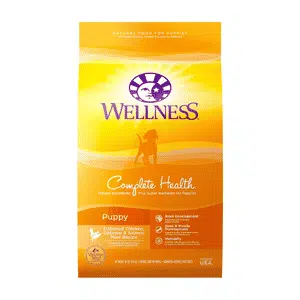 Wellness is committed to your puppy's wellness, so they've crafted this special kibble just for them. Your Basset Hound puppy can enjoy all the carefully chosen ingredients, starting with real deboned chicken for a punch of protein. Wholesome grains like oatmeal and barley give your dog good carbohydrates for extra energy. Omega fatty acids, vitamins, and antioxidants are all added for real Complete Health. Probiotics are also added for ease of digestion, so your puppy gets all the goodness they can out of their food. This formula is developed without any GMOs, fillers, or artificial ingredients.
Blue Buffalo Wilderness Puppy Grain-Free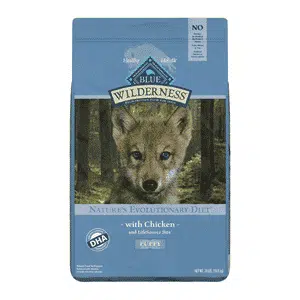 Blue Buffalo has created this special formula made for explorer puppies with real chicken for strong and healthy muscles. Taurine is added to give your dog's eyesight, heart, and cognitive health a boost. Fatty acids like DHA and ARA, both found in mother's milk, are included for best brain and eye development. This recipe contains Blue Buffalo's exclusive LifeSource Bits, which is a precise blend of antioxidants, vitamins, and minerals, so your dog stays healthy both inside and out.
Merrick Grain-Free Puppy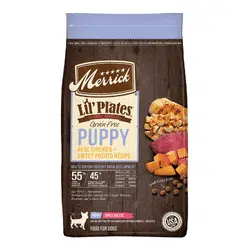 Basset Hound pups love the ultra-tasty flavor of Merrick's special puppy kibble. This product is made grain-free, which is great news for dogs who may have sensitivities to grain. Real deboned beef is used as the first ingredient, so your pup gets tons of protein to kickstart life. This helps fuel their energy for every day. It also aids in growing strong muscles. It includes DHA for proper brain and eye development. Glucosamine and Chondroitin are also added to support growing bones and joints. Omega fatty acids give way to healthy skin and a shiny coat.
Taste of the Wild Puppy Grain-Free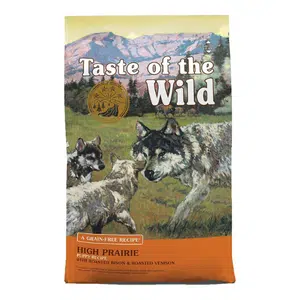 Give your Basset Hound pup food they were always meant to eat with Taste of the Wild's kibble. Made just the way nature intended. It contains meat sources from roasted venison, buffalo, and bison for tons of protein from great sources. It does not contain any grain, which is great for pups who may be sensitive. Instead, it includes sweet potatoes and meat for extra energy. This recipe is crafted with superfoods (like tomatoes, blueberries, and raspberries) for all the vitamins, minerals, and antioxidants your pup needs. It is also made with proprietary probiotics for healthy digestion and immune system health.
Best Dog Food For Adult Basset Hounds
Adulthood brings many changes to your Basset Hound's life, so you must meet those changes with new food to match. Keep your dog nourished enough to maintain the health and body they developed in puppyhood. You must also understand their calorie needs, as adulthood is when obesity starts to become an issue. Here are our top picks for your adult Basset Hound's best nutrition needed for a fun and happy adulthood.
The Farmer's Dog
The Farmer's Dog offers fresh, human-grade meals using all-natural ingredients. All recipes are pre-portioned and personalized to your hound's specific dietary needs. You fill out a brief survey, which includes your dog's age, breed, current weight, and whether he's at a healthy size. You can have them customize the food for a weight loss goal. They offer turkey, pork, or beef recipes, developed by board-certified American College of Veterinary Nutrition (ACVN) nutritionists and flash frozen. And you can have all of your dog's meals regularly shipped right to your door.
Price: Varies based on each dog's target ideal weight, age, and other factors (e.g., $52.65/week for mixed-breed male, one-year-old, 38 pounds, healthy size, neutered, no health problems, or allergies) or topper plan for purebred 15 pounds for as little as $1/day
Full Review Of The Farmer's Dog
Diamond Naturals Adult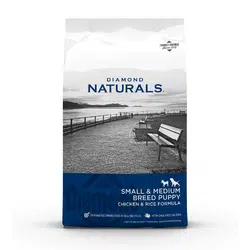 Your adult Basset Hound is going to need great nutrition to maintain vitality. Luckily, Diamond Naturals is here to answer the call. This particular formula is made with real beef and fish for lots of delicious protein. Fruits and vegetables like kale, coconut, and blueberries. Add the vitamins, minerals, antioxidants, and fiber needed for overall health. Omega fatty acids contribute to healthy skin and coat. A proprietary probiotic blend is added for your furry friend's best digestive health. This formula contains no corn, wheat, filler, or artificial ingredients.
Blue Buffalo Wilderness Adult Grain-Free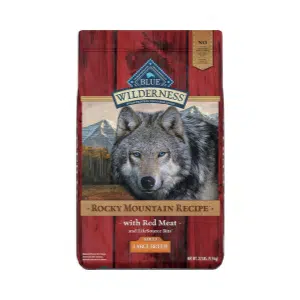 Blue Buffalo has created another special recipe to feed the wolf in your Basset buddy. It starts with real deboned beef and fish for a protein that builds muscles and supercharges energy. This grain-free food is perfect for dogs who might have sensitivities or allergies to grain. Instead, it includes peas and sweet potatoes for complex carbohydrates good enough to fuel your dog's lifestyle. L-Carnitine is added to help burn fat, so your Basset Hound doesn't get too pudgy. Glucosamine helps to support the joints and keep mobility working smoothly. Antioxidant-rich berries boost the immune system and give vitamins for complete health.
Go! SENSITIVITIES Limited Ingredient Grain-Free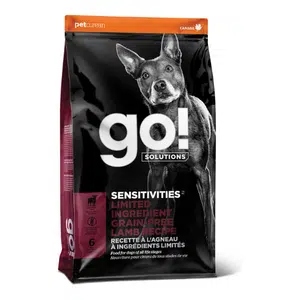 Go! has made this delicious, limited-ingredient kibble for your Basset Hound, who may have sensitivities to their regular diet. Grass-fed lamb is the first ingredient and single source of protein for those with allergies or aversions to beef and chicken. Prebiotic fiber from dried chicory root helps to keep your pup's sensitive stomach strong plus regulates digestion too. Omega oils give your dog healthy skin and coat so they can look as great as they feel. This product does not contain by-product meals, wheat, corn, or soy, so you know your dog is getting nothing but goodness in every bite.
Nutro Natural Choice Adult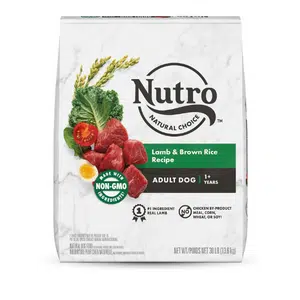 Nutro has created this yummy kibble made with all-natural ingredients for your canine companion to chow down on. This recipe is packed with nutrition from real lamb (a high-quality protein source) as the first ingredient. Brown rice gives complex carbohydrates for the extra delicious energy. Essential antioxidants are added to help boost the immune system, and natural fiber assists digestion. Omega-3 and 6 fatty acids contribute to a great-looking coat and healthy skin. This food is made without GMO ingredients. It also does not contain chicken by-product meal, corn, wheat, or soy.
Best Dog Food For Senior Basset Hounds
New needs pop up once Basset Hounds reach their senior years. You must address these needs with proper care and nutrition to maintain your dog's health and ensure their longevity. At this point in their life, you must doubly guard them against obesity. Less movement means they gain weight quicker. Fewer calories consumed help. Glucosamine and Chondroitin are also both necessary for ease of mobility.
VICTOR Purpose Senior Healthy Weight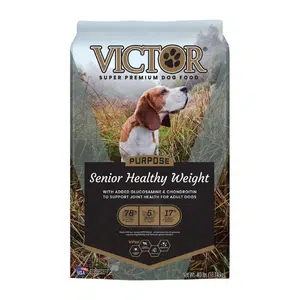 Senior Basset Hounds need the extra nutrition to keep them healthy and fit in their older age. This is why VICTOR has purposefully crafted their Purpose formula for your old buddy. This recipe is made with premium-quality beef, chicken, and fish meals for tons of protein and extended energy. Glucosamine and Chondroitin are added to promote long-term joint health, supporting your dog's mobility as they age. This formula is fortified with vitamins, minerals, amino acids, and essential fatty acids for overall health. It also includes L-Carnitine to convert fat to energy in case your senior buddy needs to drop a few pounds.
Wellness Complete Health Senior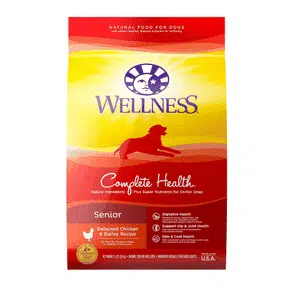 Wellness wants your furry friend to stay healthy even in their golden years, so they have created this natural kibble for their best nourishment. It is specially formulated to give your dog the whole-body nutritional support they need in the latter part of their life. Real chicken serves as the first ingredient, supported by oatmeal and barley, so your dog gets the best protein and carbohydrates for sustained energy. Glucosamine is added to keep your older bud's joints and bones as strong as they can be. This product has been developed without any GMOs, fillers, or artificial ingredients.
CANIDAE Grain-Free PURE Senior Limited Ingredient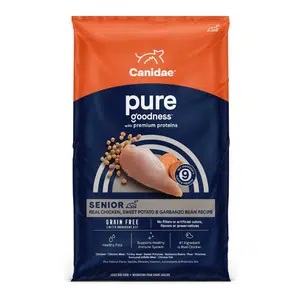 Canidae has made this fantastic kibble for your senior Basset Hound to enjoy, especially if they have sensitivities to most diets. This limited-ingredient formula is perfect for older dogs who may have trouble digesting their food. It only contains nine wholesome ingredients. You won't find corn, soy, grain, or artificial ingredients among them. Chicken serves as the first ingredient for paw-some protein. It is joined with great veggies like sweet potatoes and garbanzo beans for the carbs your dog needs to stay active. This formula is made with Canidae's HealthPLUS blend of antioxidants, probiotics, and omega-fatty acids for overall health.
Nulo Freestyle Senior Grain-Free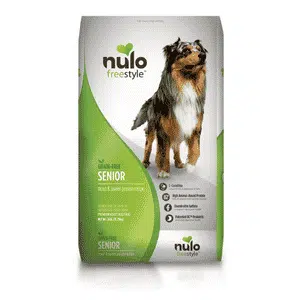 Nulo believes your senior dog deserves superior nutrition, so they've made this kibble to show them just what they need. This formula contains deboned trout, plus turkey and salmon meals as the first ingredients. This gives your dog plenty of protein necessary for a continued active lifestyle. This is joined by Glucosamine and Chondroitin, which work hard to support your dog's hip, bone, and joint health. And if your dog has put on the pounds, Nulo has also included L-Carnitine to help turn fat into energy. This formula is grain-free, which is great for dogs who may have sensitivities.
Instinct Raw Boost Senior Grain-Free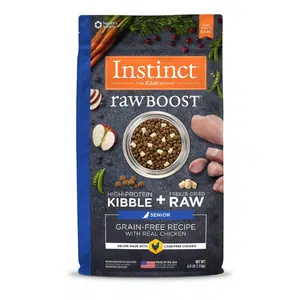 Instinct's Raw Boost line has something very special for senior dogs. This kibble boasts high protein from chicken meal, making it a great help in maintaining muscle mass. Raw pieces of freeze-dried chicken are added for the extra boost of flavor that your senior Basset is sure to love. Since chicken meal is a source of Glucosamine and Chondroitin, you can be assured of great hip and joint health for your dog. Natural DHA helps keep your dog's eyes and mind sharp. Calcium and phosphorus are added for strong bones and teeth.
Best Food For Overweight Basset Hounds
It's common for Basset Hounds to become overweight. If you've noticed that your dog has gotten to that point, it's time to change their food. Obesity is dangerous to your dog's health, so it has to be dealt with as fast as possible. Overweight dogs live shorter lives and can be prone to diseases that are otherwise preventable. They may develop skin conditions, heart disease, circulatory issues, respiratory problems, and joint pain if their weight is not brought back to normal.
Helping your dog lose weight begins with closely monitoring their food. They should be eating less food in order to start shedding pounds. Gradually feed them less food until you notice them begin to lose weight. Your vet can also help you determine precise portion sizes. Giving your dog food that helps them stay healthy during their weight loss is of utmost importance. They need less fat in their diet but still need large amounts of protein in order to build muscle and stay energized. Take care that they aren't consuming filler ingredients, as these can sabotage their weight loss. Be sure that they get enough exercise, too.
Nutro Natural Choice Healthy Weight Adult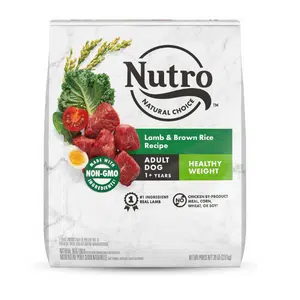 Nutro has created another special kibble for your dog's best health, especially now that they need to lose weight. This recipe contains real lamb for high-quality protein, essential to building muscle where there was once fat. Brown rice is added for complex carbs that help your pup feel good both inside and out. This formula has added antioxidants for the best immune system health. It also includes natural fiber, so your dog digests their food properly. This recipe does not contain any GMOs, chicken by-product meal, corn, soy, or wheat.
Merrick Grain-Free Healthy Weight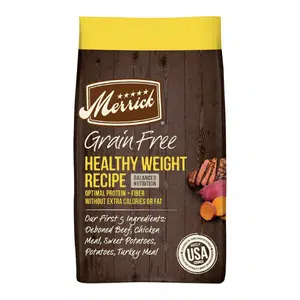 Merrick's weight management kibble is so delicious that Bassets have a hard time believing they're on a diet. Real, deboned beef is the first ingredient for great protein. Other protein sources are chicken, turkey, and salmon meals. This grain-free recipe is great for dogs whose tummies may hurt from grains. These are replaced with sweet potatoes and regular potatoes for extra nourishment and energy. Glucosamine and Chondroitin help your dog stay agile as they exercise. The extra weight can really do a number on the joints. This product does not contain corn, wheat, soy, gluten, or artificial ingredients.
A Healthy Basset Hound Is A Happy One
Basset Hounds are fantastic dogs who get excited about all the sights, sounds and smells of life. It's up to you to make their lives as healthy and happy as possible. Their nutrition is crucial to a long and enjoyable life. Understanding a Basset Hound's dietary needs equips you with the knowledge you need to keep their body healthy. This leads to good organ function, clear eyes, sharp minds, and a gleaming coat. By making nourishment your top priority, you are giving dogs access to the best health and in turn, a life that is fun and full of joy.
Tagged With: Comparison

This article was originally published by Caninejournal.com. Read the original article here.