Itchy skin and digestive issues are common problems with our pups. And sometimes, allergies or intolerances to environmental or food allergens are to blame. If you suspect your dog's symptoms are due to allergies, you're certainly not alone. That's why the commercial market is flooded with supplements that claim to relieve dog allergies.
As with all consumer products, some allergy supplements for dogs are of higher quality and more effective than others. We've done our research to weed through your options. We hope you can find allergy relief for your furry friend with one of our top picks.
At A Glance: Our Top Picks
Best Allergy Supplements For Dogs
We've chosen the best supplements for dogs with allergies based on several factors, including the active ingredients, quality, pricing, customer feedback, and more. See our ingredient section below if you're not familiar with the most beneficial active ingredients we include in our reviews.
We've noted in our reviews the products that have the quality seal of approval from the National Animal Supplement Council (NASC) for safe manufacturing practices. The NASC is a non-profit trade organization that's committed to setting standards for pet supplements, which aren't regulated by the FDA.
Expert Tips
Always check with your vet before giving your pup any supplement.
Keep in mind that dog allergy supplements can take up to six to eight weeks of daily use to see noticeable benefits.
Not all allergy supplements work for every dog. It can depend on what's causing your dog's allergies and how your pup tolerates ingredients.
Best Overall: Pet Honesty Allergy Support Chews Review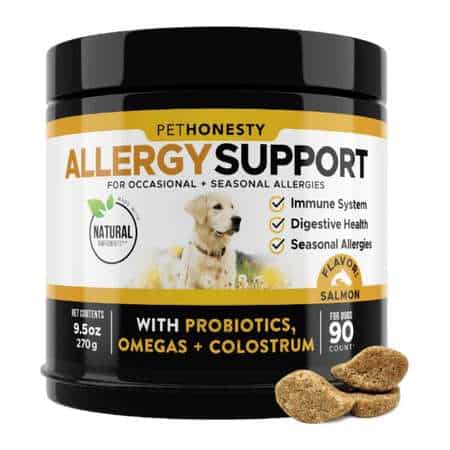 Pet Honesty's top-selling Allergy Support Chews are an excellent all-natural daily supplement for dogs with occasional environmental and food allergies. Their premium vet-reviewed blend of colostrum, salmon oil, probiotics, turmeric, quercetin, organic medicinal mushrooms, and apple cider vinegar has multiple benefits to improve your pup's allergy symptoms.
These soft chews can help maintain normal histamine levels, support a healthy immune system and gut, and soothe skin problems associated with allergies. Pet Honesty also carries several other dog allergy chews as well as food toppers, oils, shampoos, and more to help improve allergy symptoms.
Recommended use: one chew daily per 25 pounds of weight
| Pros | Cons |
| --- | --- |
| Competitively priced | Some customers said it caused vomiting and diarrhea |
| Chews contain no artificial preservatives, corn, wheat, soy, or GMOs | |
| NASC quality seal of approval | |
| Comes in peanut butter, chicken, and salmon flavors | |
| 30-day money-back guarantee | |
| Made in the USA | |
Price
With Pet Honesty, you can subscribe for auto-shipping and save 20%. They also offer free shipping on orders over $49.
Best Advanced: Zesty Paws Advanced Aller-Immune Bites Review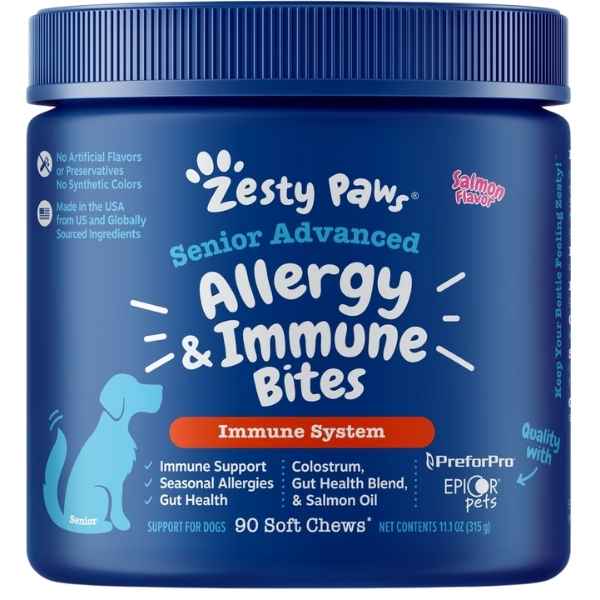 Several types of Zesty Paws' allergy immune supplements for dogs get many rave reviews from pup parents. We've chosen to highlight the Advanced Aller-Immune Bites because of their potent ingredients. These all-natural, grain-free soft chews contain colostrum, salmon oil, quercetin, bromelain, a five-strain probiotic, vitamin C, and other premium ingredients to help support immune, histamine, and digestive health. They're intended for skin, seasonal, and environmental allergy issues.
Recommended use: one chew daily per 25 pounds of weight (begin with half the recommended amount and gradually increase)
| Pros | Cons |
| --- | --- |
| Competitively priced | Some reports of vomiting and lethargy |
| No artificial flavors or preservatives | Some say their dogs didn't like the taste |
| NASC quality seal of approval | |
| 100% satisfaction guarantee | |
| Made in the USA | |
Price
Best For Seasonal Allergies: Finn Allergy & Itch Supplement For Dogs Review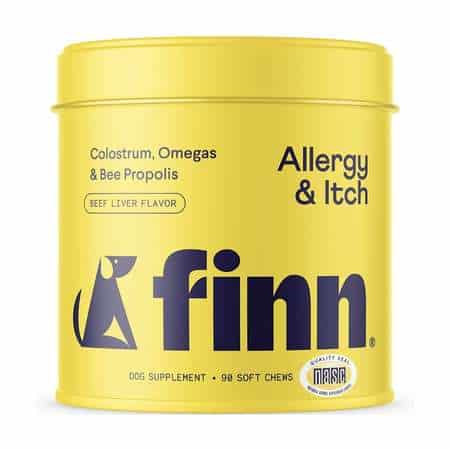 A relative newcomer to the dog supplement industry, Finn's all-natural products are quickly becoming a popular choice among pup parents. The company's philosophy is to only use scientifically backed ingredients in their products. Their Allergy & Itch Supplement contains colostrum, wild Alaskan salmon oil, quercetin, bromelain, probiotics, bee propolis, and other key ingredients to help support your dog's immune response and soothe itching and dry skin.
These chews are formulated to address seasonal allergies in dogs and are cold-pressed to preserve the potency of ingredients. They contain real cheese, bacon, and beef liver, all dog-favorite flavors.
Recommended use: Administer 1 soft chew daily per 25lbs of body weight.
| Pros | Cons |
| --- | --- |
| Competitively priced | Some say their dogs didn't like the taste |
| No corn, soy, or artificial ingredients | |
| NASC quality seal of approval | |
| 60-day money-back guarantee | |
| Made in the USA | |
| Tins made with 100% recycled steel | |
Price
Best Multivitamin: NaturVet All-in-One Dog Supplement Review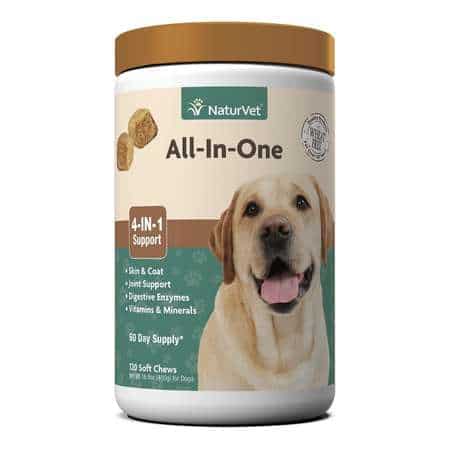 Are you looking for a supplement that offers much more than allergy relief? Naturvet's All-In-One supplements are among the best vitamins for dogs with allergies. These soft chews provide health support for skin and coat, joints, and digestion, plus a wealth of essential vitamins and minerals.
Ingredients such as omegas 3, 6, and 9, probiotics, biotin, and other vitamins in this supplement help maintain skin and coat health. However, it doesn't include some other key ingredients, like quercetin and turmeric, to address histamine levels and skin inflammation.
Recommended use: Give at mealtime (can be divided among AM & PM meals)
Up to 30 lbs: 2 soft chews
31 to 50 lbs: 4 soft chews
51 to 75 lbs: 6 soft chews
Over 75 lbs: 8 soft chews
| Pros | Cons |
| --- | --- |
| Excellent multivitamin for multiple health benefits | May not be as effective for serious allergies as some other allergy-specific supplements |
| Wheat-free | Requires a lot of chews for larger dogs |
| NASC quality seal of approval | |
| Money-back guarantee | |
| Made in the USA | |
Price
Starting at

$14.99


for 60 chews
Best Fish Oil: Pet Honesty Wild Caught Omega-3 Fish Oil Review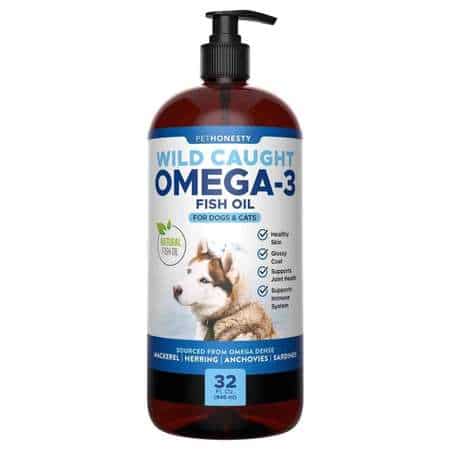 A lot of pup parents swear by fish oil to help control their dog's allergy symptoms, and this Pet Honesty oil is a premium choice. It's made only with anchovy oil, herring oil, mackerel oil, and sardine oil and that have high amounts of DHA, EPA, and other Omega-3 fatty acids. Omega-3s can help relieve irritated skin and stiff joints and are excellent for immune, heart, brain, and overall health.
Pet Honesty is also committed to quality. The fish they use in this oil are low in mercury and toxins and are caught in the clean waters off of Iceland's coast. And the oil doesn't have a fishy odor like many other fish oils for dogs.
Recommended use: Pump directly onto your dog's food and mix well. Give daily 1 pump per 25 lbs of weight and 1/2 pump for dogs under 15 lbs.
| Pros | Cons |
| --- | --- |
| Each serving has 800mg of EPA and 525mg of DHA and other omega-3s | Several complaints that the pump doesn't work well and leaks |
| Fish are carefully sourced | |
| Purified naturally to remove fishy odor and taste | |
| 30-day money-back guarantee | |
| Made in the USA | |
Our Personal Experience
Since starting our dogs on this supplement, their coats have become so soft and shiny, and skin issues have entirely disappeared. One squirt a day in each dog's bowl is all we use, so the bottle lasts more than a year! This is a great value, especially for such an effective product.

-Michelle S, Canine Journal
Price
You can subscribe for auto-shipping and save 20%. They also offer free shipping on orders over $49.
Best Organic: BIXBI Skin & Coat Powder Review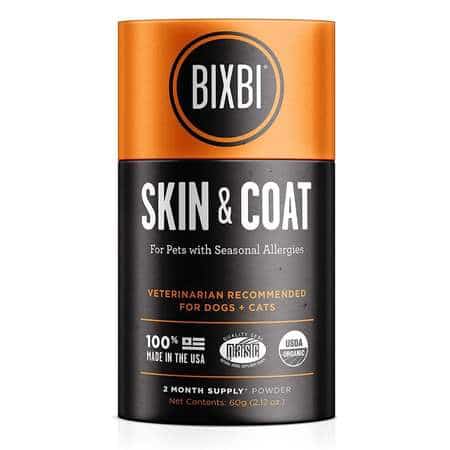 It's widely believed, particularly in Eastern medicine, that medicinal mushrooms have powerful benefits for the immune system and anti-inflammatory properties (among many other health benefits). This BIXBI organic pet superfood daily mushroom supplement is formulated for pets with seasonal allergies to support a healthy immune system response and skin and coat health. They're made with a proprietary blend of USDA organic mushrooms, including reishi, beech, king trumpet, and more.
The founder and CEO of BIXBI grew up on a mushroom farm, so he has a lifetime of knowledge about their various health benefits. The company also carries other mushroom supplements for joint pain, digestive problems, and overall immune health, as well as a variety of all-natural dog food and treats.
Recommended use: Administer orally daily during or after mealtime. Give 1/4 teaspoon (.5 grams) per 25 lbs.
| Pros | Cons |
| --- | --- |
| USDA organic mushrooms | We couldn't find many customer reviews about the skin and coat supplement |
| Grain and gluten-free with no artificial ingredients | |
| NASC quality seal of approval | |
| Made and sourced in the USA | |
| For dogs and cats | |
Price
What About STRELLALAB and Vet's Best?
These dog allergy supplements didn't make it into our top picks, but they're both popular and affordable products that you may want to consider.
STRELLALAB Allergy Relief Dog Treats Review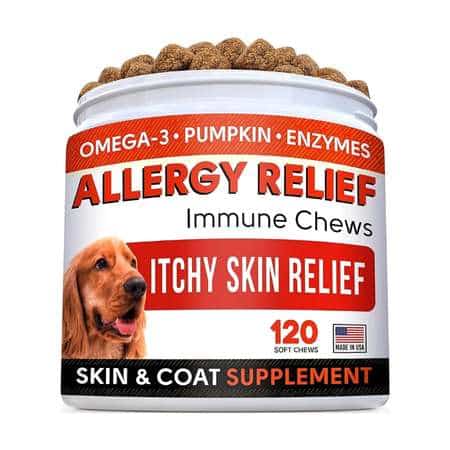 Many pup parents find relief for their dogs with STRELLALAB Allergy Relief Dog Treats. These soft chews are formulated to help with skin and digestive symptoms resulting from food, environmental, and seasonal allergies. They contain salmon oil, quercetin, bromelain, turmeric, digestive enzymes, and other beneficial ingredients. However, STRELLALAB doesn't get the NASC quality seal of approval, and we couldn't find a list of all the ingredients in this supplement.
Recommended use: Give daily (can be divided between morning and evening meals).
1 chew: up to 10 lbs
2 chews: 10-30 lbs
3 chews: 31-60 lbs
4 chews: 61-90 lbs
5 chews: over 90 lbs
Note: The above feeding guidelines are from STRELLALAB's website and differ from what's listed on Amazon.com
| Pros | Cons |
| --- | --- |
| Affordably priced | Not certified by NASC |
| No fillers | Not transparent about all ingredients on their website |
| Comes in chicken and vegetable flavors | |
| Made in the USA | |
Price
Vet's Best Seasonal Allergy Relief Review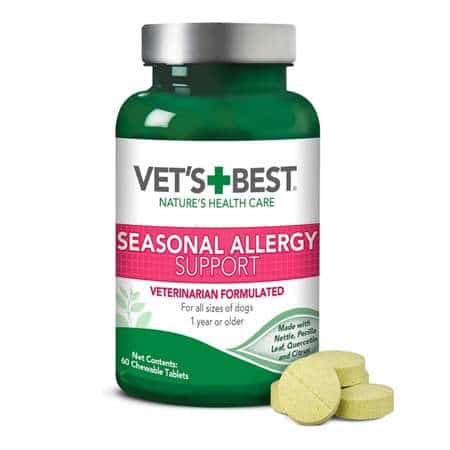 This popular Vet's Best supplement was formulated by a veterinarian to specifically help dogs with seasonal allergies by helping to maintain normal histamine levels and supporting adequate skin moisture. The chewable tablets include quercetin and methylsulfonylmethane (MSM), a naturally occurring antioxidant compound that has anti-inflammatory benefits. Other natural ingredients, such as vitamin C, fish oil powder, bee propolis, nettle extract, perilla leaf, and ocean kelp, boost immune and skin health.
Vet's Best is a respected brand that's been making plant-based animal supplements for over 30 years. These tablets are only intended for dogs over one year of age.
Recommended use: 1/2 tablet per 25 pounds of weight twice daily
| Pros | Cons |
| --- | --- |
| Veterinarian-formulated | Doesn't include probiotics for gut health |
| Affordably priced | Some say their dogs didn't like the taste |
| NASC quality seal of approval | |
| Customers say the tablets are easy to break apart to get the correct amount | |
| Made in the USA | |
Price
What Active Ingredients Should I Look For In Dog Allergy Supplements?
While many herbs and ingredients can help relieve itching and inflammation, these are the major ones you want to keep in mind for an effective allergy supplement for your pup.
Omega-3 Fatty Acids, commonly found in fish oils, have been shown in research studies to help decrease inflammation in allergic dogs. Omega-3s also promote a shiny, healthy coat and joint and heart health.
Probiotics support stronger gut health, which has been shown to promote a healthy immune response to allergens.
Quercetin is a natural plant flavonoid that acts as an antihistamine, anti-inflammatory, and antioxidant (called "nature's Benadryl"). It's often paired with bromelain for maximum efficacy.
Colostrum contains natural antibodies that can help boost immune health and improve inflammation.
Turmeric is an antioxidant and anti-inflammatory that can help relieve redness, swelling, and itching.
Biotin is a B-complex vitamin that supports skin and coat health and is often used in humans for hair loss.
How Can I Figure Out What's Causing My Dog's Allergies?
Determining the cause of your dog's allergies can be extremely difficult. We recommend that you consult your veterinarian to try to nail down the problem. But another first course of action is to give your pup an at-home dog allergy test kit. These kits test for intolerances to many food and environmental factors. Then, you can share these results with your vet to work on further diagnostics and a treatment plan.
A Healthy Diet Can Make A Difference
Feeding your dog a high-quality diet can boost his immune system, which helps protect him from severe skin reactions. If you and your vet think a dog food change might help your pup's allergy symptoms, you may want to consider our picks for the best dog food for allergies or a fresh dog food delivery service.
How Are Dog Allergies Treated?
Dog allergies and intolerances can wreak havoc on your pup's well-being. If you're struggling to help your pup with constantly itchy skin, we recommend you consult your vet. You may also want to learn more about allergy treatment options for different types of allergies and the best allergy medications for dogs.
Tagged With: Allergies, Comparison, Supplements

This article was originally published by Caninejournal.com. Read the original article here.