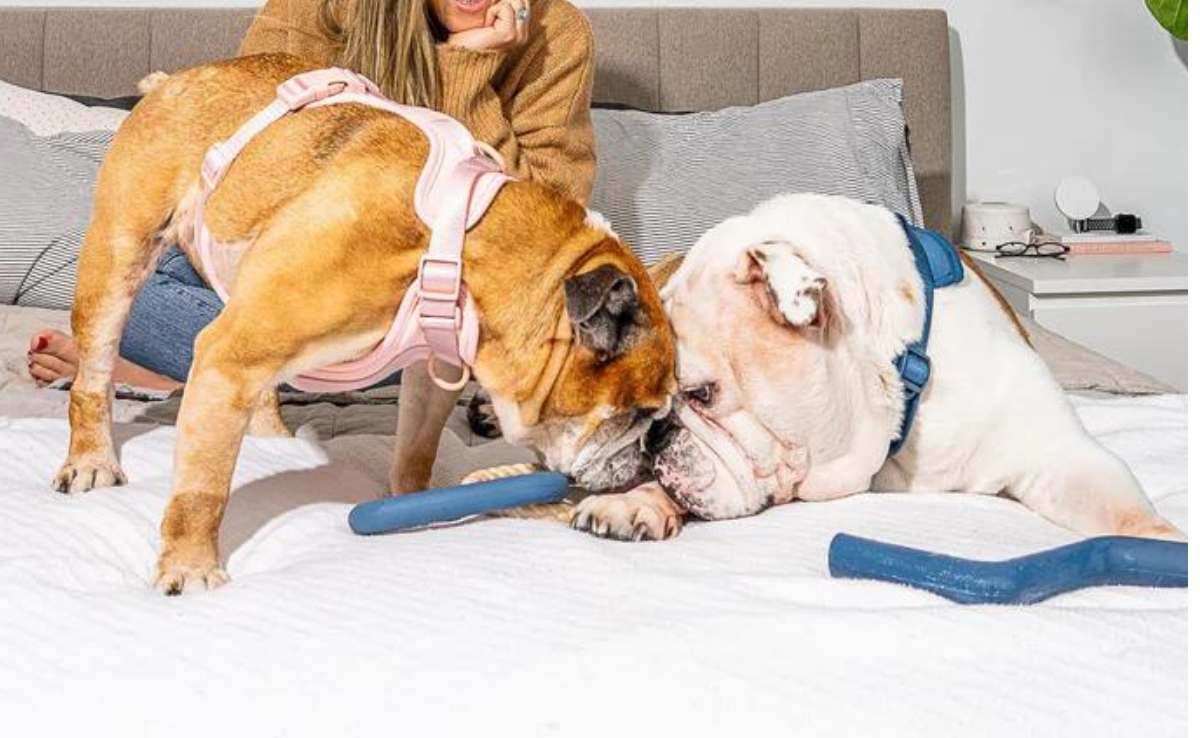 The market for fashion-forward dog accessories continues to grow as many style-conscious pet owners want their furry sidekicks to stand out from the crowd. Wild One, a trendy start-up company, is one of the leaders in this new niche and has caught the eye of many celebrities and influencers, like Ariana Grande, Billie Eilish, and Kanye West.
The brand offers a variety of posh and practical pet products at, as you've likely guessed, higher-end prices. Is Wild One worth the cost? We've reviewed several of their most popular products and highlighted some of their other cool offerings to help you decide.
Wild One's Overall Rating

4.6/5.0
Our team determined the overall rating based on several factors, including product quality and variety, pricing, customer service, customer feedback, and more.
Pros & Cons Comparison Table
| Pros | Cons |
| --- | --- |
| Accessories designed for ultimate convenience | Some items are a bit pricey |
| Durable, high-quality products | Customer service only available via email |
| Attractive, stylish gear | |
| Eco-friendly and organic products available | |
| 1-year limited warrranty on most items | |
| Overall excellent customer reviews | |
Key Features
Good variety of chic and functional products
Color-coordinated accessories in 10 attractive colors
Offers many different bundled walking kits at discounted prices
Build A Care Kit: customize a kit with your choice of 2-6 grooming, wellness, treat, and waste essentials at escalating discounts (up to 20% for 5+ products)
Several eco-friendly products
Baked treats are USDA-certified organic
Shipping to all 50 states and internationally
Co-founder Minali Chatani was featured by Forbes magazine as one of their 30 Under 30 for Retail & E-Commerce in 2020
Products & Price
Wild One carries a wide assortment of pet gear, including dog walking accessories, carrier bags, organic treats, and grooming and wellness products. They offer free shipping on orders over $60. We review their three bestsellers and give you highlights of other fun products.
Wild One Harness Walk Kit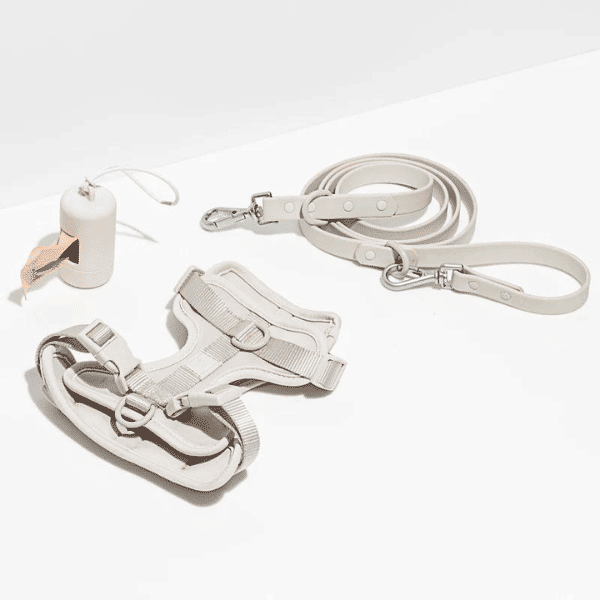 Wild One is best known for its walk kits, which include a harness (or collar), leash, and poop bag carrier. This top seller features extremely durable and lightweight products, making your walks easy and comfortable. They're also much more stylish than standard dog gear.
Harness: This harness is cushioned, lightweight, and breathable for your pet's comfort. It comes in 4 adjustable sizes, has 3 steel D-ring leash attachment points, and is easy to put on.
Leash: Waterproof, odor-resistant, and easy to clean, this leash is very durable, even for moderate pullers. It comes in 2 widths and adjustable lengths. Just use caution if you have a super chewer, as some owners said their dogs chewed through it.
Poop Bag Carrier: This is one of the most convenient poop bag carriers we've seen. It's lightweight and has an elastic band you can attach to your leash or anything else you want.
With 10 color options, you can choose a monochromatic scheme or mix up colors. While you can purchase all of these items separately, Wild One's bundled kits can save you up to $26. They also offer several other bundle options in case you want to switch up some products.
Price
Wild One Treat Pouch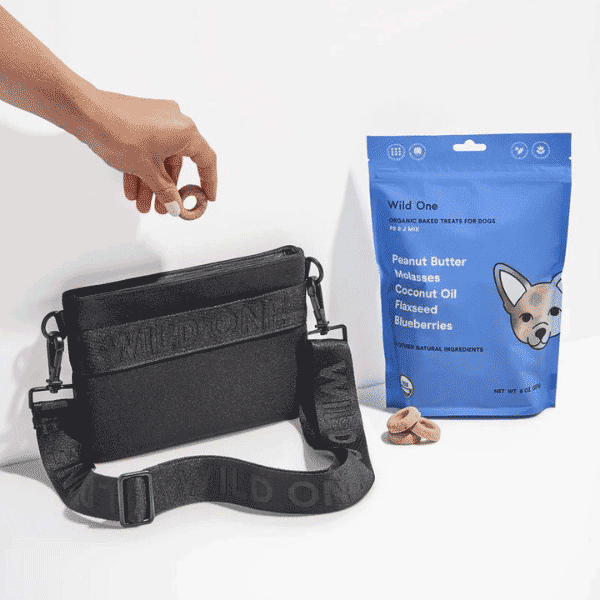 Another top seller, Wild One's treat pouch is a must-have if you're training your dog as you go or if you just want a compact, stylish wearable bag to hold other items on your walks. It has a treat compartment, a poop bag dispenser, and enough room for your phone and keys. The magnetic closure gives you easy access. And you can wear it crossbody, over your shoulder, or as a fanny pack.
Other plusses? It's eco-friendly (each bag is made from 10 recycled water bottles), and it's available in matching colors so you can style around town coordinated with your furry friend's color scheme. Some tall customers said the shoulder strap wasn't long enough for them, but otherwise, this sleek bag gets excellent reviews.
Price
Wild One Pet Carriers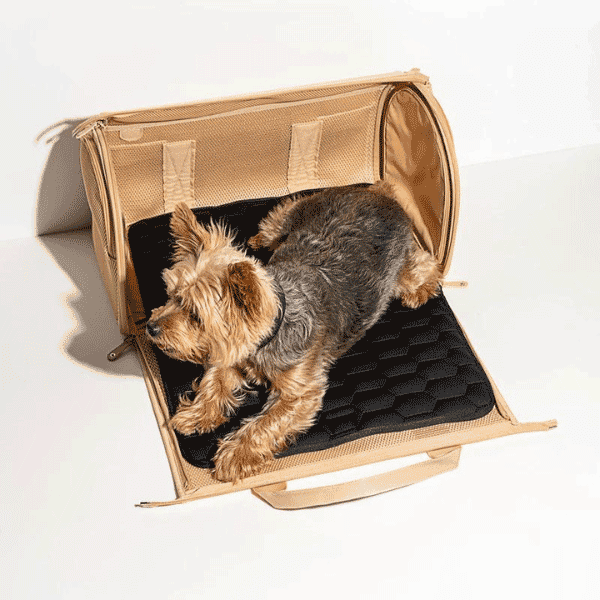 Do you want a fashionable yet practical pet travel bag? Their airline-approved carrier can make flying or driving with your dog a breeze. With breathable mesh walls and an interior cushion that folds out to become a padded dog bed, your pup can ride in comfort. It's also fantastically convenient, with multiple zippered access points, a shoulder strap that doubles as a leash, and outer storage pockets for treats, your phone, etc.
This bag weighs less than four pounds and fits well under an airplane seat. However, you should check with your airline's requirements beforehand just to be sure you get their approval. It's recommended for dogs up to 16 pounds (17.5"L x 11″W x 10"H) and comes in three colors: spruce, black, and tan.
Wild One also has a chic everyday pet carrier that looks just like a purse. It features a recycled knit body made from 80 water bottles, dual-length carrying straps, plenty of pockets for your belongings, and a machine-washable pet mat. It comes in black, lilac, and cocoa and is suitable for dogs up to 20 pounds.
Price
Wild One Toys & Other Products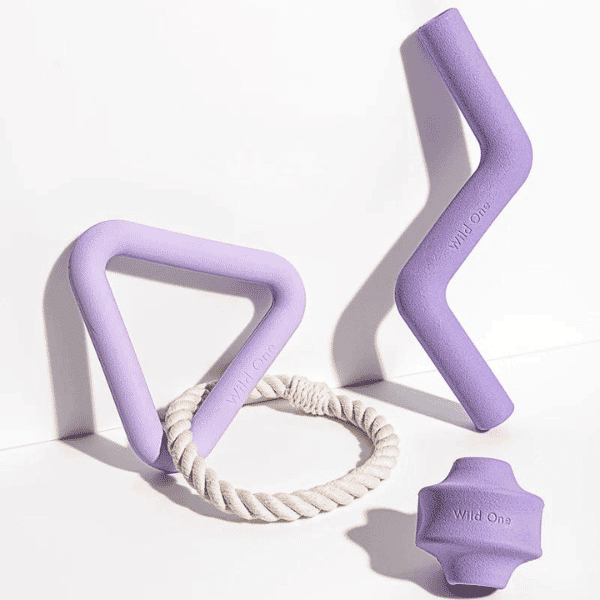 Here are more noteworthy Wild One products that you may be interested in. With many of these, you can subscribe for auto-shipping and save 5%.
Eco-friendly unscented poop bags made from cornstarch
Biodegradable, hypoallergenic grooming wipes
Rinseless shampoo that's vegan and hypoallergenic
Tennis Tumble dog puzzle toy
Organic baked treats in several flavors
Custom dog tag
What's Our Final Verdict?
Yes, Wild One is on the pricey side compared to regular old pet gear. But we're big fans. Their pet accessories are carefully designed with convenience, durability, and sustainability at the forefront as much as attractive aesthetics. If your budget allows, we highly recommend Wild One.
Want to see more stylish products for your furry friend? Check out our Maxbone review, a luxury pet company, for even more trendy items. Maxbone has some of the cutest and most chic dog apparel around, as well as high-end grooming products, pet carriers, and more.
Tagged With: Review

This article was originally published by Caninejournal.com. Read the original article here.