Complete Renter's Guide to Emotional Support Animals
Published 09-29-2022
Many landlords can be quite definite in matters concerning the living of animals on rented premises. Accommodation with pets is either completely prohibited or possible only with additional payment.
However, the rights of emotional support animals in the field of housing are strengthened at the legislative level, so ESAs have the right to live with their owners without restrictions from the landlord.
So, here is a renter's guide for those who want to learn more about the possibility of living with an emotional support animal in a rented apartment.
Your Complete Renter's Guide to Emotional Support Animals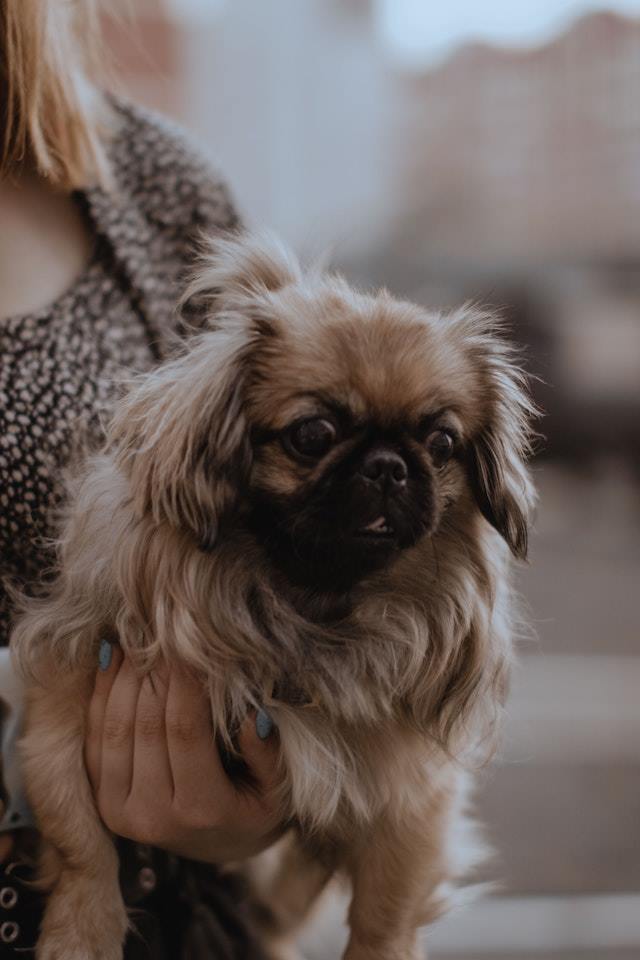 Photo by Daniel Kondrashin: https://www.pexels.com/photo/a-person-carrying-a-pekingese-dog-12630572/
What is an ESA?
An emotional support animal (ESA) is a companion animal that provides the necessary moral support to its owner and helps alleviate the symptoms of mental disorders.
It is important to understand the difference between ESAs, service animals, and regular pets. Studies show that interaction with animals positively affects the psychological state of their owners.
However, unlike pets, emotional support animals have adequate documentation to support their therapeutic benefit to humans.
A service animal helps a person with a physical or mental impairment cope with daily household duties and helps speed up recovery.
To do this, service animals undergo special training to meet the needs of a person with special needs. On the other hand, emotional support animals do not require much training, as their ultimate task is to create a comfortable and safe environment for their keepers.
Landlords and Companion Animals
The Americans with Disabilities Act requires a landlord to make reasonable accommodations for a tenant who has a disability. These adjustments also include permission to live with service animals.
Nonetheless, the ADA doesn't acknowledge ESAs as assistance animals, so they don't have legal protection under this legislation.
Yet, a Registered Emotional Support Animal can still live with its owner, according to the Fair Housing Act.
The law obliges landlords to provide accommodation to ESAs and their owners, provided that the person has documentary proof of the special status of their companion.
The Federal Fair Housing Act
Federal law protects emotional support animals and their owners in housing. According to the FDA, an ESA is an assistance animal that is necessary for a person for therapeutic purposes.
Moreover, in many states, emotional support animals officially belong to the list of methods of treatment for mental disorders and mental health issues.
According to the law, the landlord must allow the emotional support animal to live if the tenant presents an official ESA letter issued by the relevant specialist.
However, at the same time, the law protects the rights of the landlord. It establishes the circumstances that can serve as an official reason for refusing to provide inhabitation or eviction.
Applying to Rent With an Emotional Support Animal
If the tenant needs the help of an emotional support dog and has confirmation of her words from a therapist, she can submit a reasonable accommodation request to the landlord.
This is intended to make certain concessions and exceptions to the building's no-pet policy. We also recommend recording the living conditions of the animal in the lease agreement to avoid misunderstandings in the future.
By law, a request to a landlord for living with an emotional support animal can be submitted in an arbitrary form. However, we recommend making it in writing.
In your submission, explain the essence of your request and provide the necessary documents, including an ESA letter and a certificate of animal health from a veterinarian. You can submit the request in person or entrust it to a trusted person.
Having a written document that will confirm the landlord's permission for ESA residence will help you protect your rights and avoid disputes in the future.
What is an ESA Housing Letter?
The presence of an ESA letter from a qualified professional is necessary to confirm the legitimacy of an emotional support animal.
To obtain this document, contact a licensed mental health care provider or a qualified social worker. The person issuing the letter must have a sufficient level of knowledge in the field of ESAs and their application for medical purposes.
In addition, the specialist must know your diagnosis and medical records, as ESA may not be recommended for some mental disorders.
To have legal force, the ESA letter must be drawn up following the requirements of the law. Each state can set its own rules regarding the content of the document, but there are general requirements.
What are the Requirements of the Letter?
Written by a Professional
First, the document must be issued on the professional's official letterhead and contain his signature, license number, and contact information.
The Animal is Used for Medical Purposes
Secondly, the letter must certify that the animal is used for medical purposes and contributes to treating the mental disorder of its owner.
Also, remember that the document should not contain detailed information about your diagnosis, its symptoms, and the course of treatment. The presence of this information in the document is considered the disclosure of a medical secret.
Renting Rules for ESA Keepers
According to housing law, emotional support animals are not pets, so you do not have to pay pet fees for their accommodation.
In addition, you are also not required to make a pet deposit. However, if the animal causes damage to the lessor's property, the ESA holder must compensate for the damage in full.
Even though the law obliges landlords to make concessions for residents with ESA, you still have to follow the general rules of living in the building.
Living with an animal should not cause inconvenience to other tenants, so take care of the animal and remove animal waste promptly.
In addition, training basic obedience skills will make the animal more obedient and avoid unpleasant situations with neighbors. Failure to comply with the rules of living in a rented apartment can be a valid reason for eviction.
Can Landlords Deny Assistance Animals?
In most cases, the landlord is required to allow tenants to live with emotional support animals. Unreasonable prohibition of ESA can be considered as discrimination against people with special needs. Nevertheless, in some cases, the refusal to grant residence is provided for by law.
The lessor has the right not to allow living with an animal if its owner refuses to provide an ESA letter or provides a forged document.
Remember that misrepresenting ESA to receive legal bonuses is a serious offense punishable by law.
Furthermore, by the Federal Housing Administration (FHA), the landlord has the right to refuse the accommodation of an animal if it becomes an administrative burden for him and may lead to a change in the type of services provided.
In addition, the landlord may not allow an animal that behaves aggressively and may threaten the rental property and other residents.
This includes manifestations of unacceptable behavior such as growling, barking, or biting others, as well as the unkempt appearance of the animal.
The animal must be groomed and vaccinated in time so as not to become a carrier of diseases and parasites that can be dangerous for humans.
Also, don't forget to update the ESA letter every year and provide the documents to the landlord on time.
In any case, the lessor must provide a clear justification of the reasons for refusal, and support it with relevant facts and evidence.
Otherwise, the lessor's actions will be discriminatory. If you think that your rights have been violated, you can contact the relevant authorities and file a complaint about the landlord's actions.
Last Words
It is possible to rent an apartment with an Emotional Support Animal free of pet fees but there are responsibilities that go along with these rights.
You must obtain a letter from a qualified mental health professional stating your diagnosis and that the dog or other animal may contribute to your care. This letter needs to be completed yearly.
It is also your responsibility to be a good dog parent, providing appropriate veterinary care and grooming and taking the time to train your dog so that he would not be a nuisance to other rentals.
Beyond that, you may enjoy better health and emotional support that will improve your well-being.
Complete Renter's Guide to Emotional Support Animals
Pin for Future Reference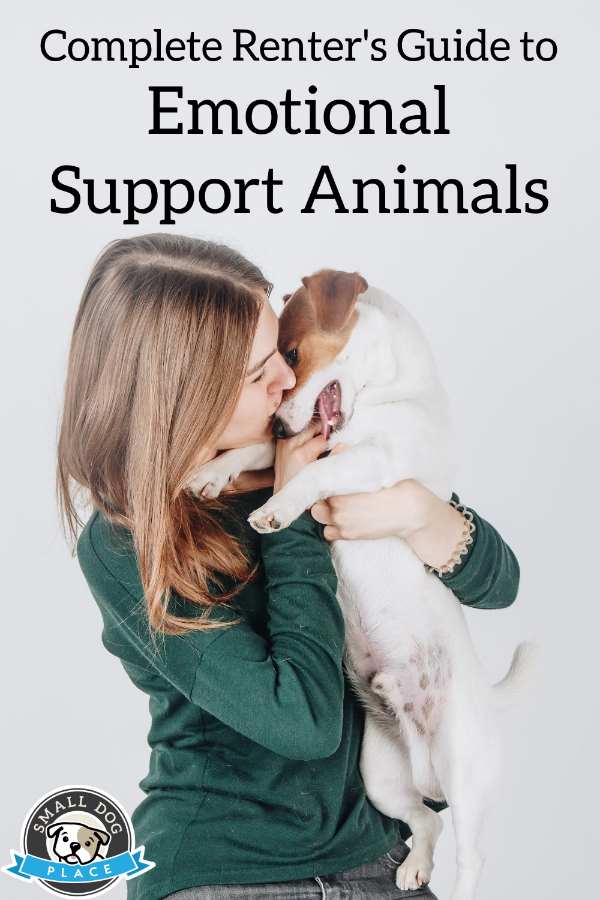 Does This Article Deserve Your Thumbs Up?
We always appreciate your support and encouragement. Your thumbs up means so much to us. Please like this article.
<!–
–!>
If you find this page or any page on Small Dog Place Helpful, or Useful in anyway, I'd love it if you would click the small heart found on the bottom right of each page.
You can also share or bookmark this page — just click on the: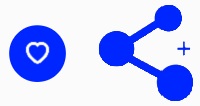 Your second block of text…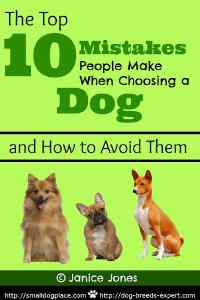 Free Monthly Newsletter
Sign Up for Our Free Newsletter and get our Free Gift to You.
my E-book, The Top 10 Mistakes People Make When Choosing a Dog (and how to avoid them)



This article was originally published by Smalldogplace.com. Read the original article here.