If you walk your pup often in the dark, you may need a light-up dog collar for your and your dog's safety. Lighted dog collars make it easier for drivers to spot your dog and help illuminate your pathway while you're on walks. They're also an excellent way to keep eyes on your off-leash pup during nighttime outdoor adventures. We've found the best light-up dog collars for you to consider, plus alternative LED accessories.
At A Glance: Our Top LED Dog Collar Picks
Features To Consider
We were surprised to find a large number of LED dog collars on the market with varying features. Some to consider include:
Durability & quality: You'll want a sturdy collar, especially if you have an active pup. And the quality of electrical components in LED collars varies a great deal. We've seen many reviews of collars with equipment failures.
Brightness: This is another feature that varies widely. You'll likely find that lower-quality devices simply aren't bright enough. And not all collars have LED strips that run entirely around your dog's neck, which can affect maximum visibility.
Flashing modes: Many collars and other LED gear have flashing modes in addition to a steady glow. Flashing lights can help make your pup even more visible, a feature you may want if you walk in traffic areas.
Collar Adjustability: Some light-up collars are difficult to adjust because the LED strips don't fit well through resizing clasps, so keep this in mind if you want an adjustable collar.
Water resistance: Because these products have a battery, they're not entirely waterproof. But make sure you get LED gear that will stand up to walks in the rain.
Best Light-Up Dog Collars
We've chosen our top picks based on several factors, including visibility, durability, ease of collar adjustment, customer feedback, and more.
Winner: Blazin LED Light Up Dog Collar Review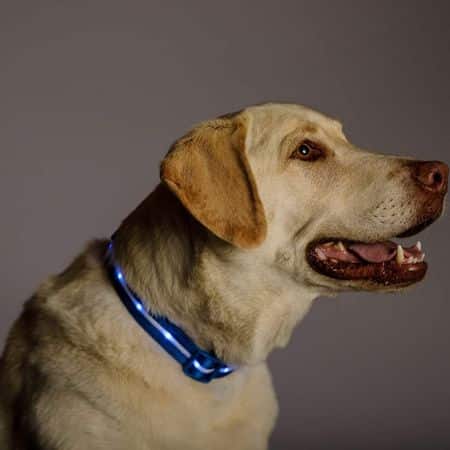 With visibility up to 350 yards and durable nylon construction, Blazin takes our top spot as the best LED dog collar. One of the best features of this collar? The LED strip has individual bulbs that fit through the resizing clasp, making it much easier to get the perfect fit than many other LED collars. It also has a reflective strip and three lighting modes, steady, slow blink, and fast blink.
Blazin comes in nine colors and four sizes, ranging from 8.1 inches to 27.6 inches in neck size (two widths). The USB-rechargeable battery can last over eight hours. It's also water-resistant for rainy walks. Customers rave about how bright, and well-made this collar is. You can also purchase a matching LED leash for ultimate nighttime safety.
| Pros | Cons |
| --- | --- |
| Excellent 360-degree visibility | Pricier than others we review here |
| Fits a wide range of neck sizes and is easy to adjust | |
| Water-resistant | |
| Lifetime warranty | |
| Made in the USA | |
Price
Runner-Up: BSEEN LED Dog Collar Review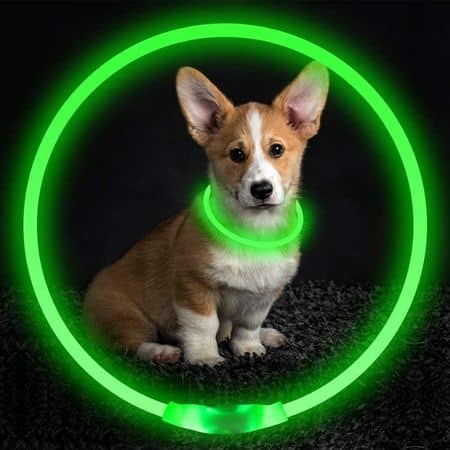 This glowing dog collar is ideal if you just want to slip it on around your pup's regular collar. It resembles human glow collars or sticks, but it's made of sturdy TPU tubing (not liquid filled). Its super bright LED lighting is visible from hundreds of yards away, although it's thinner than the Blazin collar.
All you have to do to adjust the BSEEN LED collar is to cut the tubing for the ideal fit (the total length is 27.5 inches). The USB rechargeable battery lasts up to 10 hours, and it also has steady mode and two blinking speeds. BSEEN comes in five bright colors.
| Pros | Cons |
| --- | --- |
| Great value | A few customers report that it keeps falling off |
| Excellent 360-degree visibility | |
| Simply cut the tubing to fit your dog's neck | |
| Water-resistant | |
| 30-day money-back guarantee | |
Price
Third Place: Illumifun LED Dog Collar Review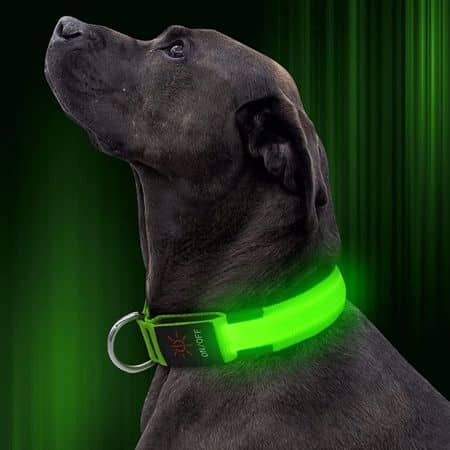 Illumifun's LED dog collar is another good choice at a lower price point. This collar is made of sturdy nylon webbing with visibility up to 300 yards. Like the Blazen collar, Illumifun has three lighting modes (steady, slow flash, and quick flash), but it doesn't have a reflective strip.
The USB-rechargeable battery can last up to eight hours, but some customers say it requires recharging every day. It comes in four colors and four adjustable sizes, with neck sizes ranging from 8.5 inches to 26 inches (two widths).
| Pros | Cons |
| --- | --- |
| Affordable price | Harder to adjust due to LED light strip design |
| Great visibility | Some customers said the collar buckle broke with too much strain |
| Water-resistant | |
Price
Best Light Up Dog Harness, Clip-On & More
If you'd prefer to use a different type of lighting accessory for your pup, you have several other options. We think these products are your best bets.
Best LED Harness : noxgear LightHound LED Harness Review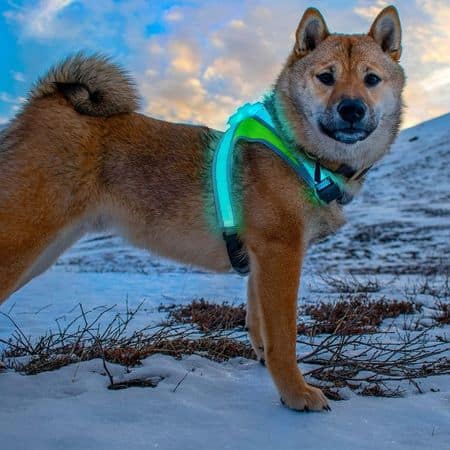 Do you prefer walking your dog with a harness rather than a collar? Or have a long-haired pup who needs more LED coverage? Our top pick for the best light-up dog harness is the noxgear LightHound. This harness is designed with superior safety and durability in mind. The vest is a fluorescent yellow military-grade Cordura fabric framed with reflective strips. The flexible LED fiber optic cables run across your pup's chest and back for maximum visibility and comfort.
You can change the LED light colors (eight solid color options) or set it to six different multicolor flashing modes. The USB-rechargeable battery can last up to 12 hours, depending on the mode. It comes in four sizes (chest girth ranging from 12.5-50 inches) with adjustable neck and chest straps, and it's easy to buckle onto your pup. It also has a strong rear leash attachment.
| Pros | Cons |
| --- | --- |
| Excellent 360-degree visibility | On the pricey side |
| Durable construction | Some customers with highly active dogs said the LED strips pop out of the vest |
| Water-resistant | |
| Machine-washable | |
Price
Best LED Vest: Illumiseen Reflective LED Dog Safety Vest Review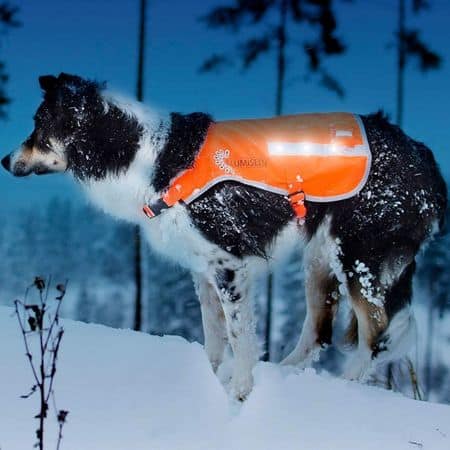 Many pup parents find this Illumiseen LED dog vest a better fit for their dogs. It's convenient to slip on your dog if you don't want to have to switch up collars. The soft, lightweight vest is fluorescent orange, has reflective strips, and a long row of bright USB rechargeable LED lights on each side. And it comes in five sizes with an adjustable belt and quick-release buckles. Customers give this product overall excellent reviews. Just keep in mind that this vest doesn't have a leash attachment.
| Pros | Cons |
| --- | --- |
| Excellent visibility | May not fit over your regular dog harness |
| Easy to adjust and put on | Some report that the battery fell out of the vest |
| Water-resistant | |
| Lifetime warranty | |
Price
Best Clip-On Light: Outopest Dog Lights Review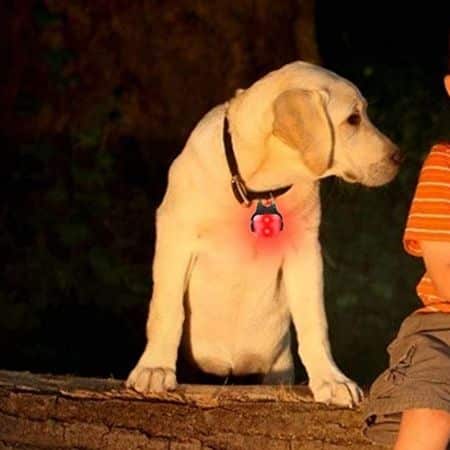 Another illumination option is to clip a light onto your pup's collar. These Outopest clip-on LED lights are bright, lightweight, and made from shatter-proof plastic. You can choose from three lighting modes: bright white, medium white, and flashing red. They're USB-rechargeable, and the battery can last up to 20 hours, depending on the mode you use.
| Pros | Cons |
| --- | --- |
| Bright lights | Doesn't provide 360-degree visibility of your dog |
| Easy to attach and remove | Some customers said they broke after a few months |
| IP65 waterproofing and shatter-proof | |
| 5-year warranty | |
Price
Nighttime Dog Walking Safety Tips
More than 6,500 pedestrians were killed, and an estimated 55,000 injured in traffic crashes in the U.S. in 2020, according to the National Highway Traffic Safety Administration (NHTSA). Light-up dog gear is just one way to protect you and your pup while you're walking your furry friend in the dark. Here are some other safety precautions to take.
Wear reflective or light-up gear on yourself, like the Moonsash reflective sash or the Apace Vision clip-on strobe LED lights.
Choose your route carefully, staying in well-lit and low-traffic areas that you're familiar with.
Always use a leash when walking your dog at night.
The CDC recommends avoiding using earbuds or similar devices, which can cause you distractions when you're walking.
Bring your phone with you on walks, just in case you run into problems.
Use a hands-free flashlight, like this GearLight LED Head Lamp, which will help you illuminate your walk.
Need Protective Gear For Your Pup?
Do you spend a lot of outdoor time with your furry friend on walks, camping, hiking, and other activities? Keeping your dog hydrated can be challenging when you're out and about, but having a portable dog bottle can help a ton. You may also want to consider dog sunscreen and dog shoes for the hot pavement to protect your pup during the summer. And see our reviews of the best dog coats and boots for cold weather safety.
Tagged With: Collars, Comparison

This article was originally published by Caninejournal.com. Read the original article here.