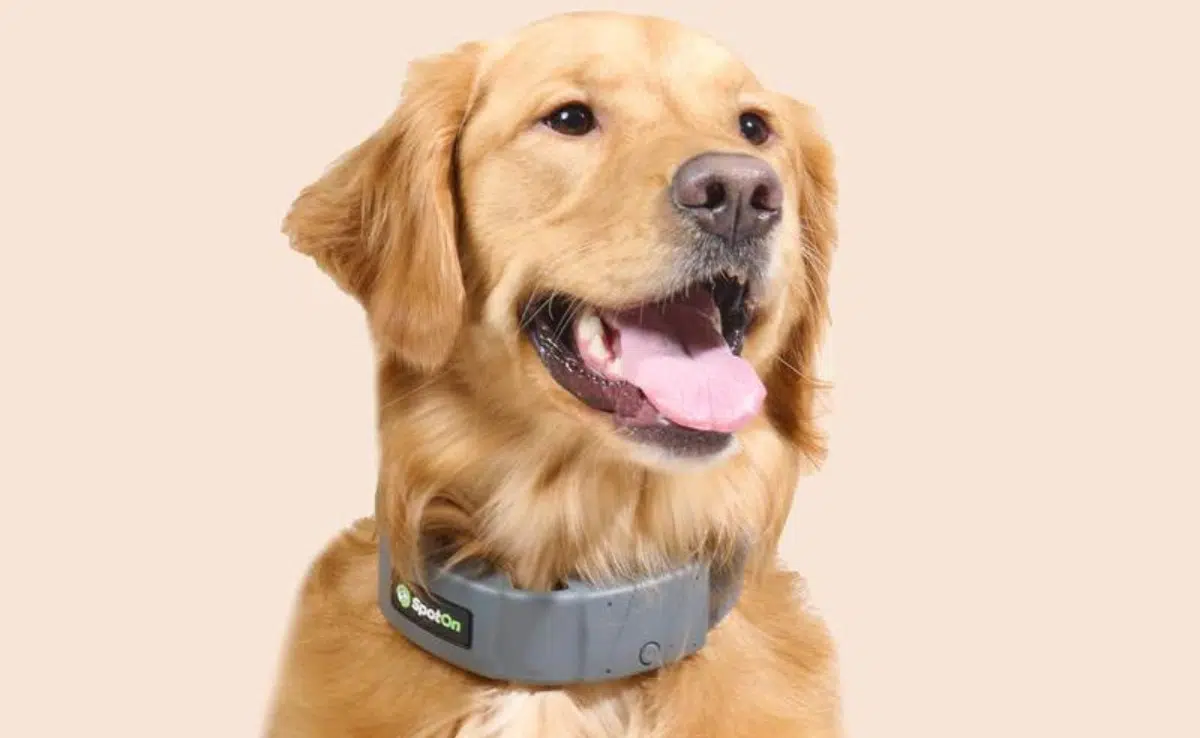 We all want an easy way to keep our dogs safe in our yards while giving them room to roam free. But who wants the hassle of building a fence or burying a bunch of wires in the ground? Now, you have a simple solution to keep your dog contained. With no wires, an easy-to-use app, GPS tracking, and other fantastic features, the SpotOn GPS Fence Gen 2 could be the best fit for your needs. We'll explore how this advanced system works, whether it's worth the high price tag and much more.
SpotOn Virtual Fence Overall Rating
4.3/5.0

We based our overall rating on this virtual fence's features, technology, performance, pricing, and customer feedback.
Pros & Cons Comparison Table
| Pros | Cons |
| --- | --- |
| Can create multiple, overlapping wireless fences over 100s of acres | Very expensive |
| Easy to set up | Requires a minimum of 1/2 acre |
| Real-time alerts and accurate GPS tracking | Likely won't fit very small or very large dogs (10″-26″ neck sizes) |
| IP-67 waterproof rating | |
| Mobile apps get good reviews | |
| 1-year limited warranty | |
| 45-day money-back guarantee | |
| 15% discount on multi-collar purchases | |
| Made in the USA | |
Key Features
Ability to set up overlapping virtual fences (it can store up to 20 fences at a time) by walking the boundary or via the map in the SpotOn app (iOS app | Android app)
Includes step-by-step training instructions plus a 30-minute training consultation with a certified SpotOn trainer
Get instant alerts if your dog leaves the yard (requires their cellular subscription)
Real-time tracking, which automatically updates every 6 seconds (requires their cellular subscription)
Pulls GPS location data from up to 30 satellites across 4 global satellite systems (GPS, GLONASS, Galileo, and Beidou)
Forest Mode improve GPS reliability in areas with dense tree cover
Customizable tone, vibration, and static correction levels (static is optional)
Rechargeable battery lasts up to 18 hours in containment mode and 12 hours in tracking mode
SpotOn dog collar comes in 3 adjustable sizes, ranging from 10″ to 26″ neck circumference
Excellent portability for camping, vacations, visiting friends' houses, etc., and can be used over any terrain
U.S.-based customer support via phone, live chat, and email
How Does SpotOn Work?
The entire SpotOn system is contained in the collar and user-friendly smartphone app. To set it up, you first link the SpotOn collar to the mobile app via Bluetooth. Then, with your phone and collar in hand, walk the area where you want your dog contained. This automatically creates an invisible fence between the collar and the app.
When your dog comes within 10 feet of the boundary, the collar issues two sets of tones before producing a vibration or optional static correction. The first alert tone is a signal to your dog that he's at the edge of the fence. (You'll train him to return to the center of the fence when he hears it.)
If your dog continues to move toward the boundary, the collar issues the second warning tone, which is harsher, quickly followed by a vibration or optional static correction at the boundary or just beyond it. If your dog gets out of your boundary, you can receive instant alerts and track his location using your app. Fortunately, SpotOn gives you excellent training tools to help you and your pup master boundary training.
Price
SpotOn offers a 45-day money-back guarantee and a one-year warranty.
Subscription Plans
While a subscription isn't mandatory, the system is limited without a plan. While the fences work without a subscription, you must have SpotOn's AT&T or Verizon cellular coverage service to receive alerts that your dog has left your yard and to be able to track his whereabouts on your smartphone. You can get a 90-day free trial if you sign up for the one or two-year plan.
$9.95/month (monthly)
$7.95/month (1-year plan)
$5.95/month (2-year plan)
See How To Set Up A SpotOn Fence (Video)
This video shows you how easy it is to set up a fence using SpotOn's system by walking your property. You can also create fences via a map in their app.
What's Our Final Verdict?
Although the price for the SpotOn GPS fencing system is prohibitive for some dog owners, it's an excellent way to keep your dog safe if you can afford it. The system is simple to set up and use, the apps and GPS tracking are reliable, and we love that you get free training materials and a consultation with a certified trainer.
If the cost is a turnoff or you have a yard that's too small to work with this system, you may want to consider SpotOn's main GPS fencing competitor, Halo collar, which is much less expensive (see how these two systems compare head-to-head. You may also want to check out our reviews of the best wireless dog fences to see if there's a better, more affordable fit for you. We also have reviews of the best GPS dog collars and smart collars, but these don't include a wireless fencing feature.
Tagged With: Containment, Review

This article was originally published by Caninejournal.com. Read the original article here.