A dog bandana is a fun way to personalize your precious pooch for any occasion. They're inexpensive, comfortable accessories that won't overheat your dog like statement sweaters. And most dogs are happy to keep them on, unlike other doggy apparel that they get annoyed with quickly. See our reviews of our favorite dog bandanas.
At A Glance: A Few Of Our Top Picks
Best Dog Bandanas
You might be surprised that there are hundreds of different bandanas for dogs on the market. To narrow down your choices, we give your our top picks by category for nearly any occasion you might have. We've included everything from adorably cute small dog bandanas to outdoorsy large dog bandanas.
Best Overall: Unique Style Paws Dog Bandanas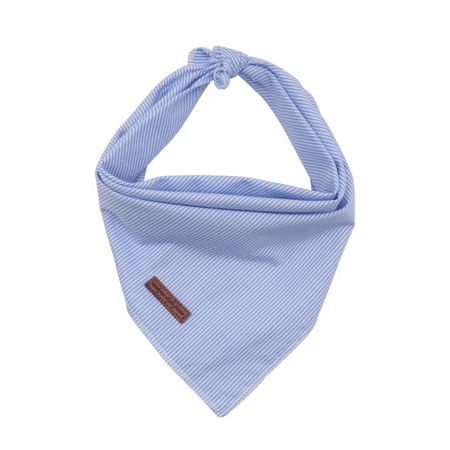 Looking for a bandana that will stand up to your rough-and-tumble Rover? These cute dog bandanas are made from durable pure cotton and come in 22 patterns to choose from. These machine-washable scarfs are square so you can fold them in several different ways. The small size fits up to a 16-inch neck, and the large fits up to a 23-inch neck. They get rave reviews for their high-quality and cuteness factor.
Price
Most Creative Designs: Remy+Roo Dog Bandana Packs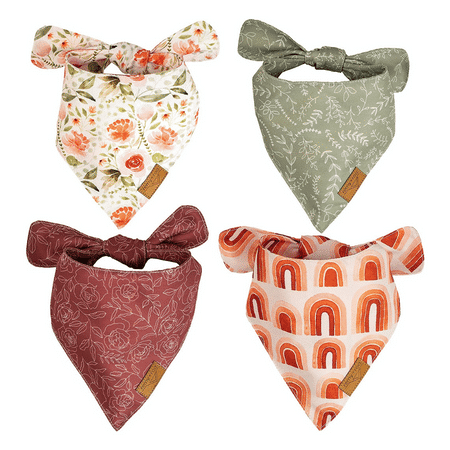 Remy+Roo artists have designed these cool dog bandanas for a chic, trendy look that stands apart from the pack. They also have a unique curved design to conform to your pup's neck and two long ends, making it easy to tie for the perfect fit. Made from dual-layered polyester fabric that's smooth rather than scratchy, they're durable, lightweight, and breathable.
Remy+Roo bandanas come in a four-pack of coordinating designs and colors so you can mix up your pup's look. They come in three sizes fitting necks up to 31 inches. Customers say they're durable and adorable, and they stay put.
Price
Best Classic: Odi Style Buffalo Plaid Dog Bandanas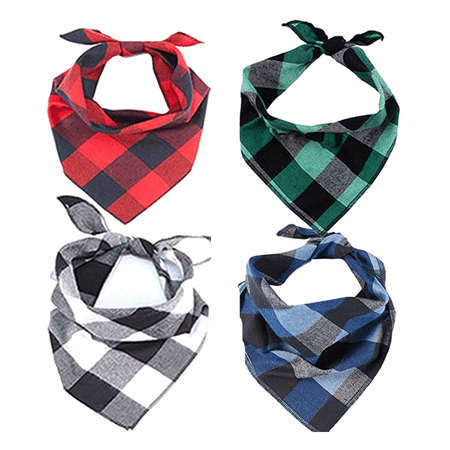 You can't go wrong with the classic buffalo plaid look. It's a traditional, time-tested statement that will never go out of style. These Odi Style dog and cat bandanas come in an affordable set of four black-checkered colors: red, green, navy, and white. They're made of durable cotton yarn and are soft, lightweight, and breathable. An excellent choice for everyday wear, a classic Christmas look, fall and winter outings, and more.
Price
Best For Holidays: Realeaf Holiday Dog Bandanas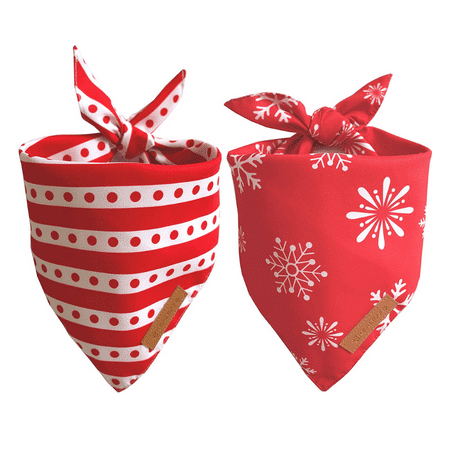 With attractive, modern-looking designs and high-quality construction, these Realeaf dog bandanas are perfect for your holiday celebrations. They come in two to a pack for Christmas, Halloween, St. Patty's Day, Valentine's Day, 4th of July, Easter, and Pride Day. The smooth yet sturdy polyester fabric is machine-washable. And they come in three sizes fitting necks up to 31 inches. Releaf offers a 100% satisfaction guarantee.
Price
Best For Birthdays: IDOLPET Dog Birthday Set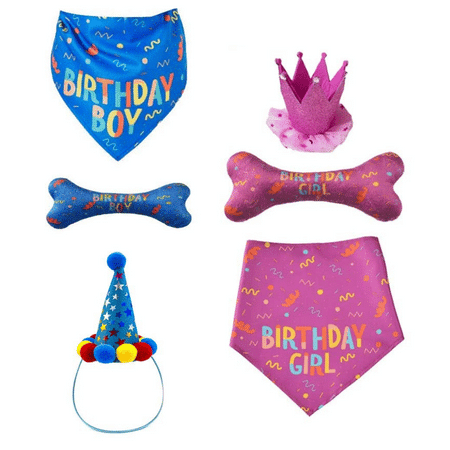 This birthday pawty set is totally Insta-worthy. They have adorable pink or blue reusable packages for your good girl or boy. You not only get a machine-washable dog birthday bandana but also a cute party hat and a squeaky bone toy. The bandana and hat only come in one size, but they're both adjustable to fit many different breeds. Add your favorite doggy treats (and cake for you), and you're ready for your pup's special day.
Price
Best For Sports Fans: Pets First NFL Reversible Dog Bandana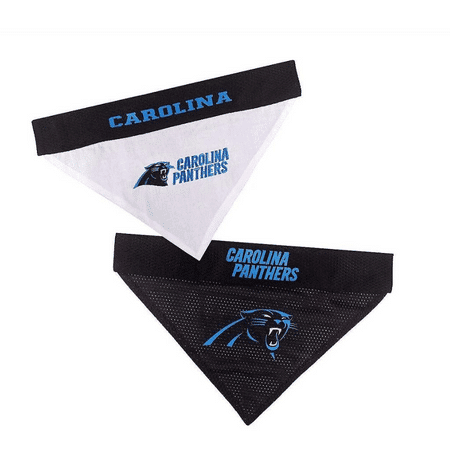 Don't leave your pup out of getting in the spirit for game day. Pets First brand carries officially licensed dog bandanas that slide onto your dog's collar. They're available for nearly all of your favorite teams, including those in the NFL, NBA, MLB, NHL, and NCAA. They're also reversible so you get two designs in one. And they come in two sizes, fitting up to a 32-inch neck, and can slide onto collars up to about 1.5 inches wide.
Price
Best Funny Dog Bandanas: Parisian Pet Dog Bandanas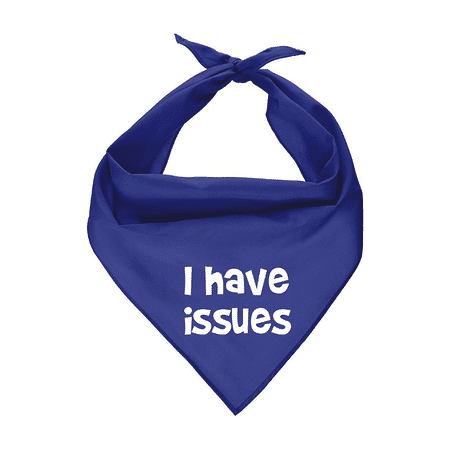 Let your furry friend put your sense of humor on display with one of Parisian Pet's funny dog bandanas. They have 16 different sayings/designs and multiple colors to choose from. Some of the funny ones include "I Have Issues," "Spoiled Rotten," "Tougher Than I Look," "Born To Run," and more. These bandanas are 100% polyester and come in two sizes. A few customers said they're cheaply made, but most love them.
Price
Best Personalized Bandana Dog Collar: Yao Yao Bandana Bib Collar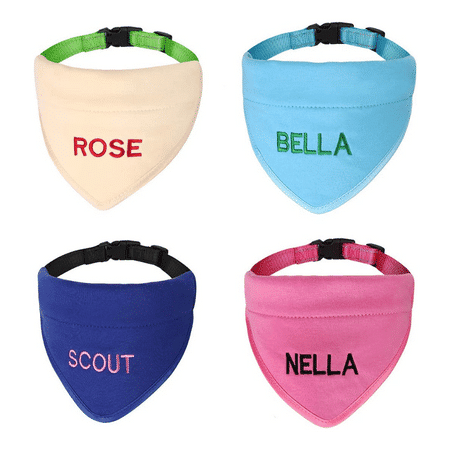 Simple but stylish, this Yao Yao bandana dog collar has a quick-release buckle, making it easy to put on and take off. It comes in 4 sizes from XS (6-12 inches) to L (13-24 inches) and 4 colors (dark blue, light blue, pink, and tan). And you can have your pup's name hand-embroidered on the bandana with one of 11 different font colors. The 100% cotton fabric is soft and smooth on your furry friend's skin. And you can remove it from the collar for easy cleaning.
Price
Best For Fashionistas: Isaac Mizrahi Loves Wild One Bandana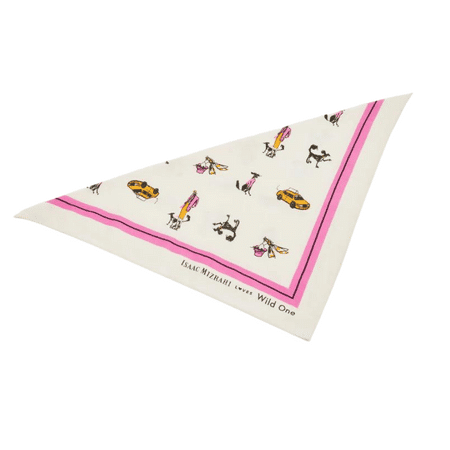 If you want your furry friend to make the most fashion-forward statement in your neighborhood, you'll want to check out Wild One's designer dog bandana. Sure, it's a bit pricey for one bandana, but if you're into New York fashion, this is the bandana for you. This 22×22-inch, 100% cotton bandana is sourced and made in the USA. Wild One carries a variety of high-quality, chic dog gear and accessories that get amazing customer reviews.
Price
Best Cooling Dog Bandana: ALL FOR PAWS Chill Out Ice Bandana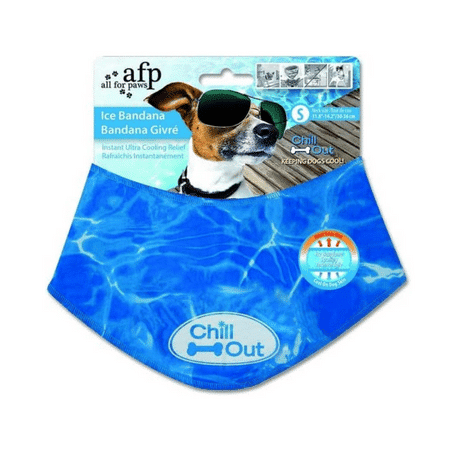 If you spend a lot of time outdoors in the heat with your canine sidekick, this cooling bandana can help keep your pup from overheating during your adventures. All you have to do is soak it in cool water, put it in the fridge for 10 minutes, and then attach it to your dog's neck with the velcro strap. It has special cooling technology to keep your pup at a comfy temperature for hours. It comes in four adjustable sizes to fit most dog breeds.
Price
Frequently Asked Questions
Read below to find some answers to questions you may have about dog bandanas.
What Material Is Best For Dog Bandanas?
When shopping for a dog bandana or if you want to make your own, you'll want to find full-cotton material or a polyester-cotton blend. These materials won't overheat your pup like a wool blend. Another feature to consider is the material's feel — you want to look for a smooth, soft fabric rather than rough or stiff material.
How Do I Get The Right Size?
It depends on the product you're considering, but the best guideline is to measure your dog's neck circumference and then add an inch or so to make sure you have enough room to tie the bandana tightly enough so it doesn't fall off. But you want to make sure you can fit two fingers in width so the bandana isn't too tight on your pup's neck.
How Else Can I Accesorize My Pup?
You have many options on the market these days to get amazing accessories for your furry friend. If you're into high-quality, trendy, and super chic apparel and gear, see our reviews of Maxbone and Wild One, two popular posh online pet boutiques. You may also want to check out our top picks for the best dog goggles to up your pup's cool factor and protect his eyes from the elements.
Tagged With: Clothing, Comparison

This article was originally published by Caninejournal.com. Read the original article here.