German Shepherds consistently rank in the top five most popular breeds in the U.S. These highly intelligent, loyal, affectionate, and energetic dogs make amazing family pets. As a proud German Shepherd owner, you want to ensure you're feeding your furry family member high-quality food for optimal puppy growth and a lifetime of good health. But with so many dog foods on the market, it can be overwhelming to find the right diet for your German Shepherd during each life stage.
Large-breed dogs have different nutritional requirements throughout their lives compared to small and medium breeds. And German Shepherds also have some special dietary and feeding needs. Based on these needs, we've chosen the best dry dog food for German Shepherds to help you find the ideal chow for your pup in all life stages.
At A Glance: Best Dog Food For German Shepherds
Note: All of the dog foods we've included in our reviews meet or exceed Association of American Feed Control Officials (AAFCO) nutritional guidelines, are made in North America and contain no preservatives or artificial ingredients.
Nutritional Needs & Feeding Guidelines For German Shepherds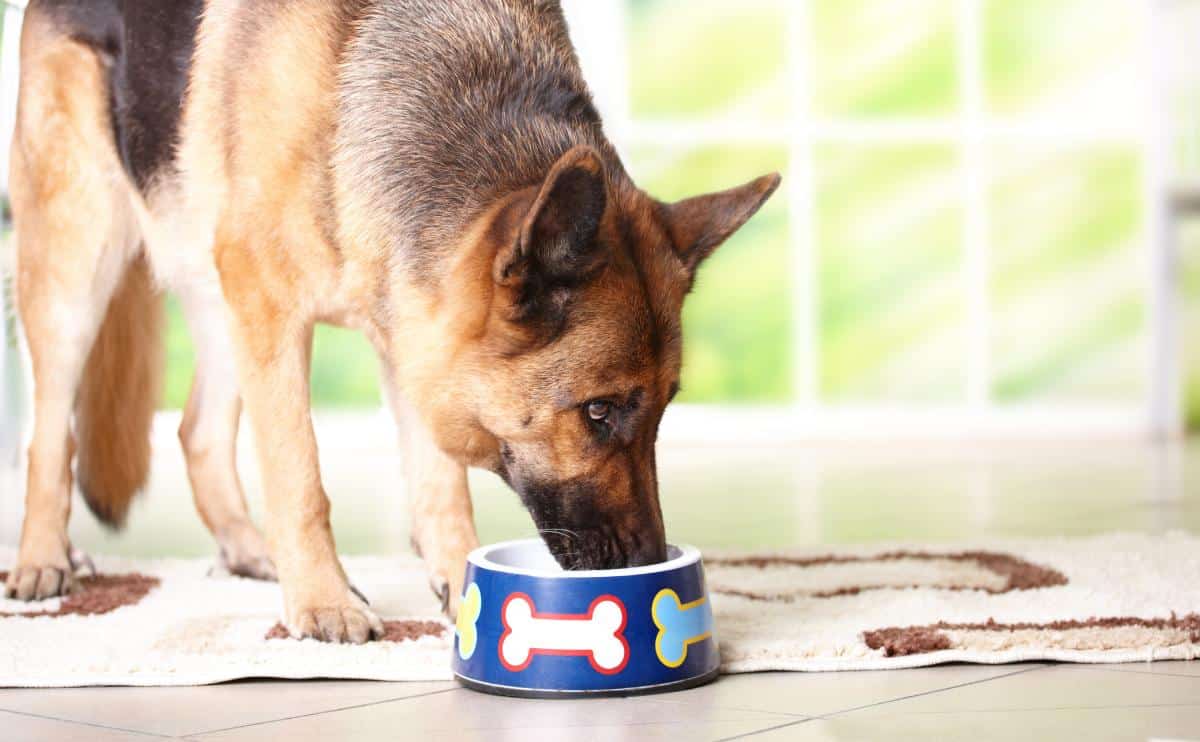 German Shepherds (GSD for short) can reach up to 90 pounds as adults and are muscular, highly energetic dogs, with hearty appetites. They require a diet rich in animal protein, healthy fats, and complex carbohydrates to provide enough fuel for their size and energy levels.
A high-quality diet is particularly important to prevent obesity and lower the risks and symptoms of some health conditions common with this breed, such as digestive problems, hip dysplasia, arthritis, and degenerative myelopathy, a hereditary spinal cord disease.
Reducing The Risk Of Canine Bloat
German Shepherds are also at a higher risk of developing canine bloat, called gastric dilation-volvulus (GDV). Bloat is a serious, life-threatening condition that occurs when a dog's stomach fills with gas, food, or fluid, which causes the stomach to twist and subsequently block off blood flow to vital organs.
To reduce the risk of canine bloat, some experts recommend avoiding dog food with high-fiber and high-fat content and food containing corn and soy. Recent research has shown that dry dog foods in which an oil or fat was listed among the first four ingredients were associated with a 2.4 times increase in the risk of developing bloat.
The way you feed your pup can also make a big difference. Major risk factors for bloat include:
Feeding only one meal per day
Rapid ingestion of food
Eating from an elevated food bowl
Restricting water before or after meals
Therefore, it's recommended that you feed your German Shepherd several smaller meals daily (as long as he's getting his daily caloric needs). You may also want to get a slow-feed dog bowl to keep your pup from gobbling up his food too fast.
Best German Shepherd Puppy Food
Large-breed puppies experience rapid growth rates until about eight months of age, making them more sensitive to excessive or deficient calories and nutrients. Research has shown that excess energy (e.g., high-fat content), calcium, phosphorus, and vitamin D in the diets of large-breed puppies contribute to the development of arthritis.
To confirm your German Shepherd puppy is getting the right balance of nutrients and ideal calories, it's extremely important to feed him puppy food formulated for large breeds. (And don't supplement your puppy's diet with added nutrients.) You'll also need to keep your German Shepherd on puppy food until he's nearly fully grown, around 15-18 months.
Orijen Amazing Grains Puppy Large Breed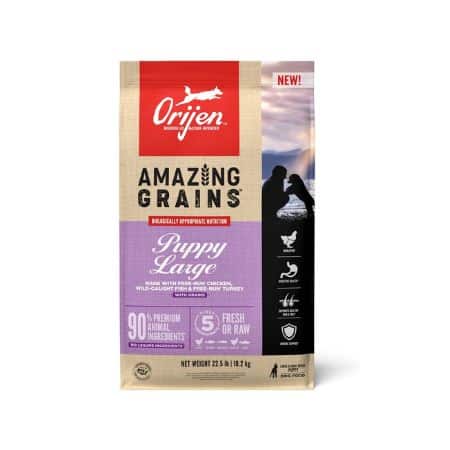 Although it's pricy, Orijen's large-breed puppy food is packed with all-natural, high-quality ingredients to give your puppy the best start to life. With free-run poultry and wild-caught fish as the first six ingredients, this formula is full of lean protein and healthy omega fatty acids.
It also includes easy-to-digest grains like oats, quinoa, and chia (with no corn, wheat, or soy) and whole fruits and vegetables for essential vitamins and minerals to support your puppy's rapid growth. It's also fortified with a probiotic blend to aid in digestion, taurine for eye and heart health, and glucosamine for joint health.
Blue Buffalo Wilderness Large Breed Puppy (Grain-Free)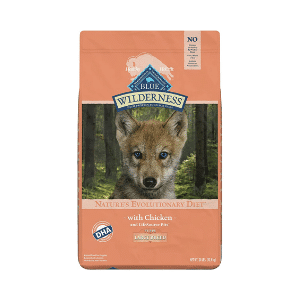 A more affordable premium option for your active puppy is this Blue Buffalo Wilderness Large Breed Puppy formula. With real chicken as the first ingredient, this grain-free, protein-rich recipe supports your pup's lean muscle and bone growth. Sweet potatoes, peas, carrots, blueberries, and other superfoods provide your active puppy's body with plenty of fuel.
This all-natural recipe is fortified with Blue Buffalo's LifeSource Bits, a blend of antioxidants, vitamins, and minerals formulated by animal nutritionists specifically for large-breed puppies to give your pup a major immune health boost. And omega-3 and 6 fatty acids, DHA, EPA, and ARA, support your puppy's brain, renal, and skin/coat health.
Diamond Naturals Large Breed Puppy (Grain-Inclusive)
If you're looking for high-quality but budget-friendly puppy food, we highly recommend this Diamond Naturals recipe. Featuring pasture-raised lamb, lamb meal, whole grain brown rice, and barley as the first four ingredients, this formula is a great option for sensitive stomachs. Several pet parents even said it cured their GSD's horrible gas.
With no corn, wheat, or soy, this all-natural formula contains spinach, kale, carrots, pumpkin, blueberries, oranges, coconut, and more as excellent sources of vitamins, minerals, and antioxidants. Prebiotics and probiotics help maintain your pup's gut health. Omega fatty acids from salmon oil and taurine support immune, brain, eye, skin, coat, and heart health.
Best Adult Dog Food For German Shepherds
As your dog enters adulthood, a major focus on diet should involve weight management. Avoiding foods with fillers, preservatives, and artificial ingredients can help prevent your pup from becoming overweight or obese, which exacerbates orthopedic problems common in this breed. You may also want to look for foods fortified with ingredients for joint health, like glucosamine, chondroitin, and omega-3 fatty acids.
The Farmer's Dog (Grain-Free)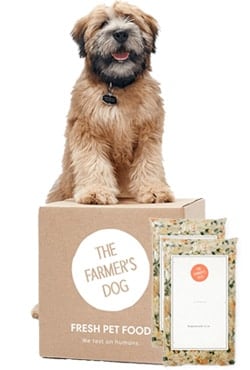 The Farmer's Dog offers fresh, human-grade meals using whole-food protein, vegetables, and fruits fortified with vitamins and minerals. They pre-portion and personalize all recipes to your GSD's specific dietary needs. All you have to do is fill out a brief survey, which includes your dog's age, breed, current weight, body shape (e.g., too pudgy), and whether he has any health conditions (e.g., allergies, digestive issues, joint problems, etc.).
They offer grain-free beef, chicken, pork, and turkey recipes developed by board-certified American College of Veterinary Nutrition (ACVN) nutritionists and flash-frozen to preserve nutrients and freshness. While The Farmer's Dog requires a subscription, they regularly deliver your pup's super healthy meals right to your door, and you can cancel anytime.
Price: Starting at $2/day for small dogs, but varies based on each dog's weight, age, and other factors (e.g., $51.74/week for mixed-breed male, one-year-old, 38 pounds, healthy size, neutered, no health problems, or allergies)
Our readers have access to 50% off your first box. No code is needed; just use this link, and the discount will be applied! You can also visit our dedicated The Farmer's Dog coupons page.
Full Review Of The Farmer's Dog
Diamond Naturals Large Breed (Grain-Inclusive)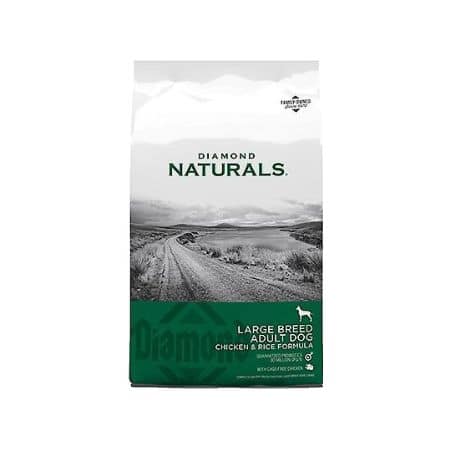 Another budget-friendly option from Diamond Naturals that doesn't skimp on quality, this holistic kibble is formulated specifically for large-breed adult dogs. It features real cage-free chicken as the first ingredient, easy-to-digest rice and barley, and plenty of whole fruits and veggies. If your GSD is sensitive to chicken, this formula is also available in lamb.
More benefits for GSDs include prebiotics and probiotics for improved digestion, glucosamine and chondroitin for healthy joints, and omega fatty acids for immune, joint, skin, and coat health. This nutrient-dense recipe contains no corn, wheat, soy, preservatives, or artificial ingredients.
Wellness CORE Large Breed (Grain-Free)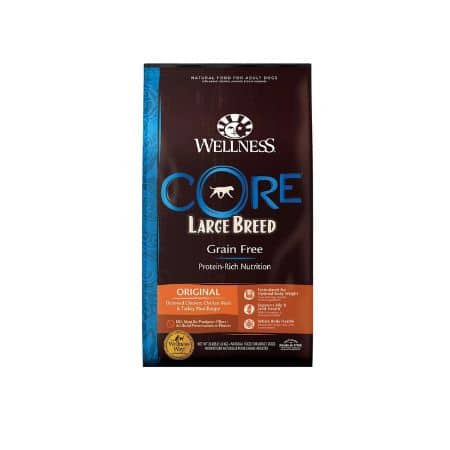 This all-natural, protein-rich food crafted for large breeds is an excellent option for very active GSDs. It's designed to promote lean body mass and muscle tone, and whole-body health. The larger kibble size encourages gulpers to chew instead of inhaling their food.
It contains real chicken as the first ingredient, legumes and potatoes for carbo fuel, and whole superfoods like spinach, broccoli, carrots, apples, and blueberries. Fortified with probiotics, glucosamine, chondroitin, omega fatty acids, and beta-carotene, this formula provides your pup with optimal ingredients to stay fit and super healthy.
Best Dog Food For Senior German Shepherds
German Shepherds enter their golden years around seven years old. Senior dogs have different nutritional needs than adults, so it's important to switch your pup's diet, especially if your furry friend isn't as active as he used to be. Senior dog food can help keep your dog from gaining weight as he slows down.
This is also the time dogs begin showing signs of aching joints. Since German Shepherds are prone to arthritis and joint problems, you should make sure his diet includes ingredients for joint health. Some aging dogs also develop more sensitive stomachs, so you may need to find a food that's easier to digest.
Blue Buffalo Life Protection Senior Large Breed (Grain-Inclusive)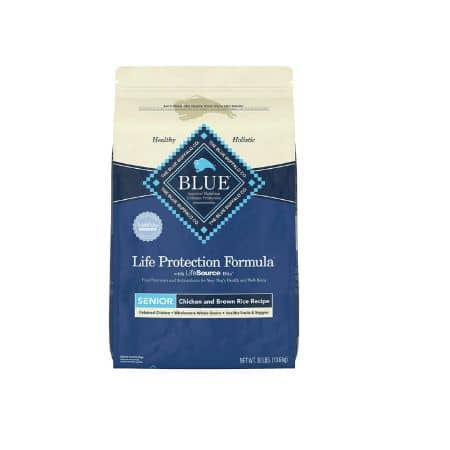 A reasonably-priced, high-quality dog food, this Blue Buffalo recipe is formulated specifically for older large-breed dogs. With fewer calories and less fat and protein content, it can help your German Shepherd maintain a healthy weight as his activity level slows down. It also includes L-carnitine, which helps the metabolism of fats in older, less active dogs.
Real chicken and wholesome grains, such as brown rice, barley, and oatmeal, provide your pup with plenty of fuel. This all-natural formula (with no corn, soy, or wheat) is fortified with glucosamine and chondroitin for joint health and mobility, omega fatty acids for skin and coat health, and Blue Buffalo's LifeSource Bits to maintain a healthy immune system.
Price: starting at $14.98 (5-lb bag)
Nulo Freestyle Grain-Free Senior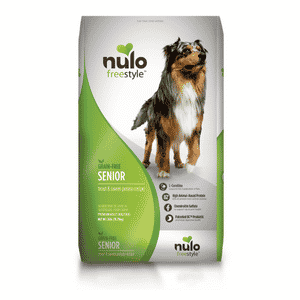 Nulo Freestyle's Senior formula contains fewer calories and fat than adult food, but it's still high in animal protein to support your GSD's muscular body, particularly if your aging big buddy is still fairly active. This grain-free recipe, featuring deboned trout as the first ingredient, is an excellent option if your pup has a sensitive stomach. It also contains pure probiotic strains to support digestion and a healthy gut.
Chock full of easy-to-digest legumes, fruits, and vegetables, this recipe features L-carnitine to help metabolize fat. It's also fortified with glucosamine and chondroitin to support aging hips and joints, omega fatty acids, and plenty of essential vitamins and minerals.
American Journey Senior (Grain-Free)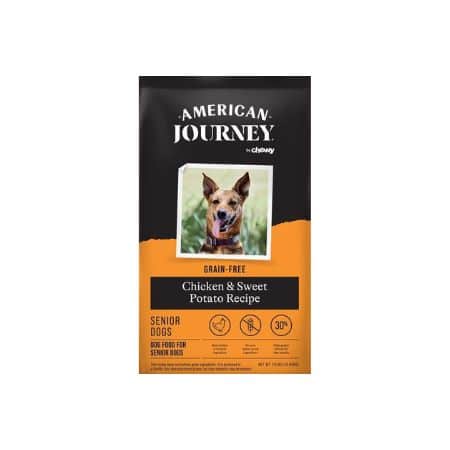 For GSD owners on a budget, this American Journey formula is another high-protein, lower-fat, and lower-calorie option with ingredients targeted at aging bodies. Medium-chain triglycerides help support cognitive health, glucosamine and chondroitin help with joints and mobility, and L-carnitine helps the less-active body become more efficient at metabolizing fats.
This grain-free recipe contains real chicken as the first ingredient, nutrient-dense whole fruits and vegetables, vitamins and minerals, and omega fatty acids. If your pup doesn't tolerate chicken well, this formula is also available in a salmon and sweet potato recipe.
Price: starting at $59.90 (24-lb bag)
Best For Shepherds With Sensitive Stomachs
German Shepherds are notorious for having sensitive stomachs and digestive issues. If your furry friend suffers from these issues, here are some alternative dog foods that may help. You may also want to give your pup a daily probiotic supplement formulated for dogs, which can help with gut problems.
If you suspect your GSD has a food intolerance or allergy, you may want to consider an at-home dog allergy test to uncover the source of his stomach problems. You send a saliva or hair sample to the company's lab and get results within a few weeks. You can then share these results with your vet to help further narrow down possible causes.
Canidae Pure Limited Ingredient (Grain-Free)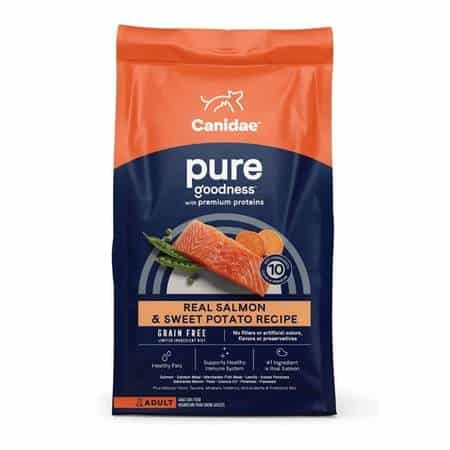 If you've been feeding your dog chicken or beef, they're the two most common ingredients in dog food that cause tummy woes (along with wheat, corn, and soy). Switching your pup to one of Canidae's Pure Limited Ingredient adult recipes may help your pup. They offer novel-protein recipes, such as bison, duck, wild boar, lamb, and goat & venison.
Each formula is grain-free with no corn, wheat, soy, or fillers and contains only seven to 10 whole-food ingredients. And they have an excellent balance of calories, protein, complex carbs, and healthy fats for active GSDs. Added benefits include a blend of probiotics, antioxidants, and omega fatty acids, as well as glucosamine and chondroitin for joint health and taurine for heart health.
Price: starting at $14.99 (4-lb bag)
Purina Pro Plan Sensitive Skin & Stomach Large Breed (Grain-Inclusive)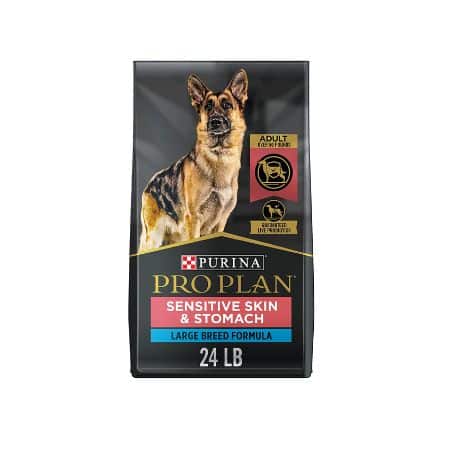 Many veterinarians recommend Purina Pro Plan's line of sensitive skin and stomach formulas for dogs with digestive issues and/or skin problems. This recipe is formulated specifically for large-breed adults. The first four ingredients, salmon, barley, rice, and oatmeal, are easy on the stomach. And it contains no soy, wheat, corn, or artificial ingredients that can often cause upset tummies.
Natural prebiotic fiber and probiotics promote healthy intestinal bacteria and improved digestion. Omega-3 and 6 fatty acids from fish oil support skin and coat health. And it's fortified with antioxidants, vitamins, and minerals for immune support, as well as glucosamine and EPA for joint health
Should I Consider A Hip & Joint Supplement?
Since German Shepherds are at a higher risk for developing arthritis and hip dysplasia, you may want to consider adding a daily joint supplement to your big buddy's diet. The best joint supplements for dogs help maintain joints in healthy dogs, and for dogs with joint problems, they help improve joint health and relieve inflammation, stiffness, and pain. As with all supplements, you should get your vet's approval to double-check it's safe for your pup.
Tagged With: Comparison

This article was originally published by Caninejournal.com. Read the original article here.