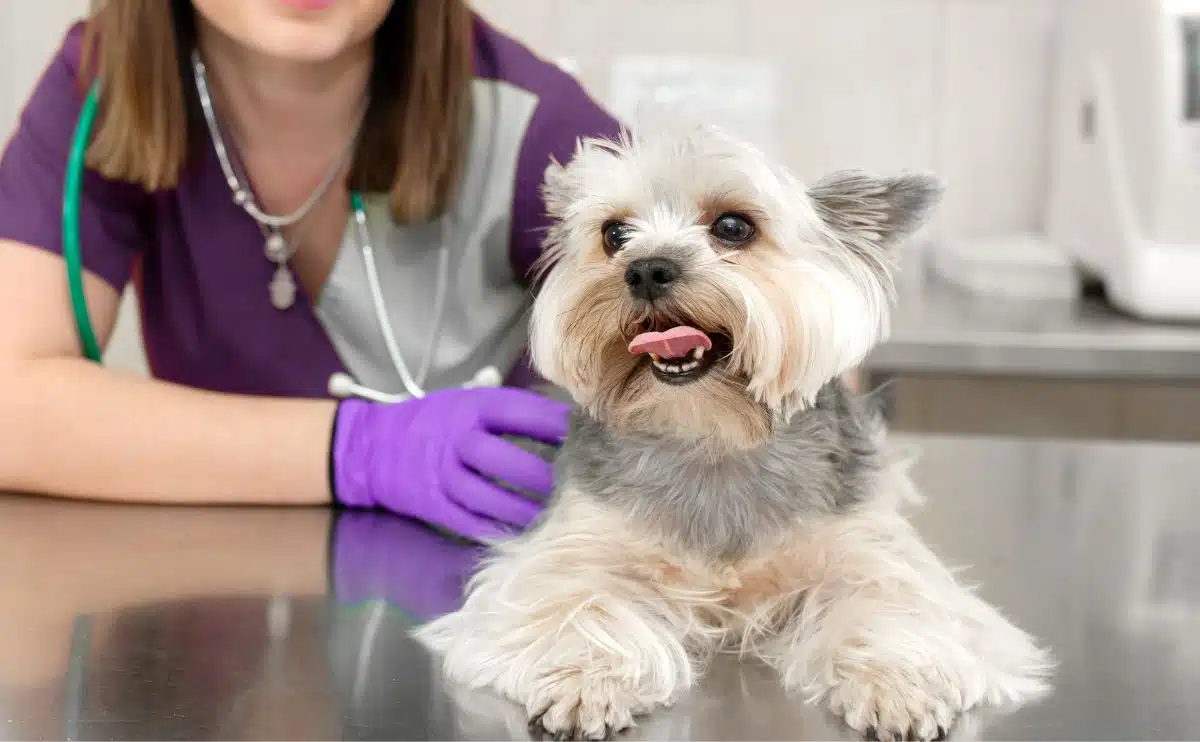 If you're a frequent buyer on Chewy's website, you may be intrigued by its CarePlus pet insurance and wellness plans. CarePlus plans have some interesting features, including Chewy perks (we'll go over that more below). Let's find out what Chewy's insurance and wellness plans cover and if they fit your needs.
Before digging into the review, we want first to explain the parties involved in offering these plans for you and your pet
Chewy is an online website offering pet products, supplies, and prescriptions
CarePlus is Chewy's wellness and insurance brand that has curated these plans
Trupanion is Chewy's program partner and an affiliate of the American Pet Insurance Company (APIC). Trupanion administers the policy and manages claims on APIC's behalf. Once you enroll in a wellness or insurance plan, you will begin to receive communications from Trupanion regarding your plan(s).
CarePlus By Chewy Pet Insurance Overall Rating

3.5/5.0
Every year our pet insurance experts read through each company's policies to provide detailed and current comparisons and information regarding how providers fare against others in the industry. We also speak with customers, read online feedback, and communicate one-on-one with pet insurance companies to obtain a well-rounded, unbiased analysis of a company's standings.
Our team rates pet insurance companies based on factors such as A.M. Best ratings (an indicator of financial stability), claim processing reputations, contract coverage, customer service, pricing, plan customizations, and more.
| Pros | Cons |
| --- | --- |
| Unlimited payouts for all plans | Quotes tend to be among the most expensive compared to competitors |
| May have option for Trupanion to pay your vet directly to avoid waiting for reimbursement | Must upgrade plans to have coverage for exam fees, behavioral treatments, and physical and rehab therapies |
| Shorter than average CCL surgery and hip dysplasia waiting periods (14 or 30 days) | Only available in 42 states currently |
| Optional wellness plan available as a stand-alone plan | Not covered when traveling with your pet outside of the U.S. |
| Accident-only plan available | |
| Claim processing averages 3-7 days but often paid in 24 hours | |
| 100% of prescriptions covered when purchased through Chewy.com | |
Key Features
Underwriter: American Pet Insurance Company

A.M. Best rating (a measure of financial stability): Unrated

No bilateral exclusions (a condition or disease that affects both sides of the body)
Claims process:

Submit claims via the online portal or mail
Reimbursement is available via check or direct deposit
Option to pay the vet directly, so you don't owe a hefty vet bill when you leave the office or have to wait for reimbursement (not available everywhere, so ask your vet.) Per Chewy, "CarePlus offers pet wellness and insurance plans provided by Trupanion, whose proprietary software allows for payments directly to your veterinarian. If your veterinarian is set up to accept payments from Trupanion, you just pay your portion of the veterinary invoice at checkout, and Trupanion can often take care of the rest within minutes."

Offers pre-approval of estimates/procedures in advance of treatment
CarePlus pet insurance is only available in 42 states: TX, PA, IL, OH, MA, GA, NC, MI, VA, AZ, CO, IN, SC, MD, OR, MO, TN, WI, MN, KS, KY, LA, IA, CT, NV, AL, AR, MS, NE, NJ, NM, OK, NH, UT, WV, DE, SD, WY, ND, RI, MT, NJ.
Customer Service Options & Hours
Video or chat (depending on the plan) access to a vet
24/7 Phone
24/7 Live chat
Email
What Are The Waiting Periods*?
| | Accident-Only | Essential | Essential Plus | Complete |
| --- | --- | --- | --- | --- |
| Accidents | 5 Days | 5 Days | 5 Days | 5 Days |
| Knee Injuries | 30 Days | 14 Days | 14 Days | 14 Days |
| Illness | N/A | 14 Days | 14 Days | 14 Days |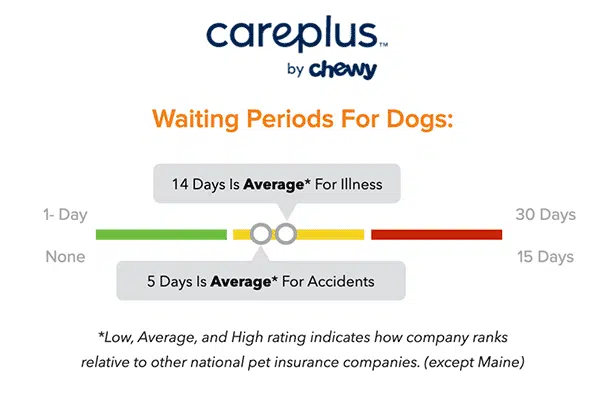 What Do CarePlus Insurance Plans Cover?
CarePlus By Chewy Pet Insurance offers four insurance plans with various coverage levels based on your budget and needs.
Please know that none of the providers in our pet insurance comparison charts cover pre-existing conditions, cremation and burial costs, pregnancy and breeding, or unnecessary cosmetic procedures.
All of them cover the following items when deemed medically necessary: emergency care, surgery and hospitalization, specialized exams and specialty care, X-rays, blood tests, ultrasounds, cat scans, MRIs, rehabilitation, cancer, chronic conditions, euthanasia, hereditary conditions, congenital conditions, non-routine dental treatment, and prescription medications. However, this coverage may have limitations, so please check your policy.
Does CarePlus Offer Wellness Plans?
CarePlus has two wellness plans shown below in the table. Included are the maximum amounts that can be paid each year for that specific routine care per year.
How Much Is CarePlus Pet Insurance?
Your monthly premium is based on the plan you choose from the table above and factors in your pet's details (age, breed, location, pre-existing conditions, etc.). We recommend obtaining quotes from CarePlus for your specific pet to get an idea of how much a policy would cost you.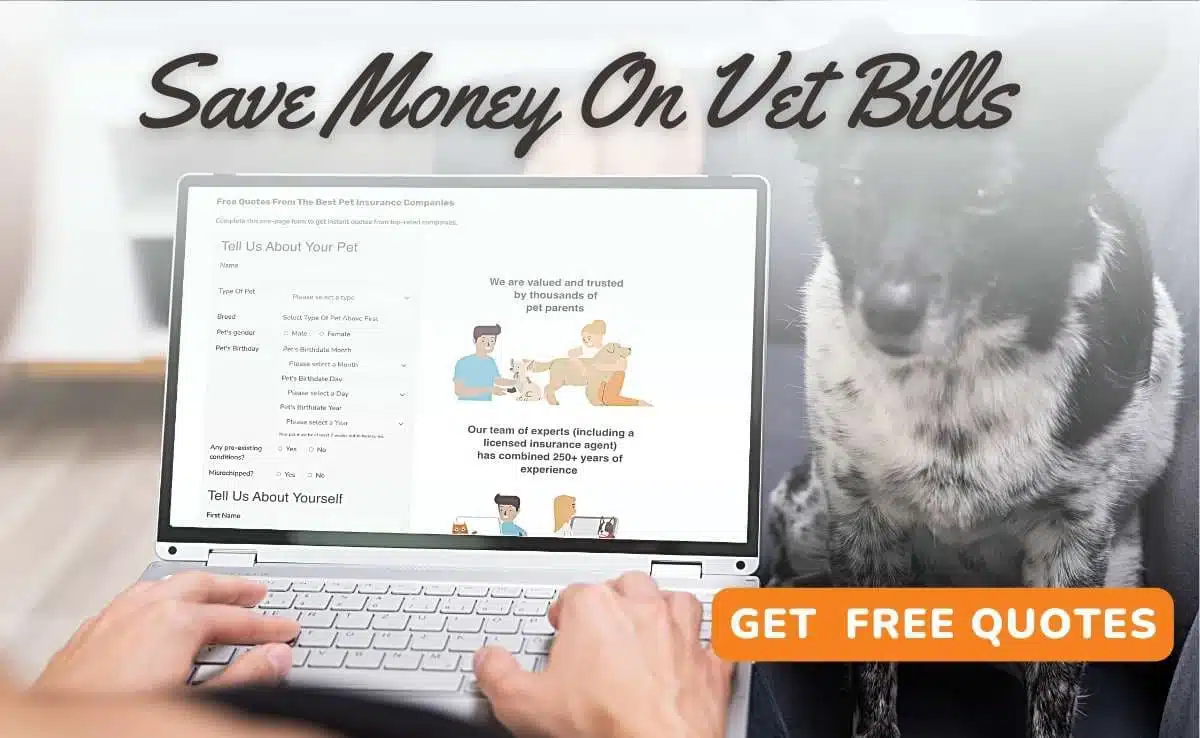 You can also use our pet insurance quote form to see how top providers compare for your actual pet.
Does CarePlus Pet Insurance Have Any Coupon Codes?
CarePlus offers the following discount:
10% off for multiple pets
Use this link to take advantage of the best possible price. No promo code is needed.
How Does The Claim & Reimbursement Process Work?
CarePlus uses a "deductible then co-pay" reimbursement method. This is calculated in the following way:
Actual eligible vet bill amount – Remaining annual deductible – Co-pay = Reimbursement amount
How Does CarePlus Compare?
The plans offered by CarePlus Pet Insurance may be an excellent option for Chewy shoppers. It could save you a chunk of money with its 100% coverage on vet diet food, prescriptions, and supplements purchased through Chewy. However, the accident and illness insurance plans themselves are among the more expensive options.
If you want to know how CarePlus stacks up against other pet insurance carriers, check out our comparison of pet insurance providers. We compare and rank the top ten pet insurance providers, explaining each company's strengths and weaknesses. We also have many comparison tables to help you see where pet insurance companies differ. We answer frequently asked questions, walk you through a pet insurance claim example, list out all of your pet insurance options in an easy-to-digest directory format, and more. We're sure we can answer all your pet insurance questions so that you feel equipped to make the best decision for your pet.
Disclosure: This policy is sold and administered by Chewy Insurance Services, LLC, a licensed insurance producer, and Trupanion Managers USA, Inc. ("TMUI"), and underwritten by American Pet Insurance Company ("APIC"), with its main office at 6100 4th Ave S, Seattle, WA 98108. TMUI, APIC, and their affiliates are separate, independent of and distinct from Chewy Insurance Services, LLC, and its affiliates.
Tagged With: Review, Reviewed By Insurance Agent

This article was originally published by Caninejournal.com. Read the original article here.