As a diabetic dog parent, it takes a lot of effort to find the ideal diet and mealtime/insulin schedule. So, trying to fit in treats with a pup's feeding limitations can certainly present an extra challenge. But all good boys and girls deserve the occasional reward, regardless of health condition. Fortunately, many diabetic dogs can have certain treats, and we've found some of the best to keep diabetic pup's glucose levels in check. We also give you tips on how to feed your furry friend treats safely.
At A Glance: Best Treats For Diabetic Dogs
What Treats Can I Give My Diabetic Dog?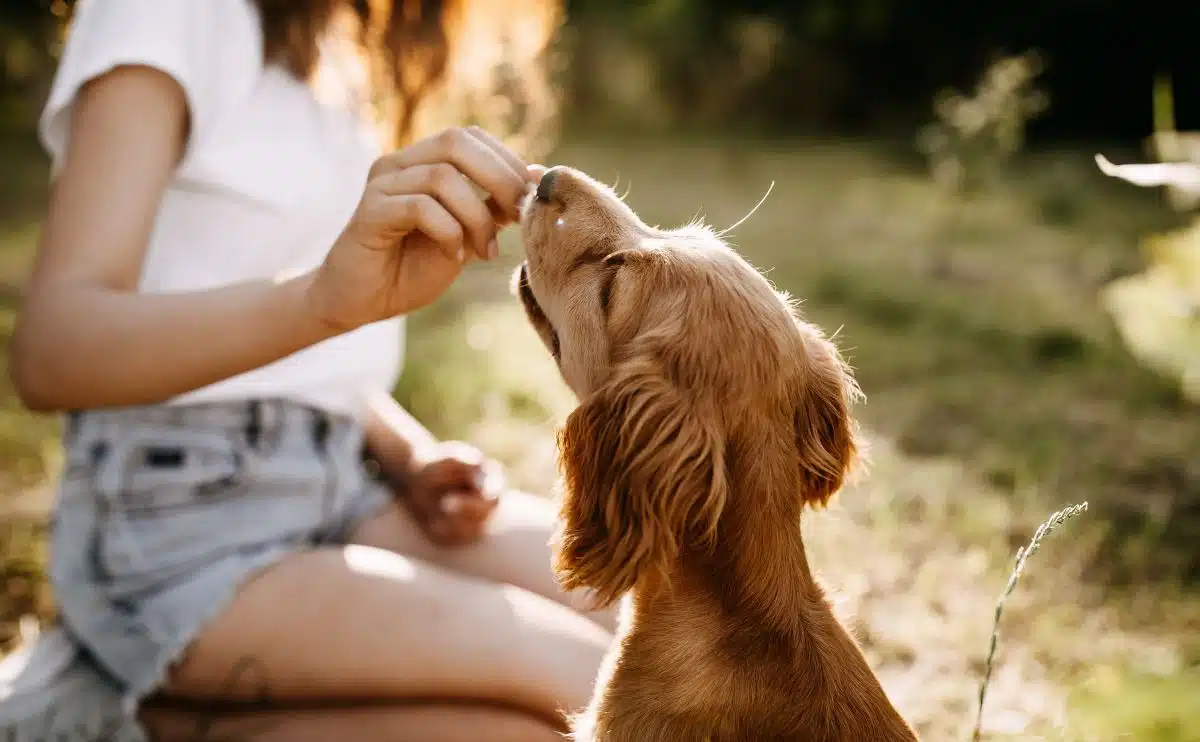 Some dogs with diabetes require a special diet, but the key to managing this chronic condition in every pup is a strict feeding and insulin injection schedule to keep their blood glucose at healthy levels throughout the day. Does this mean your diabetic dog has to forgo treats? Absolutely not, but it's crucial to be vigilant in the treats you choose, give them sparingly, and time them with your dog's insulin shot (e.g., as a treat for being a good boy when getting his injection).
To find the best healthy treats for diabetic dogs, follow these general ingredient guidelines. But no matter which treats you choose for your pup, we recommend it's always best to check with your veterinarian first to make sure they're okay for your dog's particular diet needs. Your vet will also give you instructions on when your pup can have a treat (and off-limit times during the day).
Here's what we look for when searching for the best diabetic dog treats:
All-natural ingredients with no fillers
High in lean animal protein (avoid beef and pork)
Low or no carbohydrates, grains, and starches
Moderate to high fiber (fiber helps regulate blood sugar)
Low calories and fat content
Avoid products containing sugar, corn syrup, and honey
Best Diabetic Dog Treats
Our top picks are based on high-quality, diabetic-friendly ingredients, customer feedback, pricing, and other factors.
Best Overall: Old Dog Cookie Co. Diabetic Cookies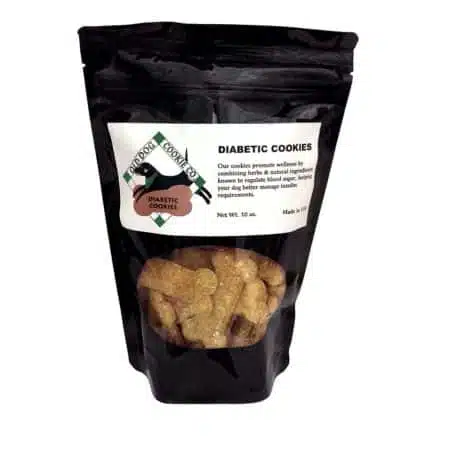 Formulated specifically for diabetic dogs, these baked treats contain vet-approved ingredients that help reduce glucose levels. The combination of high fiber (7%), low fat (1%), and carefully chosen herbs slow the rate of food metabolism and don't spike blood sugar. They also contain natural vitamins for your pup's overall health.
The Maine-based Old Dog Cookie Co. has been making these special treats in small batches for more than two decades to the delight of many pup parents and their dogs. Some owners say they're a bit on the hard side, but they also offer Tiny Treats using the same recipe for smaller dogs.
Ingredients: Stone ground whole wheat flour, rolled oats, apples, squash, alfalfa, kelp, brewers yeast, garlic, dandelion root, cider vinegar, and water
Price
Best Dehydrated 100% Protein: Open Farm Dehydrated Cod Skins Review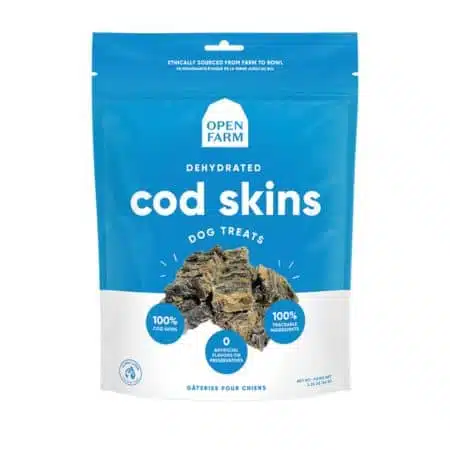 Give your pup a high-protein boost with these dehydrated dog treats that contain 100% cod skins and nothing else. Super low in fat (2%) and only 8 calories each, these are healthy treats for diabetic dogs. They're also an excellent choice if your pup has food sensitivities to chicken, wheat, or other common allergens. The omega-3 fatty acids from cod are excellent for skin health and overall wellness.
These chews are made in the U.S. with fish that are wild-caught using only Ocean Wise-approved sustainable fishing practices at responsible fisheries. Many dogs love the crispy texture, and pup parents are fans of the minimal fishy odor. They are pricey, but Open Farm is an excellent pet food brand that's committed to humane and eco-friendly practices.
Price
You can subscribe with Open Farm for auto-shipping and save 5% off every order.
Full Open Farm Dog Food Review
Best Freeze-Dried 100% Protein: PureBites Chicken Breast Treats Review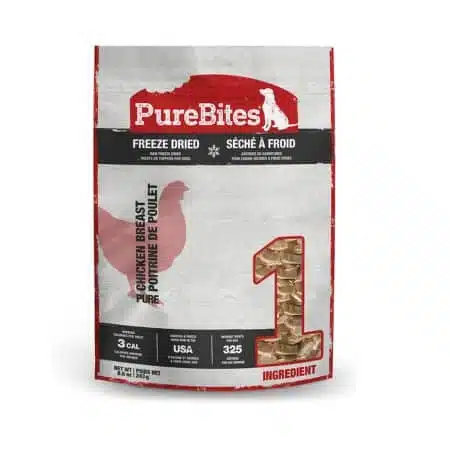 Another fantastic choice for a single-ingredient, high-protein treat is PureBites Freeze-Dried Raw Chicken bites. Featuring 74% protein, 3% fat, and only 3 calories each, they're made in the U.S. with 100% humane-grade chicken breast. While they're quite small, some pet parents said they're a perfect low-calorie option to entice their pups to get their insulin injections or as a reward afterward.
Price
Best Meat-Free: DogaBetix Ella's Diabetic Chicken Dog Treats Review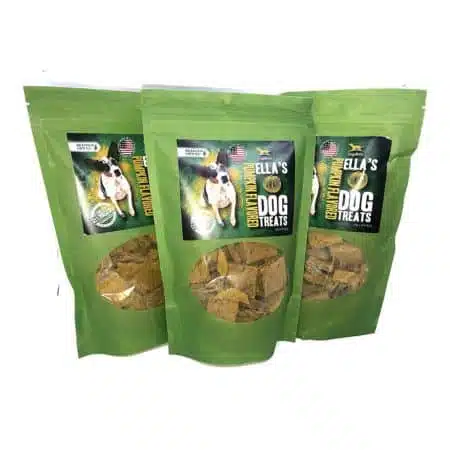 These affordable, meat-free treats are formulated for pups with canine diabetes using limited, low-glycemic index ingredients. Oven-baked with a crunchy texture, these cookies are a hit with dogs and their parents. They contain no sugars, syrups, flour, gluten, preservatives, or artificial additives. And as a bonus, most ingredients are organic. Made in the U.S., Ella's dog treats are also available in pumpkin flavor.
Ingredients: organic rolled oats, coconut oil, organic pumpkin puree, and organic chia seeds
Price
What About Ketona, Darford, And Hank & Harley Treats?
Although these three treat options didn't make our top picks, you may find one that works with your pup's diet and flavor preferences.
Darford Zero/G Grain-Free Roasted Duck Dog Treats Review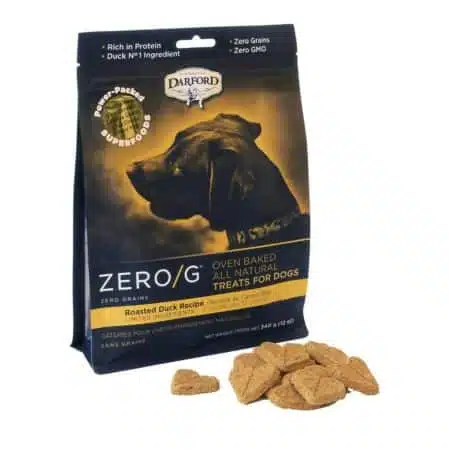 Although not branded as specifically formulated for diabetic dogs, many owners say that these oven-baked treats don't spike their pup's blood sugar and their dogs love them. They are a bit higher in fat and calories than the other treats we review here, but they contain no gluten, grains, corn, soy, or GMOs. And with duck as the single animal protein, they're excellent for food-sensitive pups.
Still, they do contain molasses (a sugar) and a few other ingredients that may not work for your pup. So, it's best to check with your vet to see if they're safe for your furry friend.
Ingredients: duck, dried sweet potatoes, yellow peas, dried potatoes, whole quinoa, sunflower oil (preserved with mixed tocopherols), cane molasses, blueberries, cranberries, chia seeds, dried kelp, and rosemary extract
Price
Hank & Harley Chicken Jerky Sticks Review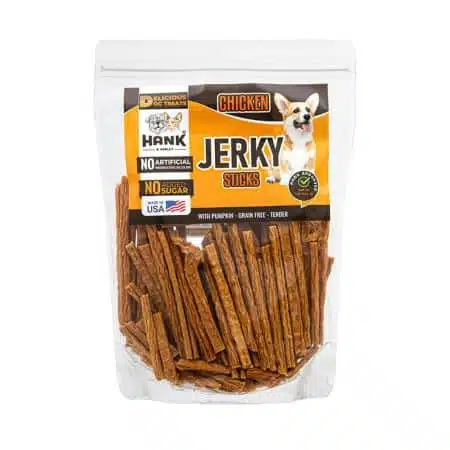 Hank & Harley's all-natural jerky sticks feature real chicken as the first ingredient and pumpkin as an excellent fiber source for diabetic dogs. While these U.S.-made soft chews do contain vegetable glycerin (a sugar alcohol), it has an extremely low glycemic index so it's not likely to raise glucose levels (as many pup parents attest). The only potential downside is a higher fat content (15%) than other treats we review here, but they're easy to tear into smaller pieces.
Ingredients: chicken, pumpkin, vegetable glycerin, salt, and rosemary extract
Price
Ketona Zero Carb Chicken Liver Dog Treats Review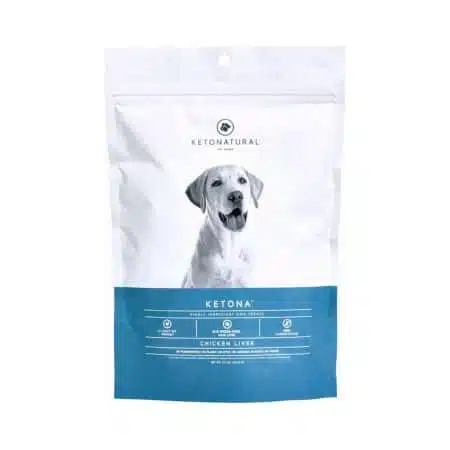 Although expensive, Ketona's 100% freeze-dried raw chicken liver dog treats may be a good option for your diabetic dog. They contain no dietary starch, sugar, preservatives, fillers, or artificial flavors. Made and sourced in the U.S., these small, tasty treats can also be fantastic as a food topper if your doggo is super picky about his regular diabetic dog food. Just make sure to get your vet's okay because these may be too high in calories for your pup's specific dietary needs.
Price
Homemade Diabetic Dog Treats
The best human foods for diabetic dogs that can be used as treats include:
Lean protein sources like baked chicken, turkey, or fish and scrambled eggs.
Low-sugar, high-fiber veggies, such as carrots, pumpkin, green beans, and cauliflower, also make healthy diabetic treats for pups. (higher glycemic veggies, like sweet potatoes and sugary fruits, should be given in moderation.
Frozen yogurt treats: be sure to use plain, no-fat yogurt (add blueberries, in moderation, for an excellent fiber source)
Dehydrated salmon bites: cook thin slices of salmon, then dry them out in your oven on the lowest heat setting for a few hours (also works well with chicken breast or chicken liver)
Frozen bone broth treats: use low-carb bone broth for dogs with no added sugar
Can Diabetic Dogs Have Dental Chews?
Dental chews are high in calories, and many contain ingredients that aren't ideal for dogs with diabetes. Therefore, it's important to check with your vet about any dental chew you're considering and get instructions on how to give them to your diabetic dog safely. While many veterinary experts believe that the benefits of dental chews are worth it for dogs with canine diabetes, some may not recommend them because of your pup's specific dietary needs.
If your vet approves a dental chew for your pup, the general guideline is to use them daily to keep day-to-day variations in your dog's diet to a minimum for ideal glucose regulation. This also means that you'll need to decrease the amount of regular food you give your pup for the meal when you give the dental treat.
What are the best dental chews for diabetic dogs? Based on our research, Greenies Dog Dental Treats are the most common ones recommended by vets because they're low in fat and include complex carbohydrates.
Best Dog Food For Diabetic Dogs
It's crucial for dogs with diabetes to consume their meals regularly, but this can be challenging if your furry friend doesn't care for his current food. Read our reviews of the best diabetic dog foods to find another diet that may better suit your pup. This article includes prescription and non-prescription options as well as general nutrition and feeding guidelines for diabetic dogs.
Managing The Costs Of Diabetes In Dogs
While diabetic dogs can live happy, healthy lives for years with proper disease management, you may find the costs of increased vet care and testing, daily insulin requirements, and even prescription food a worrisome strain on your budget. Fortunately, pet insurance can cover many of these ongoing costs from diabetes and other chronic conditions.
However, most pet insurance providers won't cover these expenses unless your pup is already covered before his diagnosis. So, you may want to consider getting pet insurance while your dog is still young and healthy to cover unexpected illnesses and accidents.
Tagged With: Comparison, Treats

This article was originally published by Caninejournal.com. Read the original article here.